Gulftainer CEO Peter Richards
Gulftainer - a true global success story borne out of Sharjah. In 1976, Gulftainer was launched to operate the first container terminal in the Middle East, the Sharjah Container Terminal. From these humble beginnings, Gulftainer is now one of the world's leading international ports and logistics solution providers and the first and only operator from the Middle East to manage ports in the USA.
With a seagoing background and 36 years of expertise in the operation and management of Ports and Container Terminals, CEO Peter Richards talks with CEO Today about Gulftainer and becoming one of the most productive port operators and third-party logistics providers worldwide.
You've been with Gulftainer since 1987; clearly, a lot has changed, but what stands out for you as the most significant change in this time?
The last 36 years have seen tremendous improvements in so many areas of the Ports and Shipping Industry, but what obviously stands out the most are the technological advances in Port equipment and I.T. It's hard to realize that when l first started as a Superintendent in 1987 at Khorfakkan, everything was done by hand. There was no reliable internet. There were no mobile phones. Faxes and telex were the main communication apparatus, and the "new" computers were large ugly beasts taking up most of a desk – oh my god! It really brings home how long l have been involved in this industry as one has to add the 12 years previous to my joining G.T. when l was sailing the seas as an officer on Merchant vessels carrying similar versions of the cargoes we now handle in our ports.
Even after all this time, l still get excited watching the operations at our facilities. There is something magical about watching a well-operated Container Terminal discharge and load thousands of containers. The precision, timing, and fluidity of the operation are almost like a well-rehearsed dance flowing smoothly across the terminal. Now with the state-of-the-art equipment so technically advanced that it rivals the cockpits of the space shuttle, providing never before heard of speed, capabilities, and important safety aspects that allow the largest cargo vessels afloat today and in the future to be served.
As people that know me well know, l am not an I.T. 'techy', and l am still a little in awe of what can now be done in milliseconds that used to take hours before. I.T. has transcended the Ports industry bringing greater capabilities and productivity, allowing data to be transmitted across the globe in sub-second time. Providing a customer live tracking of his cargo from when it leaves his hands to arrival at the final destination and more. He now has the ability to monitor the condition, temperature, and security of his goods throughout transit. There are no more limitations to the borders when custom clearance can be arranged from the other side of the world. It has made the world a lot smaller – in a good way.
High productivity has always been one of my personal goals in whatever l do, and this has been instilled in all my Gulftainer colleagues. Over the years, l have been asked many times what makes Gulftainer as good as it is. As one of the most productive port operators in the world, my reply is always the same. There is no magic potion or rocket science; it's purely down to our people and the pride they have in doing the best they can for their family, which is Gulftainer. It fills me full of so much pride when l see what we have accomplished from such humble origins without the glitz and showmanship of our competitors, earning the reputation of doing the most with the least.
Additionally, probably the most significant change for the company was taking the first steps out of the UAE. As the first company to start up operations at the Port of Umm Qasr in Iraq, Gulftainer stepped out onto the international stage, making sure that it took the same ethos and standards for productivity and efficiency with it. I always made sure that we never lost sight of our beginnings. Even today, when we are still the only Middle Eastern company to manage and operate ports in the USA, we continue in the same vein. We have broken records over the years for our levels of productivity, and we have become increasingly recognised for our innovative solutions, but we are most proud of being called a trusted partner by so many of our customers.
In the markets that challenge others, we are proud to say that we have never walked away from those challenges.
Gulftainer provides its clients with a wide range of logistics and transportation services; which services have been championed by you as CEO and are core to the Gulftainer business?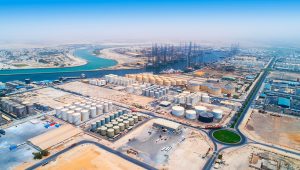 Terminal Management is the key area of Gulftainer's expertise. Cargo handling or Stevedoring has been the core of the business. Through the years, we have added many services to our portfolio for our customers – supply chain management (transportation, freight forwarding, and logistics), container repair, Inland logistics cities management, and international port advisors – but we always stay true to what we do best, moving cargo fast, efficiently and safely.
We take pride in our operational capabilities and our relationships with all our customers. This combination makes Gulftainer a preferred partner for Investment funds, Government organisations and Agencies, and private companies seeking to make infrastructure investments.
Given the scope of your operations, what is your company ethos? As CEO, how do you foster this amongst your workforce?
We developed a culture and values ethos at Gulftainer to work in concert with the corporate social responsibility business model, which was developed in 2015 to operate the company in ways that enhance the communities and the environment in which we operate.
The core pillars of our policy have been derived from the U.N. Global Compact principles and fit with our corporate and our industry's ethos.
Our CSR pillars are:
Corporate Governance – Ensuring the company is healthy makes sure everything else works well
Employability – supporting continuous education and training keeps employees motivated and at the forefront of industry innovation
Health & Safety – By far, the most important part of everything we do is keeping our colleagues, customers, and their cargo safe
The Environment – we work in a delicate environment – the oceans – and often in neighbourhoods with communities, so we aim to keep these areas safe.
Following extensive consultation with all our colleagues, our customers and suppliers, we developed five values:
One Business – to ensure collaboration across all departments and terminals
Passion for Performance – to adapt quickly to overcome challenges
Creating Customer Success – to listen and understand our customers' requirements
Respect for each other – work hard to create an inclusive atmosphere for all colleagues
Thinking outside the Container – Challenge the norm. Actively work to think ahead, to anticipate new requests from our customers and colleagues.
We have Culture and Values champions at each of our facilities, and they form the core of a C&V committee, which organizes regular meetings with colleagues to discuss numerous topics from day-to-day wins or problems and how we can solve them, townhall talks – ensuring everyone is up to date on all company business – new business wins, milestones, important visitors, individual wins, etc., events such as wellness programs – talks on health and wellbeing matters, wellness walks, collaborations with environmental group Emirates Nature.
We have implemented numerous activities, training, and education events over the years, and we continue to build on these programs to ensure our colleagues continue to feel part of the family that we have built at Gulftainer.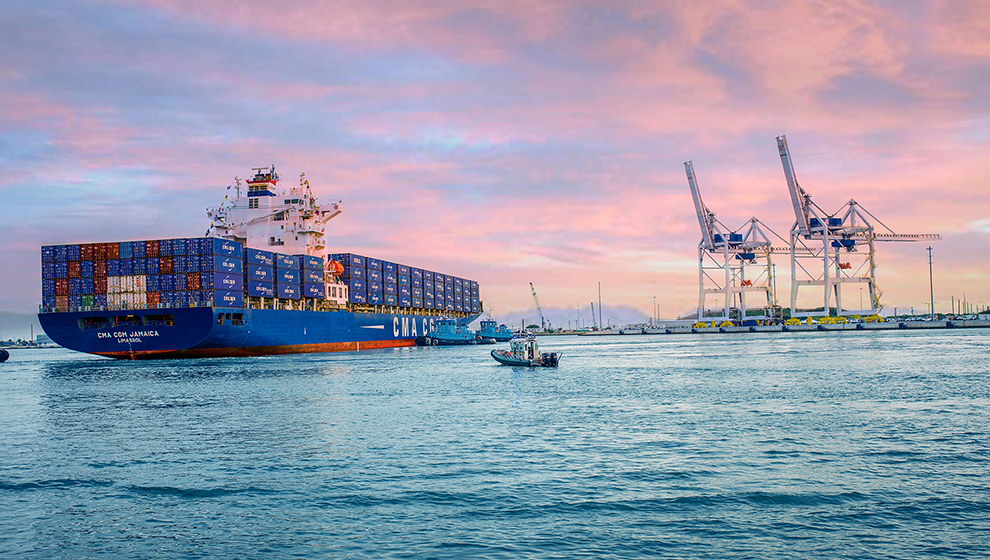 What are some of your unique achievements in your time with the company?
G.T. has received a number of accolades throughout its history. Listed here are some of the industry awards received throughout recent years:
The Port Terminal Operator of the Year at the Seatrade Middle East, Indian Subcontinent & Africa Award.
Port Operator of the Year' at the Lloyds List ME and Indian Subcontinent Awards
GT CEO Peter Richards received International Maritime Club Excellence Award
Khorfakkan Container Terminal won the 'Shipping Port of the Year' SCATA Awards
Peter Richards list at #3 on the Maritime and Ports ME Power 20 list
Gulftainer achieved and maintains certification for ISO 9001:2008, ISO 14001:2004, OHSA 18001:2007
Gulftainer is annually awarded RoSPA and International Safety Awards certificate for Occupational Health and Safety since 2013
"Supply Chain Partner of Choice Award – Service Sector" – Frost & Sullivan (global innovation and growth consulting company)
The Journal of Commerce in the USA, named Gulftainer's Khorfakkan Container Terminal (KCT) as the top-performing port facility in Europe, the Middle East and the Africa region. KCT was also recognised as one of the top three productive port operations globally.
I.T. innovator of the Year Award – M.E. logistics magazine Innovation in Maritime Award winners – CXO
Sharjah Economic Excellent Awards – Gold winners since 2012
Wellness Program of the Year Award – MEED Awards
However, probably the biggest achievement for not just Gulftainer, but also for the UAE and, indeed the Middle East as a whole is that we were and still are the only company from the Middle East that operates and manages ports within the United States of America. Gulftainer went through two CFIUS (Committee on Foreign Investment in the U.S.) vetting processes to qualify to be able to proceed with the agreements with the U.S. port authorities in Delaware and Canaveral where we now operate.
The CFIUS committee includes heads from the Department of the Treasury (chair), the Department of Justice, Department of Homeland Security, Department of Commerce, Department of Defense, Department of State, Department of Energy, Office of the U.S. Trade Representative and the Office of Science & Technology Policy.
The vetting process is very robust and includes not only information submissions but also in-person meetings with members of the committee. Not only did we pass, but we were cleared to proceed under two different political parties. Our first entry into the U.S. was in 2014 into Port Canaveral Cargo Terminal, a relatively small facility handling bulk cargo. Today, almost 10 years later, the terminal has grown significantly, now handling space cargo, military cargo, lumber, containers and cars. We have brought our high levels of productivity and safety to the facility and have, annually since we began operations, aced the U.S. Coast Guard security inspection.
This was followed by Gulftainer being awarded a 50-year agreement to manage the Port of Wilmington in Delaware. This concession is particularly notable because it includes the building of a new, dedicated container terminal close to the current Port footprint at Edgemoor. This is a very exciting project for us because not many private companies get to go ahead with a project like this. Building a tailor-made, state-of-the-art, environmentally friendly terminal is not something that happens very often. Most terminals are similar to the Port of Wilmington, which was built 100 years ago and has been added to over time as business has grown or new technologies have been developed. We have just begun our 5th year at the Port of Wilmington and have already made significant upgrades costing over $88 million to enable the port to improve its warehousing and container storage facilities to accommodate the new business.
These are very exciting times for our company and for Delaware and we are certainly looking forward to getting building work underway at Edgemoor.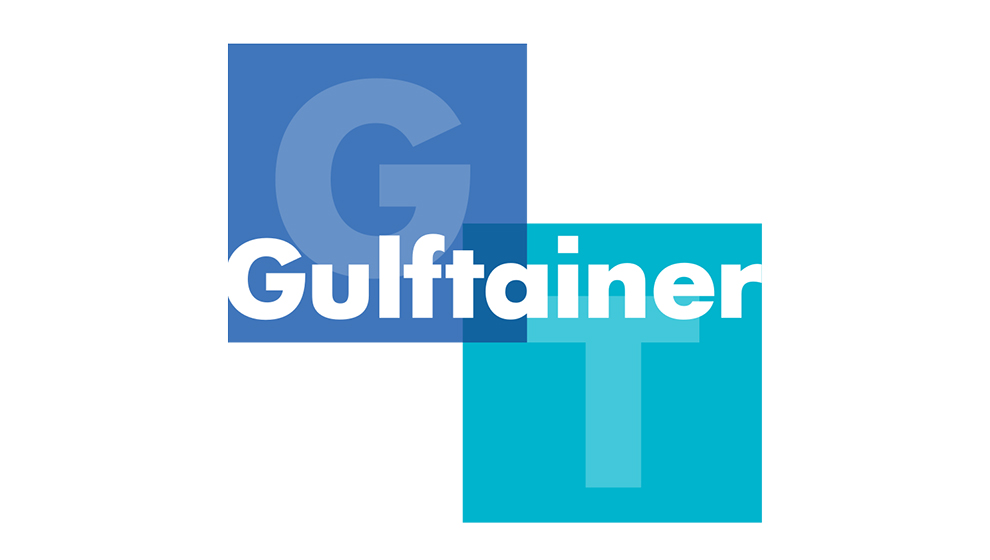 Compliance, environmental regulations, and sustainable practices are hugely important and, ultimately, as CEO, your responsibility. How do you manage this aspect of your business?
As a CEO, managing compliance, environmental regulations, and sustainable practices are crucial not only for the long-term success of the business but also for the wellbeing of our planet and society. Here are some steps I take to manage this aspect of the business:
Stay informed: It is essential to stay informed about the latest compliance and environmental regulations that apply to our business. At Gulftainer, I have assigned the QHSE team to monitor any changes to regulations and ensure that our business is compliant.
Establish a culture of sustainability: Under my leadership, we have established a culture of sustainability within the company. This encourages employees to conserve resources, such as electricity and water and promotes the use of environmentally friendly practices. Set achievable sustainability goals: I have set achievable sustainability goals for the company, such as reducing energy consumption, water usage, or waste production. These goals are measured, monitored, and documented for timely reviews and to attain continual improvement.
Incorporate sustainability into the company's strategy: Sustainability is incorporated into the company's strategy and decision-making processes. For example, when considering new products or services, we would evaluate their environmental impact and make sure they align with our sustainability goals.
Partner with suppliers and customers: We work with our suppliers and customers to promote sustainable practices throughout the supply chain. This includes requiring suppliers to meet certain sustainability standards or working with customers to reduce waste or conserve resources.
Regularly communicate about sustainability efforts: We regularly communicate with stakeholders, such as investors, employees, and customers, about our sustainability efforts. This would include sharing progress towards our sustainability goals, as well as any challenges or setbacks.
Overall, managing compliance, environmental regulations, and sustainable practices requires a commitment from the entire organization, and as CEO, it is my responsibility to lead the way. By staying informed, setting achievable goals, incorporating sustainability into our strategy, and communicating regularly with stakeholders, we can build a sustainable business that benefits both the company and the planet.
 As CEO, how do you ensure the company manages and optimizes its technology and automation to improve terminal and overall efficiency?
Several years ago, we embarked on an ambitious technology transformation strategy and there were several innovations that had to be implemented within I.T., business procedures, and engineering to achieve that strategy. Some of the notable achievements at the beginning of that technology transformation were the implementation of a brand new, bespoke Marine and Container Handling (MACH) Terminal Operating System (TOS), which provides computerised control of the movement and storage of containers in and around the terminal. This system was a major development in how we operated our terminals, and it provided the foundation for further automation, including IoT, predictive analytics and mobility.
Like other industries, Ports and logistics industry is transforming into a more integrated supply chain mode providing end-to-end services. An increase in technology innovations to meet customer expectations, real-time information, and ease of doing business are key priorities for us. Staying ahead in the adoption of technology is the key driver for any business, Gulftainer launched "future of ports challenge" which aims to identify path-breaking, highly disruptive technologies that could redefine the supply chain and logistics industry.
I, and my entire team, fully understand that technology is the key driver for the business, which enables us to deliver integrated services in cost-effective, transparent, and reliable manner. On the automation front, the company has executed projects around RPA, IoT, Artificial Intelligence, data analytics and OCR technologies for terminal operations.
The engineering team at our Khorfakkan Container Terminal (KCT) also recently developed new specialized crane equipment that can reach the upper parts of the loaded deck of a ship at a faster pace. This equipment has enabled us to innovate how we handle container moves for large modern ships at the terminal. In addition, responding to the shuffle in shipping alliances, we're also making changes within Khorfakkan to move from being just a transshipment hub to a gateway terminal. Besides transforming the terminal, we're also working with authorities to enhance the road transport infrastructure, across the Emirates and the Gulf, towards this end.
How does Gulftainer differentiate itself from other terminal operators, and what unique value does it provide] to its clients?
Gulftainer will always be different from other terminal operators. We set ourselves beyond being just an operator. Gulftainer seeks opportunities where it can add value not only to its partners and customers but also adds value to the local community and country in general. That is why we are careful of what projects we undertake. We do not want to promise anything we cannot fulfill. We are not interested in growing a portfolio just for the sake of the number of flags we can put in the ground. We look upon an opportunity where there has to be value gained by all parties involved. My personal thinking on this matter, and one l pass on to my staff, is very simple. If a country trusts you with the operation of its port, it is almost as if they are trusting you with the keys to the front door of their house. The port is the gateway or door for all goods to enter and leave. So it has to be operated productively and securely. It is also the first thing that sea-traveling visitors will see; therefore it has to provide a very good first appearance. They trust you to represent the country. It is a big responsibility and should not be taken lightly. This kind of consideration sets us apart from most of our competitors. The second, and arguably most important, thing that sets us apart is the work ethos of our staff. Since taking over the reins of Gulftainer in 2006, after climbing the ladder from superintendent to terminal manager to operations manager to general manager to CEO, l have always treated the company as a family and applied family values. We encourage inward growth and promotion within. We are keen to help people develop and grow as this in itself helps the company grow. We instill pride in our people, where everyone counts. Everyone is valuable. This has led to a very loyal workforce whose intentions are always to do their best. Gulftainer understands that our workforce are humans and come with all the personal problems that effect us all at times. We take time to help with those problems as any family would. That is what sets us apart we operate best as a family which embraces its customers as part of an extended family. Our clients know we care about their business, and we will help them prosper, as obviously their success is our success. From myself down we are hands-on we know our customers personally. We establish relationships.
What are the future plans and goals for Gulftainer, and how do you see the industry evolving in the years ahead?
Gulftainer, following the pandemic, spent the last two years regrouping and defining its forward growth strategies. We have rebuilt our senior management, bringing people fit for purpose. The purpose is resuming our global growth while building stronger foundations in our existing assets. We are hungry! The whole team, the family have an appetite to grow successfully by increasing our capabilities and the number of assets we operate.
The industry as a whole is continuing its usual cycle of events where the shipping lines who have enjoyed riding the wave of the last two years of huge revenues are seeing the shipping industry start its descent into the trough of lower freight rates and overcapacity brought on by the over ordering of vessel tonnage. This has been played out many times over the last thirty-six years, yet no one seems to learn from it. I don't mean to sound cynical. In fact, l am an optimistic person at heart, as regardless of this "routine," the port industry will continue to serve the shipping industry in the best way possible. It makes our jobs more difficult, but as in the past, we will continue to find ways to improve our abilities, continue to grow our capacities, and continue to treat our customers as part of the same family.
www.gulftainer.com