Elevating African Banking: Q&A With NBS Bank CEO Kwanele Ngwenya
Kwanele Ngwenya, CEO of NBS Bank, category winner in the recent CEO Today Africa Awards, speaks to CEO Today about the company's growth and current successes.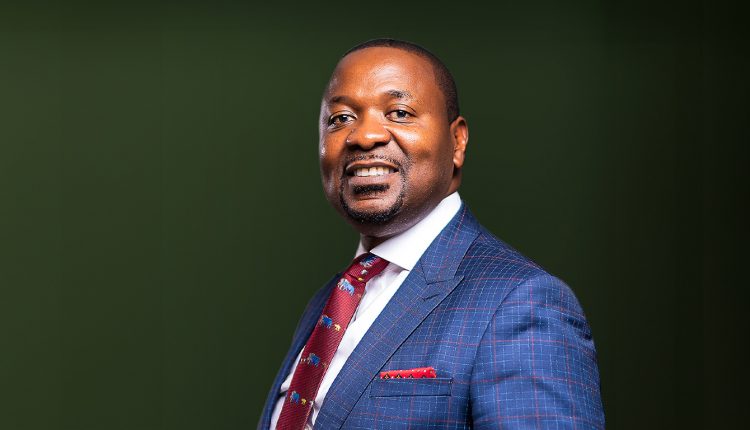 Amidst the sweeping digital transformations and socio-economic challenges in the banking sector, few leaders have navigated the storm with the resolve as Kwanele Ngwenya, Chief Executive Officer – NBS BANK. From his early days with a development bank in Malawi to the helm of NBS Bank, his stories of resilience, innovation, and impact reflect a deep-seated commitment to elevating the African banking landscape as he shares insights about the transformative initiatives under his leadership and the Bank's pivotal role in addressing critical issues like financial inclusion. Join us as we delve deep into the world of NBS Bank, exploring its evolution, challenges, and contributions under the dynamic leadership of Mr Kwanele Ngwenya. 
Mr Kwanele Ngwenya is a career banker, having spent most of his life in banking. He has over 25 years of banking experience, 14 of which have been in leadership positions. He started his banking career with Nedbank South Africa before moving to FNB where he spent 11 years. Mr. Ngwenya has vast international experience having worked in South Africa, Botswana, Zimbabwe and now Malawi.
Mr Kwanele Ngwenya holds a Masters Degree in Business Administration from Oxford Brookes University (UK), Master of Science Degree in Strategic Management from University of Derby (UK) and Masters Degree in Business Administration (Banking and Finance) from Bangor University in Wales. He is also a Chartered Banker with Institute of Bankers in Scotland. Additionally, he also holds advanced professional development certifications from several reputable institutions like Wits and GIBS Business School.
Mr Ngwenya, can you share your journey to becoming a part of the NBS Bank and how it has shaped your career?
It has been an interesting journey thus far. I have constantly been determined to see my dream become a reality – which is to lead an African bank that is purpose-driven and plays in both the local and international space. The journey has had its highs and lows, but determination and persistence have kept me going. 2017 was the start of a new transformation journey for NBS Bank, and I am glad to have been at the helm of this transformation, leading a team of talented professionals to implement our strategic goals.
Before I joined NBS Bank, I was with another Malawi-based development bank whose mission was that of transforming society and the economy of Malawi, especially when it comes to alleviating poverty and creating wealth by teaching society how to price for self-generated resources and invest back their money into a bank so that it yields returns. I have been in the banking sector for over 20 years and have had the opportunity to experience all forms of banking, corporate, commercial and retail/mass banking. I believe that banking should not only be about savings transactions but about finding solutions to address Malawi's and Africa's pressing issues, such as alleviating poverty and enabling small businesses across industries. This has been my driving force throughout my career. I believe that an Africa with excellence starts at an organizational level.
I have immense pride to now be able to tell the success story of NBS Bank 6 years down the line. This is a tale of rebuilding for excellence and sustainable growth that has resulted in a profit trajectory from USD (1.02 million) to USD 17.4 million.
What are the most significant changes you have observed in the banking industry since your career began?
Digital transformation and innovation is definitely a significant factor that has altered the way we do banking. The market is constantly changing at a rapid rate with the advancement of technology worldwide. The blurring of industries is becoming more and more evident where industries are operating outside the norm; for example Telco's are now offering banking services, and banks need to tap into these opportunities and close the gaps. The impact of value chain financing has also taken center stage, and Banks need to leverage this by creating and following the sources of money; for example, when you look into agriculture, instead of playing a role at the end of the cycle, banks should create opportunities or create an enabling environment from the beginning to the end of the farming supply chain.
The relevance of Banks is shifting from mere banking services to solution provision for economic value and growth.
How does NBS Bank tailor its services to suit the specific needs of the Malawian market?
Our Bank's DNA is rooted in a deep commitment to care—a commitment that extends far beyond mere words and becomes ingrained in every facet of our business. We understand that banking is not just about transactions; it's about building trusted relationships, fostering financial well-being, delivering value-adding solutions and creating a culture of care for our customers, employees, and nation. Our strategy is based on pillars that spearhead customer-centricity and rewarding relationships with our customers and stakeholders, whilst building a culture of compliance and continually ensuring the governance framework remains tight.
NBS Bank is passionate and dedicated to supporting the development of our nation in line with the MW2063 goals, which are evident through our partnerships with public and private organizations in various sectors such as Agriculture, Manufacturing, Infrastructure Development, Tourism, Energy, and Mining. This is why the Bank offers a wide array of services catered for individuals, SMEs and Corporates; through understanding the different needs that they may have.
In the context of Malawi, how are you addressing financial inclusion, particularly in rural areas where access to banking services may be limited?
Entry into the unbanked areas presented a big challenge since vast non-urban regions in Malawi often lack the legacy infrastructure to enable fast deployment of financial products and services, which makes the cost of entering these remote areas prohibitive. This forced us to innovate and deploy a new banking model called agency banking under the brand name "Bank Pafupi", the first of its kind in Malawi. Through this agency model, we quickly extended our footprint in the country without difficulties.
With this model, the Bank goes in partnership with agents, especially business owners of various sizes, who carry out transactions on its behalf, including the opening of accounts. The customers can easily identify the agents in their rural communities and the agents use mobile technology to carry out the transactions quickly and easily. The Bank has thus managed to penetrate all corners of Malawi. The Bank has also managed to offer its services beyond the brick-and-mortar banking hours since opening and closing times are determined by the agents' shops operating hours.
In addition to achieving financial inclusion, Bank Pafupi has also shortened the distance potential customers and even those that were already banked have to travel to access financial services, both in urban and rural areas. The recruitment of agents is, therefore deliberately targeted at serving customers within their own neighborhoods. To date, Bank Pafupi has broken the barriers to financial inclusion and is changing the livelihoods of people in all corners of Malawi. Bank Pafupi has managed to reach areas that are highly inaccessible, especially to banks, and customers are now accessing formal financial services in a more convenient manner. The Bank's presence through this model has expanded tremendously, closing the year 2022 with over 2000 agents.
Secondly, we have invested substantially in our digital banking platforms through direct interfaces with the Bank as well as integration with key suppliers and 3rd party organizations. These innovations have not only eased transactability but have also made payments easier for both our customers and non-customers. An example would be the ability to channel National Identification card and Road Traffic Services payments through NBS Bank channels. Both are nationally accessed services.
What are some major transformations NBS Bank has undergone during your tenure?
When I joined NBS Bank in 2017, the Bank implemented its five-year strategic plan as a genesis to turning around the organization. The focus was on refreshing our systems and processes and ensuring that the team has the means, ability and tools to excel in the market. In this exercise, NBS Bank roped in a technical partner, Rabobank of the Netherlands, to benefit from their extensive banking experience. The Bank managed to re-capitalize through the support of shareholders and through their belief in the Bank, a successful IPO was executed. Extra capital was raised through a rights issue, and the additional capital has strengthened the Bank toward becoming a leader in the banking industry in Malawi.
Prior to the recapitalization exercise, the Bank was faced with the challenge of inadequate capital, which incapacitated it from taking up opportunities and making necessary investments to catch up with the rapid changes in the banking environment, therefore, losing relevance to the customer, which had a negative effect on some major income lines. Additionally, NBS Bank was in an unfavorable position brought about by high levels of non-performing loans and inefficiencies in its technical and operational environments. These factors, among others, hindered the Bank's growth and progression. Loss of revenue in such income streams impacted the Bank's bottom line and led to a loss that was declared of about K8 billion.
The Bank made significant strides on the transformational journey and has continued to show resilience and improved performance year on year. The heart of our strategy was to enrich our customers' experience by providing convenient, innovative, and affordable products and services. Also critical to the transformation was constituting the right team. The Bank offered voluntary exits to those that had decided to take a different path and thereafter placed the remaining human resources in the right places. Additionally, as the final piece of the people placement, the Bank recruited management and frontline staff that came with a cross-fertilization of skills, which, when added to the remaining team, made NBS Bank what it is today.
The Bank also invested in a range of systems and re-engineered its processes to ensure that the functionality meets customer needs. The strong turnaround is attributed to strong management and governance, which ensured the implementation of initiatives such as the review of the branch network, staff compliment and cost structures; repositioning and rebranding of the NBS brand; growth of the lending business in line with economic growth; increase in digitization of processes and service delivery channels, financial inclusion, prudent money market investments and most importantly the enhancement of customers' experience. These initiatives yielded very positive results and the turnaround has seen the Bank moving from reporting losses to declaring profits.
How is NBS Bank responding to the digital revolution in banking? Can you share any recent innovations or projects?
Digital transformation remains at the core of the Bank's strategy, powering enhancements to Consumer and Corporate Banking platforms, greater customer engagement and operational efficiencies. NBS Bank has continually invested in new systems and processes and enhanced the existing ones to improve service delivery and achieve excellent customer service, including offering unique and innovative solutions and digitizing systems and processes to enable many other innovations for the customer.
For instance, in 2022 the focus was on various integrations with other systems, such as the National Switch (Natswitch) Interbank transfer integration with other banks in the market to enable instant interbank transfers, thereby reducing waiting and transaction times. An integration with Malawi National Examination Board (MANEB) was done to enable examination fees to be paid across the country with ease. The Bank also integrated with more government institutions, such as the Registrar General and National Registration Bureau, to ensure that customers have a wide range of payment options when accessing various government services. The Bank digitized its retail loans to lessen the turnaround time for access as well as to offer convenience to customers. Furthermore, the Bank improved its credit model by digitizing the process to make financing more accessible to MSME's in Malawi.
Through continuous research in the global industry and creativity with what's trending in day to day lives of customers, it is vital to always keep a close ear on what the customers are saying and look for ways to cater to their day-to-day financial needs with simplified banking solutions. We are constantly providing opportunities for our staff, across all functions, to visit more advanced economies and see and experience what is being done there and use this to develop more innovative solutions in banking.
What are some of the corporate social responsibility initiatives that NBS Bank has implemented under your leadership?
Our slogan is "Your Caring Bank," and we believe in making a positive impact on the world around us. That's why we are committed to giving back to the communities we serve.
In times of disaster, NBS Bank stands strong with those in need. Recently, in the aftermath of Cyclone Freddy 2023 in Malawi, we extended a helping hand to 14 different campsites across the southern region, donating essential supplies and support. Additionally, as part of the NICO Group donation, NBS Bank contributed a significant amount of approximately $170,000 towards the relief efforts. The Bank also partnered with other organizations to rebuild houses for those that lost their homes during the cyclone. We also remember the devastation caused by Cyclone Anna in 2022 in Malawi, and NBS Bank contributed approximately $10,000 to aid the affected communities during their time of distress. NBS Bank, along with the other NICO subsidiaries, donated medical items worth MK20 million to six hospital facilities across the country to help fight the Cholera Outbreak which hit Malawi in 2022.
Empowering the next generation is also a priority for NBS Bank. Through our Girls Mentorship program, we provide guidance, support, and opportunities to 20 young girls in secondary schools across the country through our senior management mentors and tuition fees scholarships, fostering their growth and unlocking their full potential.
NBS Bank believes in the power of education. We have invested in scholarships for nine students at two Universities in Malawi, namely, Lilongwe University of Agriculture and Natural Resources (LUANAR) and Malawi University of Business and Applied Science (MUBAS), and believe that supporting these educational institutions helps to shape the future leaders of our nation. The Bank also contributed $40,000 towards the refurbishment of a hostel at a key University, LUANAR.
Further to youth development NBS Bank is also committed to the development of our region. With a contribution of $50,000, we actively participated in the Region 5 Youth Games, hosted for the first time in Malawi, supporting regional initiatives that promote economic growth and sustainable development. These games also offer youth an opportunity to use their talents for a better future in sports.
Sports and community come together in the spirit of giving through our Charity Shield initiative. In 2022, NBS Bank contributed $12,500 towards this noble cause, and in 2023, we increased our support to $17,000, fostering the development of sports and social welfare. The aim of this Charity Sheild is to bring the best local teams into.
The Bank also supports Malawi's retired military veterans through sponsorship of an annual fundraising event that brings forth various causes to cater to their needs, be it housing or general welfare.
At NBS Bank, we believe that positive change begins with us. Through our Corporate Social Responsibility efforts, we strive to make a lasting impact on the lives of those we serve.
Looking forward, what is your vision for the future of NBS Bank? How does it align with the rapidly evolving landscape of banking and finance? 
The Bank continues to consolidate gains made thus far in repositioning the product base and customer-centric approach to business and will be increasing its drive toward financial inclusion. The key to the future of banking is to continue forming strong partnerships in the market and across borders because we recognize that we are operating in a global economy.
Relevance in the finance and banking sector is hinged on the ability to be agile and reinvent the organization based on fast-paced market trends. With the rapidly changing environment, we continue to invest in better risk management and compliance models that safeguard any innovations that the Bank embarks on. One key risk that is being monitored closely is that of cybercrime, as we tighten controls to ensure digitization is more secure. The intensifying of our internal control environment has resulted in a reduction in operational losses over the years.
My vision is to transform NBS Bank into one of the top 3 biggest banks in Malawi with a variety of products and solutions that are not only practical but relevant for today's consumer market. For my team and I, NBS Bank will be everywhere without physical brick and mortar but focusing on the development of a robust last-mile infrastructure. Our Bank Pafupi and digital solutions are some of the key ways of increasing our reach across the country.
Finally, what advice would you give young professionals aiming to pursue a career in banking and finance in Malawi? 
Rising above the corporate ladder is an interesting journey, especially if you have a clear vision of where you need to be. It has not been easy for me; I have had my fair share of disappointments along the way, but I was determined to see my dream become a reality – which is to lead an African bank that plays both in the local and international space and one that is also purpose driven. Going beyond borders was definitely a good move but tough. The African market is a tough one and requires resilience as well as a perseverance mindset.
My advice to young professionals pursuing a career in banking and finance is that "set a vision, renew that vision as often as you see fit but never lose sight of it because it is what will keep you going. The financial sector is multifaceted and interesting. This means there are various specialties one can choose from within banking and finance and even rotate between areas of expertise in a bid to continuously learn and increase in personal value.
This is a rewarding industry both personally and also in light of its contribution to economic development.
Contact