With travel and holidays abroad having been mostly off the cards for the past two years, many of us are eager to finally get away and unwind. And where's a better place to relax than in, or besides, a spectacular swimming pool? CEO Today has selected 6 of the world's top luxury summer pools for summer 2022. 
1. The Tank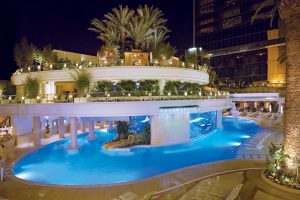 The Tank at the Golden Nugget Hotel in Las Vegas is easily one of the most mesmerising swimming pools in the world. It features an enclosed three-storey water slide that winds its way through a 200,000-gallon tank, home to around 300 marine animals, including sharks and magnificent rays. Guests have ample space to swim around the tank and can also enjoy incredible waterfalls and private cabanas. 
2. Ubud Hanging Gardens Pools
The Ubud Hanging Gardens Luxury Hotel and Spa, which is located in Bali, boasts a spectacular split-level infinity pool which has been featured on Condé Nast's list of the world's best swimming pools. The Ubud Hanging Gardens is set high on the top of a gorge, with its infinity pool appearing to hang over the magnificent jungle. As well as incredible jungle views, guests can also admire the Pura Penataran Dalem Segara Temple.
3. Four Seasons Safari Lodge Pool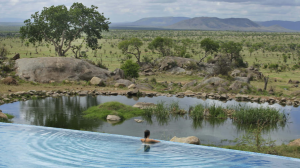 The Four Seasons Safari Lodge in Tanzania is located in the world-famous Serengeti National Park and boasts one of the world's most breathtaking infinity swimming pools which overlooks a magnificent watering hole frequently visited by wild animals including zebras and elephants. This pool provides one of the most tranquil ways to take in the wonders of the Serengeti.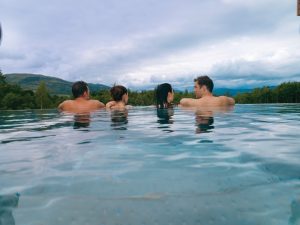 4. Cameron House Rooftop Infinity Pool
Cameron House at Loch Lomond, Scotland, provides guests with the full lagoon experience. While there's a 20-metre leisure pool where guests can enjoy a serene swim, the real star is the luxury hotel's rooftop infinity pool, from which guests can take in the magnificent panorama of Loch Lomond and Ben Lomond. 
5. Marina Bay Sands Infinity Pool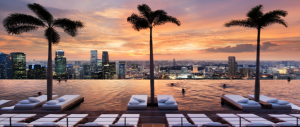 The Marina Bay Sands luxury hotel in Singapore boasts a spectacular infinity pool on its 57th floor. Set on the very edge of the hotel's Sky Park, this incredible pool is considered to be the largest in the world at this height, spanning 500 feet and boasting breathtaking views of the city's skyline. Unsurprisingly, this pool is a big attraction for travellers visiting Singapore. 
6. The Ritz-Carlton, Koh Samui Infinity Pool
The Ritz-Carlton, Koh Samui in Thailand boasts a stunning infinity swimming pool which serves as the perfect place for guests to unwind. This cascading pool is one of a kind, surrounded by gorgeous wooden decking and towering palm trees. As well as enjoying a tranquil dip in this mesmerising pool, guests can lounge by the poolside and soak in the glorious Thai sunshine.