Whether you're looking to work in the sunshine, spend time with your family, or enjoy a romantic break, the Caribbean's marble-white beaches, breathtaking views, and year-round warmth make it an excellent choice of location. And if you're looking for luxury, there's no shortage of options for you on these mesmerising islands. In no particular order, here are 10 of the top luxury Caribbean resorts for 2022.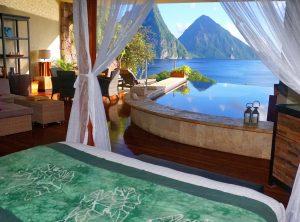 Jade Mountain Resort is the only resort in St Lucia with the iconic view of both the Piton mountains rising up from the Caribbean Sea. The resort's cliffside location enjoys 600 rich, tropical acres, bordering two soft sand beaches with coral reefs just offshore. Inside the resort, 24 guest rooms come with fun and luxurious features such as private infinity pools and 15-foot-high ceilings. All suites feature generous living areas and four-poster beds. During their stay at the Jade Mountain Resort, guests can enjoy swimming, hiking, cycling, a plethora of watersports including sailing and scuba diving,  bird-watching, yoga, and relaxing at the spa. Guests who enjoy exploring can also venture out to the island's botanical gardens, volcano, and sulphur springs. 
Peacefully sat on a clifftop above a network of sea caves in Negril, The Caves boasts a highly unique setting and vibrant personality. The colourful, thatched-roofed Caribbean-style cottages feature four-poster beds, cliff-tops pools, and hot tubs. In the resort's candlelit sea cave, guests can enjoy authentic Jamaican cuisines such as jerk barbecue and fresh banana pancakes. Cave swimming, cliff jumping, and snorkelling are among the most popular activities to take part in at The Caves, with ladders and stairs leading guests down to the turquoise waters below. 
At the Fowl Cay Resort, guests have the luxury of enjoying their own private island in the Exumas, a remote island chain in the Bahamas renowned for its sapphire-blue waters. Fowl Cay Resort is perfect for anyone seeking privacy and a relaxed atmosphere. Each villa on the resort features a fully-stocked kitchen, a wet bar, and breathtaking views of the dazzling shore. Each villa comes complete with its own golf cart and motorboat and, each morning, guests can expect to find a delivery of fresh fruit and warm pastries. The resort boasts plenty of fun activities, including swimming, playing tennis, bocce ball, or horseshoe and venturing out onto the sapphire-blue sea to go bonefishing or deep-sea fishing. 
4. Guana Island, British Virgin Islands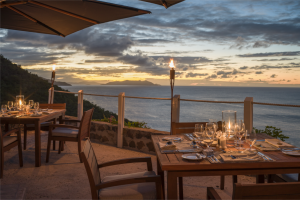 Guana Island, in the British Virgin Islands, boasts seven beaches and 850 acres of untouched tropical scrubland, making it any holidaymaker's dream. During their stay, guests can explore the resort's surrounding waters, home to over 125 species of tropical fish and aquatic life, and hike across the crisscrossing trails to Sugarloaf Mountain. After an action-packed day, guests can retire to one of the eighteen individually appointed cottages and villas that boast impressive views of the ocean and can enjoy Caribbean cuisine made with fruit from the resort's organic garden.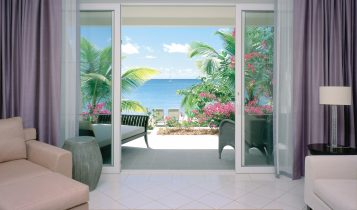 Set on an exclusive section of Antigua's south coast, Carlisle Bay projects a crisp, understated sense of luxury. The resort keeps couples and families apart to delicately cater for each group's needs, with each group enjoying its own assembly of rooms at its own end of the breathtaking crescent bay. The resort boasts beautiful landscapes of moon-white sand and forested hills. A generous list of watersports and a kids' club ensures every member of the party has plenty of fun during their stay. 
6. Amanera, Dominican Republic 
Situated on the Dominican Republic's opulent northern coast, 25 clifftop casitas sit 60 feet above a mile-long stretch of Playa Grande. Each casita features a shaded terrace and floor-to-ceiling windows to allow guests to admire the ocean views. Meanwhile, in the resort's all-glass Casa Grande building, guests can enjoy dining at the restaurant, reading in the library, and can sit out on a terrace that overlooks an impressive infinity pool which boasts views of the jungle, ocean, and the 18-hole Playa Grande Golf and Ocean Club.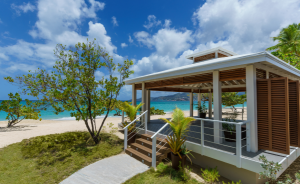 Located on Grenada's most popular beach, the Grand Anse, the family-run Spice Island Beach Resort has a relaxed, warm and friendly atmosphere with stunning views and comforting Creole-style cuisine. 64 suites are dotted along the beach's soft white sands, each equipped with four-poster beds, an outdoor dining terrace, and a private plunge pool. As well as swimming, guests can enjoy spa treatments, tennis, golf, cycling, sailing, kayaking, and snorkelling throughout their stay. For smaller guests, there's the Nutmeg Pod Children's Activity Centre at hand. 
This luxury, adult-only resort is located on a serene stretch of white-sand beach backed by the glistening turquoise ocean. Here, guests can enjoy stylish and modern accommodation, the most luxurious one which features hot tubs, swimming pools, and private terraces. The resort boasts beautiful landscape, well-maintained gardens, a tranquil spa, and several restaurants serving a wide variety of cuisines.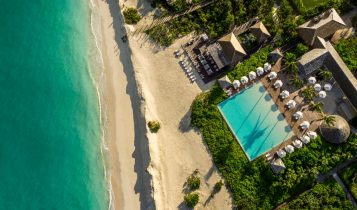 Just 35 minutes by boat from Providenciales, Parrot Cay sits alone on a one thousand acre island with three miles of white-sand beach. The resort has a range of accommodation, from garden and ocean view rooms just three minutes from the beach, to masterpiece beachfront suites and villas. The resort's renowned spa, COMO Shambhala Retreat, projects a holistic way of life and peaceful energy that embraces the entire island. Celebrities from Paul McCartney to Julia Roberts and Liam Neeson have all enjoyed visits to this tranquil, exclusive resort.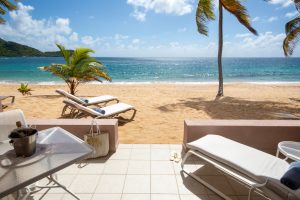 Dating back to the early 1960s, Curtain Bluff is Antigua's oldest luxury resort, boasting an atmosphere of opulent timelessness. The resort is located at the southern end of Antigua, in a promontory that divides the Atlantic ocean from the peaceful, glassy bay. The Curtain Bluff offers sea views from every window, two beaches, a tennis centre, a relaxing spa, and two restaurants equipped with one of the Caribbean's most impressive wine cellars.