Top 5 Tips To Achieve Net Zero As A Business
Dr Aidan Bell shares his advice on how businesses can achieve net zero.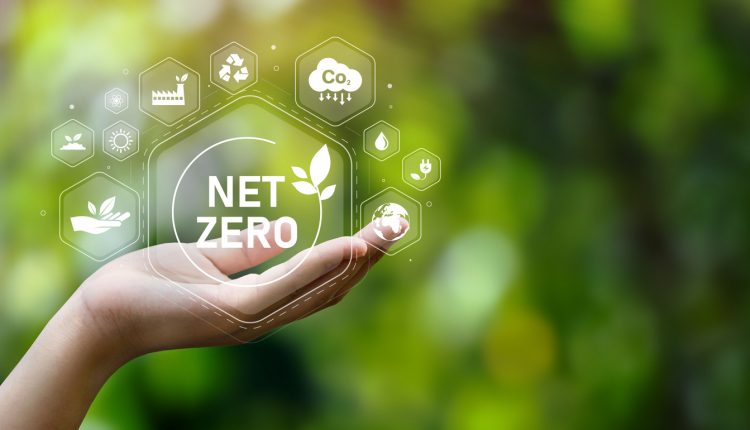 In 2015, 196 countries reached the Paris agreement to limit global warming to 1.5C.  To achieve that requires Net Zero to be reached by 2050 and a 45% reduction in greenhouse gases compared to 2010 levels by 2030.  
There are margins of error in the science, but it's clear that the sooner the economy can be decarbonised, the greater the chance to prevent catastrophic climate change. Hopefully you're aware of the major reasons for making the cuts, and you've reached this article because you're not sure how to go about it.
Here are 5 top tips.
1. Understand your current emissions
For a large company, this is easier said than done, and you might well need to work with a specialist. Emissions are broken down into 3 scopes:
Scope 1 is direct emissions from company-owned and controlled assets.  This includes travel in company-owned vehicles and heating of buildings.  Scope 2 emissions are generally the impact of generating electricity used within your company.  Scope 3 emissions include everything else: travel in vehicles not owned by the company, purchased goods and services, investments, and the use of sold products etc
These can be seen through this picture: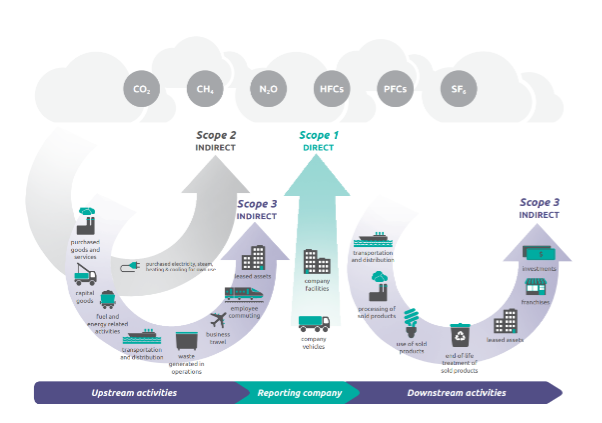 Depending upon the type of company you are, it is entirely possible that almost everything sits in scope 3.  Apple, for example, has 99% of its emissions as scope 3. It is therefore extremely important to look at Scope 3 emissions in more detail to determine where hotspots of emissions are, which invariably give the greatest opportunity to increase efficiency.
2. Make the easy changes immediately
The sooner that easy, low-cost, changes are made the more time that everyone will have to take the harder expensive actions, some of which will require technologies that are not yet ready.  Every kg of CO2 not released into the atmosphere now makes a significantly bigger difference than a kg saved in 20 years' time.
The business case is just as clear.  Your competitors are going to make the easy changes, and the companies that drive the changes will look like leaders, not followers.  It's also likely that many of the easy changes actually save your company money.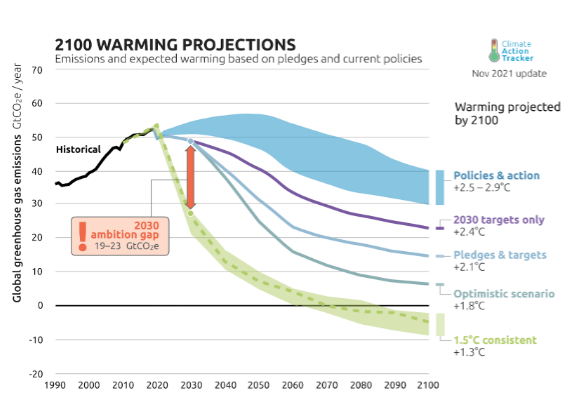 3. Plan the rest of your pathway
Once you've identified the easy changes you might well have a roadmap to reduce 25% of your impact for almost no cost over 2-years.  Now is the time to start looking at the harder decisions, and deciding which problems are something that can be achieved by your company alone, and which require collaboration.  
Systems-level change is hard, and nobody thinks otherwise, therefore most companies are not able to achieve it alone.  This collaboration could take the form of educating customers on how to better use or recycle a category of product, it is likely to involve engaging your supply chain to decrease the emissions that they are passing onto you and probably even require cooperation with competitors in your industry.  
Standards might need to be written to ensure that change is made whilst not giving a commercial disadvantage to those who do so.
4. Communicate your plan and results clearly and transparently
Consumer markets have an increasingly large segment willing to pay more for sustainable products or services, which feeds into a virtuous cycle of pushing the business to remain more sustainable than competitors.  However, this only works if your customers can understand the changes that you have made and how that might vary from your competitors.  Do not try and greenwash, which is increasingly likely to backfire, instead work with your marketing and sustainability teams to develop a truthful communications strategy understood by your customers and wider stakeholders.  
Depending upon the size, sector and location of your company it is more or less likely that you're going to have to convince shareholders to buy into this process.  The easiest way beyond simple moral imperative is economic gain.  Depending upon your sector this could be demonstrated by:
Greater revenue or margin

An increased Net Promoter Score, or general brand image

Decreased costs through energy or material usage efficiencies

Compliance with legislation, or decreased risk of future legislation affecting you

Greater recruitment and retention of talent within the organisation

Higher ESG scores, allowing listing in different types of funds
In most cases, these are likely to be KPIs that are already monitored, but correlation with sustainability efforts should be specifically analysed.  Ensuring that you have the correct management information is absolutely crucial.
5. Don't offset too early
There are an awful lot of ways to offset your carbon impact, and it can be very tempting to see these as an early stage in your pathway.  For very profitable sectors it can even look relatively cost-effective.  But please don't do it, it is imperative that we reduce our impact first as globally there will not be enough offsetting to go around.
There are also problems with the accounting and permanency of projects.  29% of California's forest carbon offset programme was removed through forest fires in a single year, a problem only likely to increase.
Greenpeace is particularly critical, calling it a "scammer's dream".  I don't agree it is as bad as that, but everybody agrees that it should be the last thing you do, once all other measures are undertaken. 
About the author: Dr Aidan Bell co-founded EnviroBuild with James Brueton, with the aim of reducing the embedded carbon within common building products, whilst maintaining quality and value – making the sustainable choice the easy choice.  Originally focussing on combining recycled plastic and wood offcuts in wood-plastic composite decking EnviroBuild's range now encompasses non-combustible balcony solutions, composite cladding and fencing, porcelain, internal flooring and garden furniture and around 50 staff.  Previously Aidan has founded a £25M turnover solar company, worked as a consultant for Deloitte and achieved a PhD in Inorganic Chemistry from the University of Manchester.