CEO Today speaks to Carol Shu, Senior Global Sustainability Manager at The North Face, about how the company is building sustainability into its brand. 
On The North Face website, you share the statistic that, every second, the equivalent of one garbage truck of textiles is landfilled or burned. This means 87% of the material used to make clothing ends up as waste. You're taking a first step to address this issue by using more sustainable materials in your products, with the ultimate goal being to develop circular systems to recycle previously owned gear and reuse the raw materials.
Could you please tell us a little more about this important first step and The North Face's future goals for using sustainable materials?
Sustainability and a deep love of the outdoors have been part of The North Face DNA since the company's founding. In fact, in 1968 our original founders were concerned about the need to keep products out of the landfill, which is why we became one of the first apparel companies to introduce a lifetime warranty. Three years later we launched our Warranty Repairs team to actually repair products.
In 2018 we launched our Renewed platform. The following year we launched our Design Residency— a bi-annual, rotational residency programme in partnership with the Renewal Workshop to provide our designers with the opportunity to learn the principles of circular design and implement them into future brand collections.
Utilising learnings from the Design Residency, The North Face launched Renewed Remade in 2020, which includes garments that are creatively repaired based on circular standards created by The North Face Design Team. Each Remade garment is individually analysed and repaired making each piece unique, one-of-a-kind and backed by a one-year Renewed warranty. Since the initial launch of our Renewed programme in August 2018, we've continued to learn, evolve, and push the boundaries of circularity within The North Face.
In April 2021 we announced our latest environmental commitment to make 100% of our top apparel materials recycled, regenerative or renewable by 2025. We're proud of the progress the brand has been making for decades toward becoming the best stewards of the planet we all love to explore that we can be.  
What has recently been one of your most popular sustainable products?
In Fall 2019, The North Face launched the Eco Heritage collection – three '90s classic icons, now made with 100% recycled materials: the Eco Nuptse Vest, Eco Nuptse Jacket and Eco Mountain Jacket. As some of our most iconic and well-loved pieces, the transition has been meaningful for the brand and our consumers. 
How are you engaging your employees in your push toward greater sustainability? 
On a strategy implementation level, our sustainability strategy is being brought to life by all teams across the brand. On an educational level, because circularity is an important focus area for us, we trained our North America and EU design teams on Circular Design through our ongoing Design Residency programme. We also bring in guest speakers to share knowledge and inspiration, for example, this year we had the Biomimicry Institute give a workshop on biomimicry for our product teams.
The North Face is committed to working with suppliers to help reduce their environmental footprint too, which is really fantastic.
How do you engage your supply chain in your sustainability efforts?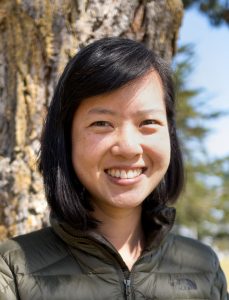 One example is our recent partnership with Indigo Ag, Inc. The Indigo and The North Face partnership is designed to help reward and drive the transition to farming practices that draw down carbon from the atmosphere and restore soil health. By rewarding growers implementing regenerative practices – through a premium on the sale of cotton and 3rd party verified agricultural carbon credits generated from additional practices adopted – the partnership helps establish an incentive-based financing mechanism to spur the adoption of beneficial cultivation strategies. The launch of regenerative products moves us beyond "doing less harm" to replenishing or having a positive impact on nature and resources.  This "nature positive" model is the way of the future along with true circularity, and this partnership will specifically benefit farmers in the US. 
This partnership with Indigo Ag allows The North Face to support American farmers in their efforts to implement beneficial farming practices, as well as send a demand signal to other growers that regenerative land management is critical to restoring the health of our soils.