Harry Bliss, CEO and co-founder of workplace wellbeing experts Champion Health, explains how business leaders can ensure their employees are thriving rather than surviving. 
I believe that 'health and wellbeing' is everyone's business.
Almost every area of your health influences your performance levels – at work and beyond. The same is true for every single member of your organisation.
If your mood is low, you're less creative. If you're tired, you're more likely to make mistakes. And if your back is in agony, you cannot concentrate.
But anecdotal evidence isn't enough to convince anyone. The Workplace Health Report: 2022, from Champion Health, is the first report of its kind, revealing the true state of our employee's health and crucially the link between wellbeing and performance.
The findings are fascinating and suggest that the wellbeing of our professionals is suffering. However, there is light at the end of the tunnel. Through smart wellbeing initiatives, every organisation can improve the health of their people and reap the benefits of high performance.
Tiredness kills productivity
People power our organisation, so enabling performance must be at the top of any business agenda.
Our data reveals that – while a multitude of health issues impact performance – one issue stands out among others: employees are tired, and this is significantly impacting their ability to work. Most employees surveyed reported their daily energy levels as 'fatigued' and over 50% reported that lack of energy affected their productivity.
This epidemic of tiredness is unsurprising given the demands that have been placed on businesses over the last two years of the pandemic.  It's clear that tired professionals are not productive ones, and we now know that this is affecting half of our people. 
Leaders must take steps to support those employees. For example, businesses can prioritise deep work or important meetings at the time of day where energy levels are high (our data reveals this time to be 10:22 AM), allowing employees to schedule fewer demanding tasks for when energy levels are naturally lower.
The link between wellbeing and performance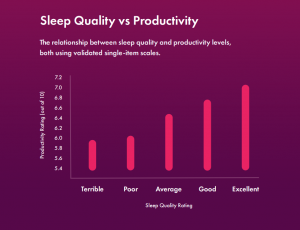 Diving deeper, our data reveals a foundational link between wellbeing and performance. In particular, there is a clear relationship emerging between self-rated productivity levels and key health areas, like wellbeing and sleep quality. Put simply: better mental wellbeing is associated with higher levels of productivity.
So, to improve work performance, attention must be given to key areas of employee wellbeing. The leaders that recognise this quickly will reap the rewards – not only in terms of engagement, but also performance, profitably and ultimately, success.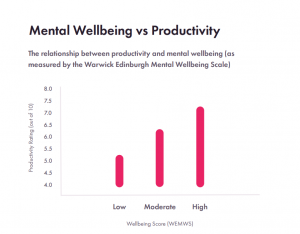 Younger employees are struggling
The pandemic has impacted us all, but not equally. In fact, young professionals (25-34) are more likely to experience mental health difficulties compared to their older colleagues. These results place a spotlight on the relationship between employee wellbeing and diversity and inclusion.
For organisations to thrive during and beyond the pandemic, their leaders must recognise the different pressures faced by various demographics and commit to addressing them. This means leaders must stay away from 'one-size-fits-all' solutions to wellbeing challenges and instead address demographic differences within organisations.
Despite the challenges, your employees are motivated
Encouragingly, the vast majority (94%) of professionals are motivated to make health changes, so it's clear your employees are ready and raring to improve their wellbeing – even if they're not vocal about it in the workplace.
Unfortunately, these professionals are just lacking the means to make those changes happen. Within our sample, energy levels, activity, weight, sleep, mental health, and stress all featured prominently as areas that employees want to improve in.
43% of employees cite time as a barrier to engaging with wellbeing. With this in mind, leaders should ensure that wellbeing initiatives fit in around busy schedules and are not viewed as an add-on to already high workloads.
Turning insight into action
When our team at Champion Health first analysed the data, it confirmed what we had learnt from working on the ground with organisations. The picture it painted was one of the employees suffering from tiredness and stress, with poor mental health disproportionately affecting our youngest talent. But I want to encourage leaders that it is not all doom and gloom.
Leaders and their people can work together to improve wellbeing – leading to healthier, happier lives and higher performance at work and beyond. With 94% of employees motivated to make positive health changes, organisations like yours are primed and ready to reap the rewards that come with happier, healthier people.
About Champion Health: Champion Health was founded by Harry Bliss in 2018 to drive positive change in workplace health. Just six months after forming Champion Health, Harry lost a friend to suicide due to an acute bout of stress. 
With the mission to make health easier, Champion Health provides innovative, evidence-based health and wellbeing solutions for the workplace, developed by world-leading academics, GPs, and technology professionals. 
Through a team of over 50 professionals and academics, the company is proud to have improved health and wellbeing outcomes across the UK and works with companies including England Athletics, Southwest Water, Rabobank, NHS Derbyshire and Twinkl.