Tony Lysak, Founder and CEO of The Software Institute, explores the pros and cons of remote working.
The past year and a half has seen a severe and long-lasting impact on businesses that have had to adapt and overcome challenges to survive since the first Covid-19 lockdown in March 2020. Millions of employees in organisations across the country found themselves almost immediately dispatched from their offices to begin working from home. For many businesses, the re-opening of the physical workplace in July 2021 came as a huge relief and they are now looking to facilitate a swift but safe return to the office.
The biggest work from home experiment in history has led to great debate amongst business leaders and employees alike. Whilst some companies found huge benefits from the enforced separation, with the flexibility enabling a better work-life balance, others saw a significant impact on productivity, mental health, and professional development. 
With individuals divided on the remote working model, business leaders are struggling to navigate the new landscape, hoping to strike the right balance between remote and office working moving forwards. They're keen to appease all employees whilst equally, ensuring their productivity remains at its peak and that staff are supported and continue to develop their industry knowledge. 
The Flexible Working Bill 
With the conversation around flexible working gaining momentum, it's no surprise that the government has introduced 'The Flexible Working Bill', to be debated and voted on by the government later this year. If voted in, the bill could revolutionise the way we work forever, with flexible working become a 'default option'. But, flexible, remote, hybrid – whatever form it comes in, we must consider the other side of the coin before rushing into cementing a new working model. 
The question needs to be: Are leaders able to offer employees the support they need in terms of career development while balancing their mental, physical, and emotional safety?
The reality is that companies who do not encourage their employees to come back to the office risk cliques forming, with people becoming culturally misaligned with the business' core values. It is not a case of right or wrong here, but the simple fact that leaders can't have half of their workforce headed in a different direction to the company goals. 
How Has Remote Working Affected Young People?
We've also seen that remote working during the pandemic has already had significant impacts on the professional development of graduates right through to the people in their early careers. Professionals within the first five years of their careers are likely to suffer the most from the lack of mentoring from senior leadership staff which is imperative for professional development. People are unable to learn through osmosis due to the lack of face-to-face experiences and learning opportunities, such as picking up key skills based simply on sitting next to senior staff and immediate guidance from managers. Without the casual conversation and collaboration that happens when making a coffee or by the water cooler, collaboration amongst teams is sadly lost. Junior staff members are unable to observe how they problem solve, communicate, and resolve conflict.  Talent in those disparate groups may begin to look elsewhere to fill that need.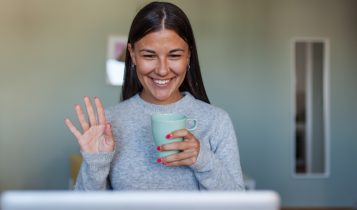 There is a time and a place for solo working, and a need for creative collaboration, but with continued innovation widening the chasm that is the skills gap, business leaders can't risk losing their top talent. If corporations opt for a remote or hybrid model, retaining and nurturing their staff will be their biggest challenge as they look for a sustainable way to fill the naturally forming skills gaps in their organisation. They must adopt agile techniques, using educational content on their internal platforms and ensuring daily touch points. Importantly, we must recognise that remote working is not possible for everyone, junior team members need to be consistently supported by senior staff if they are to develop their industry knowledge and progress in their careers. 
Remote working during the pandemic has already begun eroding skills and impacting vital industry understanding. The reality is companies who do not encourage their employees to come back to the office risk adversely affecting the continuous professional development of employees and widening the skills gap even further.