When it comes to team-building weekends, you'll often hear of some employees complaining at the thought of sitting in a conference room as they partake in infuriating team building activities while trying to stay awake listening to some boring motivational talks. While team-building exercises are one of the best ways to get to know one another and strengthen workplace relationships, there are better ways to do this and make your employees feel appreciated. 
For instance, why don't you treat them to some of the world's most popular sporting events? Watching these events with your team is not only a great bonding experience, but it also teaches everyone about valuable things like resiliency, accountability, respect, leadership, and patience. So, here are some of the best sporting events for a team-building weekend.
1. The Ashes, Australia 
If your employees are obsessive cricket fanatics, then witnessing The Ashes is probably on their bucket list. Why don't you surprise them with a ticket to the Ashes Series that will be taking place in Australia in December 2021? The Ashes is a five-match test cricket series between England and Australia and takes place every two years, with the last match being held in England in 2019. 
This 2021, take your team to the Land Down Under to witness this spectacular cricket event. The event will be taking place for several weeks, kicking off at The Gabba stadium in Brisbane. It consists of five matches, but the most popular is the Boxing Day Test and the New Year's Day Test. The Boxing Day Test will be held in the Melbourne Cricket Ground on December 26, while the New Year's Day Test will be at the Sydney Cricket Ground. Book your ticket as early as possible and feel the excitement as England and Australia battle to win the series. 
2. The Masters, United States 
Sometimes described as the "Disneyland for Adults", the Masters Golf Tournament is an ultimate bucket list event for golf fanatics. This annual sporting event takes place every first week of April. For 2022, the Master's will take place on April 3rd. It is a 7-day event, and there's always something special happening every day. There will be three days of Practice Rounds and four days of Competitive Rounds. 
Since its inception, The Masters has been taking place in Augusta, Georgia, at the iconic Augusta National Golf Club. As one of the most anticipated golf sporting events worldwide, scoring a ticket for this sporting event is a game of luck. There's only a small number of tournament tickets on offer, so you must book your US Masters tickets as early as you can. Getting a hotel to accommodate your group can be a challenge as well, as there are not too many hotels in Augusta. Nevertheless, the Masters never fails to create an enthralling sporting spectacle, so it's worth all the hassles.
3. FA Cup, England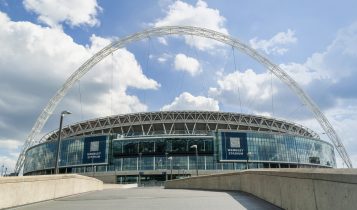 The FA Cup, officially known as the Football Association Challenge Cup, is another sporting event widely anticipated by sports fanatics around the world. Known as the world's oldest and longest-running football competition, witnessing the FA Cup is a dream of every English football fan. The 2022 FA Cup Final will be happening at the Wembley Stadium on May 14, 2022. What makes it exciting to watch is that this football tournament will be a total knockout participated by football teams of different levels.
If you want to splurge a bit and treat your team to a bit of luxury, book the VIP package where you get access to premium blocked and reserved seats. You will be served a glass of welcome champagne at the reception along with a 3-course pre-match meal. The VIP package will also allow spectators to meet and greet some football legends. Having said this, you can get a free Wembley tour if you have the London pass and if you're wondering if the London pass is worth it, you'll also save your travel around London, so, if you're making a weekend off it, it's worth a go for those organising team travel and extra fun times. 
4. The Grand Prix, Abu Dhabi 
The Grand Prix is a prestigious Formula 1 motor racing event considered the highest class of all international auto racing for single-seater formula racing cars. Witness the season finale of this famous sporting event in Abu Dhabi, and you will also have a chance to explore the city's spectacular sights, including the magnificent Sheikh Zayed Grand Mosque and the Ferrari World, the first Ferrari-branded theme park in the world. Abu Dhabi, the UAE's capital city, started hosting the Grand Prix in 2009 at the iconic Yas Marina Circuit. Since then, it has become a regular host for Formula 1 racing events. This year, The Abu Dhabi Grand Prix will begin on December 9, 2021. It will be a four-day event that includes adrenaline, merriment, and entertainment. 
Since you will be travelling as a group, the most convenient way to watch the Grand Prix is to book an Abu Dhabi F1 ticket and travel package. The package will include a ticket to the F1 race, transportation to the Yas Marina Circuit, return flights, and hotel accommodation at 5-star resorts in Abu Dhabi. If you wish to extend your stay, you can pay for the additional nights. You can also avail of the Hospitality Package, which includes appearances of F1 drivers, paddock walks, and exclusive hospitality areas. 
5. The French Open, France
Officially known as the Tournoi de Roland-Garros, the French Open is among the four grand slam tennis events in the world. It started in 1891, and up until 1925, joining this prestigious sporting event was restricted only to members of French Clubs. Scheduled at the end of May each year, the next French Open tournament will begin on May 22, 2022.
The tournament will include men's, women's, and mixed categories. As with any Grand Slam, winning will require going through seven rounds and winning seven matches. Men must win three sets of a possible five, while women must win two sets of three possible rounds. Like the other Grand Slam events, the French Open tournament will last for two weeks. Booking French Open packages will make it easier and more convenient to watch this sporting event in Paris. Aside from the tickets, the package may also include accommodations in some of the best hotels in the city. And if you want to go for a bit of sightseeing in Paris, you can opt for the customised packages.