Reading The Fine Print On A Loan Agreement
Wait right there! Before signing on the dotted line for any type of loan agreement, you must read the fine print to have a clear understanding of what you are about to enter into.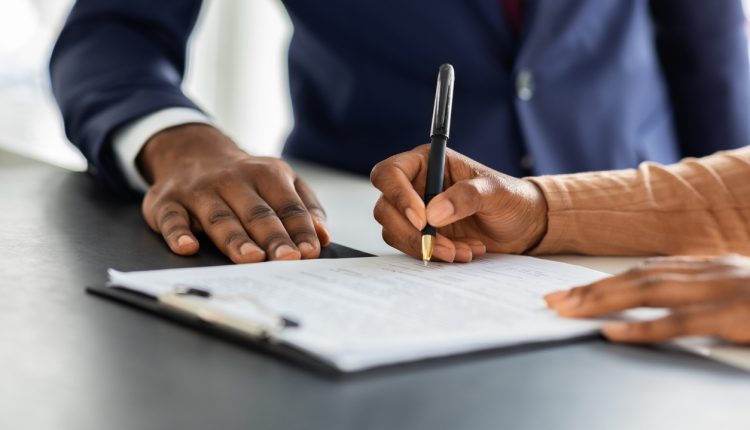 Securing a loan agreement can take up valuable time and energy, depending on the type of loan, the borrower's ability to gather necessary information, and the complexity of the loan. But knowing exactly what you are signing yourself up for is equally important as accurately completing paperwork and rounding up necessary details.
If you want to fully understand how fair APR loans work then you must learn about the fine print on a loan agreement and why it has such importance. This article will tell you all you need to know. 
What Is A Loan Agreement?
A loan agreement is a complex document that allows a lender – usually a financial institution such as a bank – to set out terms and conditions under which they are willing to provide a loan to a potential borrower. Sometimes referred to as its more technical name "facilities agreements," this contract outlines all necessary details and terms for the entire transaction.
What Is The Purpose Of A Loan Agreement?
The purpose of a loan agreement is to protect the borrower and the lender when money is borrowed. These agreements will break down the minute details of the transaction including the interest rate, the loan amount, and any relevant terms including the repayment period so that the lender is reassured that they will get their money back.
Borrowing money from a lender is a major commitment regardless of the company used and the amount borrowed. This is why protecting both the borrower and lender is important. It also serves as proof that the service was not given as a gift to the borrower.
What Is The "Fine Print"?
The fine print, or the terms and conditions, is part of a legally binding agreement between a borrower and a lender. When you purchase a product or a service from a company you will undoubtedly receive a terms and conditions agreement that highlights your rights as a consumer. It also exists to protect the company from legal proceedings or liability if a product or service is faulty. 
Think about how thoroughly you read your employment contract. You likely took the time to ensure everything on those pages aligned with your rights as an employee. Why would you ignore the fine print on a loan agreement?
How To Read The Fine Print On A Loan Agreement
Your signature on the contract shows that you have read, understood, and officially consented to the terms of the loan agreement. Once your name has been signed it will be difficult for you to get out of the deal so you must make sure to carefully read everything.
Look For Common Loan Terms
Terms in a loan agreement aren't always as explicit as one may expect them to be. Yet there are several key terms and facts that you must look for before you sign on the dotted line, including the following:
The loan amount shows the amount of money you're borrowing per your agreement.

An effective date which is the date the lender will release the funds to you.

Name and address of involved parties. 

Name and contact information of your guarantor.

Repayment terms according to the specifications of the lender. The most common arrangement will be to repay the money in regular fixed instalments.

Administrative fees. These depend on the loan and the lender.
Prepare Questions
Before signing anything, you must prepare a list of questions so that you have a definite understanding of all terms used in the fine print. If you find anything in the loan agreement that is deemed unacceptable or confusing, this will be a good time to ask questions and maybe reconsider signing.
If you are still a little confused after asking the lender to clarify certain things, take it as a sign to move your business elsewhere for a more amenable lender.
Check, Check, And Check Again
You can avoid unexpected and nasty surprises by taking the time to calmly read through and review all of your loan documents as thoroughly as you can. Speak to your lender about things that you do not understand. However, before you begin the process of submitting a loan application, you should ask your lender for an example of what their loan agreement will look like.
Other Details That Are Often Buried in the Fine Print
Some of the most important terms that constitute a loan agreement will not always be as explicit as they should be. As a result, the fine print can often be extremely detailed and quite complex to read due to lots of vital technicalities and information about the terms of your loan.
Some of the specific things you need to look out for in the fine print are:
The type of interest rate and when it will change (fixed or variable). 

Any payment schedules or late payment fees.

Prepayment fees if you were to pay off the entire loan early.

Your lender's definition of default and the types of penalties that will be incurred.

A grace period that gives you a few extra days to get your payment together if you haven't paid on time.
You might believe that it's impossible to overlook such important details. However, in the excitement of signing your name on a loan agreement, there are some risks that you should prepare to face to avoid disappointment. Most importantly, you risk quite a lot when you sign your name without knowing exactly what you are getting into. 
Summary
Loan agreements provide you and the lender with financial protection in case any party attempts to change the terms. If you do not follow through on your agreement you might find yourself in an unwanted negative situation. By thoroughly reading the fine print you will get a clear picture of what you are agreeing to and will understand all of the relevant terms.