Unexpected Whisky Pairings For Summer 2022
If you think whisky drinking involves leather chairs, open fires and cigars on a cold night then you need to think again.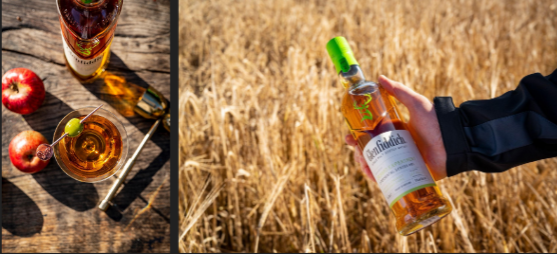 The whisky industry has woken up to the idea of unexpected pairings and it's not middle-aged men having a nightcap they are targeting — it's the young — at parties and BBQs — in the middle of summer. Such whisky expressions are booming with double-digit growth year-on-year – and distillers, both big and small, are getting ever more adventurous with their offerings.
It's a far cry from the end of the last century. Then just adding ice to your whisky – on the rocks – was often considered sacrilegious, especially in Britain, but now some of the most prestigious distillers are suggesting their prized eau-de-vie are served with everything from orange, to apple to peach.
 Just this month, Glenfiddich, the most awarded single malt in the world, launched the Orchard Experiment – a single malt finished in Somerset Pomona Spirit Casks – made from English cider Brandy. Its signature serve – with apple juice.
The new expression is the fifth in the maverick distillery's Experimental Series which also includes the run-finished Fire & Cane, the IPA which is finished in craft beer barrels and Icewine barrel finished Winter Storm.
And the month before that, Grant's launched its first-ever flavoured expression – the Summer Orange – a mix of whisky and orange designed to be enjoyed with friends in the golden evenings of summer. Its recommended mixer – lemonade. 
The unexpected expressions of whisky are part of a growing desire among makers to appeal to a younger, more social crowd – and to throw off its stuffy old fashioned image.
These days drinks are enjoyed socially and can be a conversation starter, a representation of the drinker's personality and a chance to experience new beginnings – so it's no surprise that these cob-web-filled menus and drinks shelves are being dusted off with experimental flavours that challenge the taste buds and start a conversation.
The seasonal changes inspire a seasonal approach to the flavours being devised by the biggest and best distilleries in the world, with summer being a time of sharing and enjoyment. 
The likes of the Orchard Experiment, Summer Orange and the smaller US producer Two Eagle's Devil's Sister Peach are designed to push the envelope, challenge their palette and broaden their beverages' horizons.  
"Glenfiddich wants to challenge your perceptions of what whisky should taste like with the Orchard Experiment, and the unexpected pairing of flavours is set to do just that!" said Mark Thomson, Glenfiddich's Ambassador to Scotland. 
Daniel Dyer, Grant's Global Brand Ambassador, added: "Whisky and orange is a fantastic combination made for summer evenings and perfect to enjoy with friends.
"Grant's loves people to get together with their crew to shoot the breeze and came up with Summer Orange for those magical moments with friends as the sun lowers and the warm air covers you like a blanket.
"So, whether you're a whisky newbie or aficionado, grab a bottle and go and meet your friends after work or at a party or at a picnic – it's summer fun in a bottle!"
Unexpected Pairings To Try
Glenfiddich's Orchard Experiment
Glenfiddich's Orchard Experiment was crafted By Glenfiddich in collaboration with the Somerset Brandy Cider Company, run by the Temperley family. This unique liquid was created using select Glenfiddich liquid that had matured in American Oak while held in Glenfiddich's Experimental Warehouse.
It was then finished for approximately four months in sweet Somerset Pomona Spirit Casks, an exquisite apple spirit which graces the tables of top-ranked restaurants throughout the world, to a distinctive and fruity effect. This truly one-of-a-kind distillation process has led to a sweeter than usual whisky flavour, perfect for summer and those who prefer to enjoy more-ish notes from their whisky. A beautifully simple whisky, this spirit is recommended to be drunk long:
50ml Glenfiddich Orchard Experiment 

150ml fresh apple juice 

Add to a tumbler glass filled with ice and stir 

Garnish with an apple fan and mint leaves (clap them to release the flavour)
Grant's Summer Orange
Grant's offering to the unusual whisky pairings pantheon, comes in the form of their Summer Orange flavoured expression. Blending Scotch since the late 19th century, this marks the first flavoured edition in Grant's portfolio. Being created, distilled and finished with whisky drinkers and non-whisky drinkers in mind – this flavour contains key notes of natural citrusy orange plus Sicilian orange extract, pairing the classic whisky flavour with a sweet and sour summer orange taste. Grant's Summer Orange is a summer refresher, crafted to be enjoyed over ice, with lemonade or soda finished with a slice of orange best enjoyed in the sun.