What's a business without clients? Nothing. However, in the present world, there's an extremely low chance that anyone will patronise your business willingly. People need a little nudge, a little convincing. 
Sure, they may need your product/services. The reality is that there are a lot more businesses offering the exact service you offer. It then begs the question, why you? 
There are several online tools to help you convert prospects into clients. Some are free while others are paid. But just like your business, numerous online productivity tools offer the same services.
Choosing the right tools can be the key to unlocking unmatched sales productivity. This article explores some top productivity tools available for your business and how they can help you. 
Best productivity tools to convert prospects into clients
Several aspects align with each other to produce a successful business. For each of these aspects, there's a tool to make it easier. Below are the highlighted aspects, their purposes, and some of the productivity tools that make them easier and ultimately convert prospects into clients. 
CRM tools
Customer Relationship Management tools are used for managing the relationship between a business and its customers. These tools assist brands in managing several processes such as customer data, customer interaction, tracking leads, marketing, customer support, and much more.
A CRM software can sort, analyse, and prioritise your sales leads to help your sales team focus on the prospects that are likely to become clients and provide accurate answers to customers fast and efficiently. It also ensures your customer service team has the information they need for upselling and cross-selling. 
Below are some top CRM tools available for business owners:
Hubspot CRM offers a variety of useful features and these services are free to a large extent. It is an easy-to-use tool that enables you to update reports and track your team's progress manually. 
It displays a real-time view of your entire sales pipeline on a visual dashboard. HubSpot's CRM platform also offers enterprise marketing, sales, customer service, content management, and operations software. It offers tools that notify you when a prospect opens an email or visits your website. 
You can then use that information to follow up at the right time via live chat, email, or call. It can be used by salespeople, business owners, marketers, operation managers, and customer service teams. Other features include: 
Company insight

Deal tracking

Pipeline management 

Email tracking and management 

Prospect tracking

Live chat

Ticketing

Lead management and tracking. 
Zoho CRM is an online customer relationship management software that helps businesses improve their sales strategies and engage potential leads across various social channels.  It allows you to connect with your customers through multiple channels, all while centralising information that empowers your sales team to have contextual, meaningful conversations with prospects. 
Zoho CRM harnesses the power of Omnichannel presence, segmentation, KPIs, predictive intelligence, and more to deliver personalised experiences. It also helps to automate routine sales, marketing, and support functions that take up valuable work time, giving you more time to concentrate on your customers. Other features include:
Lead management 

Deal management 

Contact management

Workflow automation 

Canvas

Sales process builder

Email tracking and management 

Analytics

Performance management 
Salesforce CRM, known as Salesforce Customer 360, is offered in different versions and configurations to suit businesses of every size and in every industry. Salesforce offers a wide variety of CRM categories and systems to meet your needs. These include Sales Cloud, Marketing Cloud, Service Cloud, Analytics Cloud, Data Cloud, Community Cloud, App Cloud, and IoT, serving more than 150,000 customers. 
Salesforce learns and grows with your business, thanks to smart features that improve with every customer interaction. As a centralised source of data, Salesforce makes it easier to allocate marketing efforts and personalise messages for different customer units with helpful AI-powered recommendations.
Other features include 
API Access

Cadence

Contact Management

Contract Management

Database Management

Funnel Reporting

Integrations

Partner Tracking

Performance Reporting

Pipeline Management

Sales Gamification

Quotation Handling
Analytics and reporting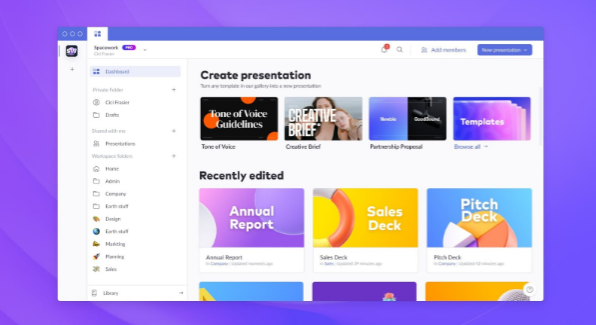 Pitch is a cloud-based collaborative presentation software for modern teams. With a focus on real-time collaboration, smart workflows, and intuitive design features, Pitch makes it quick and effective for businesses to create and deliver delightful presentations. It also makes it easy for teams to find inspiration from templates crafted by experts. 
Many teams have adopted Pitch as their go-to presentation software, including top brands like Intercom, Superhuman, and Notion. You can create your report using Pitch and their collection of templates.
With Pitch, you can find templates for anything from project status reports and financial presentations to market research decks and business reports. These templates are fully customisable, easy to use, and free.
Insider is an online marketing platform for personalised, cross-channel experiences. It enables business marketers to connect customer data across channels and systems, predict their future behaviour with an AI intent engine, and design personalised experiences for customers. 
Marketers use Insider's platform to deliver experiences across various channels including Web, App, Web Push, Email, SMS, Messaging Apps (WhatsApp, Facebook Messenger, RCS), Ads, and more.  Other features include:
ROI Tracking

Data Collection

Customer Insights

Multi-User Access

Campaign Insights

Reports and Dashboards

Campaign Stickiness

Brand Optimisation
Lead generation tools
Lead generation tools and software assist you to find and organise contact information from people interested in your business's product or service. These are known as "leads" and usually come from social media, websites, or other online channels. 
Below are some top lead generation tools:
Optimonster is a lead generation tool that makes it easy to convert site visitors into leads and ultimately, clients. It is an easy-to-use software that gives you the creative control to create eye-catching on-site lead generation campaigns like popups, slide-in windows, and gamified spin-to-win wheels. 
It helps your business reduce cart abandonment by offering abandoning visitors a custom-tailored offer before they exit your site. It can also help to increase your conversions and sales by creating upsell, downsell, and cross-sell offers to improve your customers' average order value (AOV).
LeadFeeder is a lead generation tool for businesses that allows you to track website visits and see where they came from. Leadfeeder integrates with your Google Analytics code and extracts the information you need.
Leadfeeder ranks your leads based on their site activity and then automatically integrates with your CRM. It also automatically inputs the lead's contact information to the CRM without requiring them to fill and submit an opt-in form. In addition to these, it automatically scrubs your lead list of bots, ISP, and other valueless traffic. Other features include:
Engagement tracking

Source tracking

Lead notifications

Prospecting tools

CRM
Sales engagement tools
Sales engagement software streamlines the sales process through integrations with sales communication channels and tools, management of sales messaging and materials, and automation of tasks, messages, and workflows. 
This software enables companies to combine their sales and marketing efforts to create personalised and automated sales journeys. These can include emails, calls, social posts, meetings, and text messages. Examples of top sales engagement tools are:
Salesloft is one of the leading sales engagement tools that assist sellers and sales teams to drive more revenue. The Modern Revenue Workspace by Salesloft is the one place for sellers to execute all of their digital selling tasks, communicate with buyers, understand what to do next, and get the coaching and insights they need to boost their sales. 
The software hosts all communication channels on a single dashboard and offers one-click dialling or texting from any device. Salesloft has a variety of features for every branch of your business including sales leaders, managers, ops, SDRs, BDRs, account executives, marketers, and customer success reps. Other features include:
Prospecting tools

Lead distribution

Customer database

Interaction tracking

Meeting management
ActiveCampaign is a sales engagement platform that helps businesses to meaningfully engage with their leads and clients. It is a sales automation software that offers email marketing and cloud-based marketing with properties for web analytics, lead scoring, a CRM platform, and a live chat messaging platform. 
ActiveCampaign integrates with  850+ platforms including Microsoft, Shopify, Square, Facebook, and Salesforce. It helps businesses to track buyer preferences, behaviour, and many custom options across the entire customer lifecycle for better segmentation and more effective outreach. 
Email-centric productivity tools
These tools are used for managing, tracking, and analysing emails which are undisputedly one the most prominent communication medium for modern businesses. 
ConstantContact is one of the biggest email marketing platforms available on the market. It is easy to use and beginner-friendly. It helps to connect with leads as soon as they sign up with an automated email series. ConstantContact is a reliable and affordable email marketing service that helps to create email marketing templates, manage and automate campaigns, build contact lists, and improve customer relationships. 
The platform's email marketing features provide advanced functionality to small businesses seeking to improve their business, boost sales, and nurture leads with email campaigns. 
Conclusion 
Productivity tools can have a significant impact on your business performance. This is why you must carefully select what tools would boost your business's productivity. This article discussed some top productivity tools available to your business that'll help convert leads to customers.