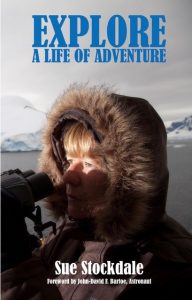 You can overcome self-doubt and embrace challenges with renewed vigour through Sue Stockdale's adventurous tales of polar exploration. Explore is a captivating and compelling memoir about the author's adventures in some of the most extreme environments on earth, including the North Pole, Antarctica and Greenland. 
Inspiring us to hone our own fighting spirit with a 'no mountain high enough' attitude, Sue shares the crucial life lessons learnt from a lifetime of adventure and how these can be useful in our professional life and beyond. 
Drawing on over twenty years of experience as an executive coach, TEDx speaker and podcaster, Stockdale motivates readers to develop the self-discipline and adventurous spirit we need to overcome challenges and succeed in any aspect of our lives. 
Empowering us to push our limits and addressing the psychological nature of work, the book hones in on key issues such as self-discipline, networking, self-confidence, overcoming fears, becoming more adventurous, seizing opportunities, empathy and self-compassion.   
With a view that we can find our own hidden quality in hostile environments and in the challenges that life brings us, this motivational gem will get your adventurous spirit going this summer, at least mentally!