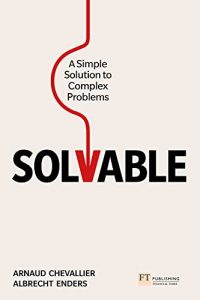 Co-written by professors of Strategy and Innovation at Internationally recognised Business Institute, the IMD, authors Arnaud Chevallier and Albrecht Enders have developed a research-based, three-step master plan to help us to make better decisions, faster. 
Breaking down the science behind problem-solving and decision-making, Solvable uses a novel dungeons and dragons type analogy to aid us in our quest for answers, looking at problems in terms of a hero (main protagonist or group of protagonists) seeking to obtain a treasure (the problem solved), which is protected by a dragon (the obstacle).
Using research across business management, psychology, design and engineering the authors have devised a three-step process – 'Frame, Explore and Decide', which teaches us to solve any kind of problem, whether at home or at work, with confidence, ease and critical awareness. 
Whether you are struggling to prioritise which problems need solving to get a digital transformation project back on track, trying to create an efficient team with an open platform for dialogue in problem-solving, or simply trying to figure out what to watch on Netflix, this book is an essential handbook for any business leader in 2022.