Digital Darwinism: Survival of the Fittest in the Age of Business Disruption by Tom Goodwin (Kogan Page Inspire)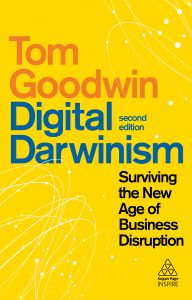 Best-selling author, and respected business influencer, Tom Goodwin, brings an exhilarating and at times provocative account of how and why the world is changing in the post-digital age, and essential tools to navigate this new era of disruption. 
In its second edition, Digital Darwinism gives leaders invaluable practical insights into digital transformation models and defines key strategies for their businesses to evolve and adapt successfully, in an age of fast-paced change and uncertainty. This new edition tackles the new conflicting needs of customers and employees and prepares us for future disruptors, however inconceivable. With critical analysis, Goodwin pinpoints and challenges old modes and assumptions, and allows us to meet new and changing expectations, head-on. 
As a top voice in marketing and a respected industry commentator on the future of business, Tom Goodwin's critique will inspire leaders to dust off the cobwebs and give their businesses the spring clean they need to survive in the post-digital age.