Driving Digital Transformation: Lessons from Building the First ASEAN Digital Bank by Dennis Khoo (Marshall Cavendish)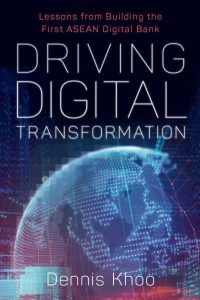 This unique book gives behind-the-scenes access to Dennis Khoo's success story as the head of a Millennial digital bank in Singapore, TMRW Digital Group. Bucking the trend of traditional banks' failings in challenger bank ventures, Dr Dennis Khoo's incredible expertise in business administration and philosophy of International business helped an 80+ year-old incumbent bank, UOB develop the first successful digital bank in ASEAN, winning the 2019 Global Finance's Most Innovative Digital Bank in the Asia Pacific. 
Using this unique blueprint, Driving Digital Transformation offers an insightful and holistic approach for any successful business transformation across all industries. Filled with visionary analysis and on-the-ground guidance, Khoo challenges us to foster a culture of innovation and clearly define our mission, in order to profit in an uncertain business climate of disruption.   
From hiring the right talent to designing the digital architecture of a great company, this book is an essential read for any leader or organisation undertaking a Digital Transformation in 2022.