In an ever-changing digital world, where emerging and evolving technologies are constantly shifting the business landscape, CEOs are required to navigate uncharted waters to meet the needs of their organisations, workforce and customer expectations.  
These ten books will help leaders, regardless of their technological prowess, to safely steer their own digital transformations and to critically understand the new models and tools available to them, in order to create a brighter future for their companies and communities.  
Written by leading experts and academics in the fields of digital innovation, leadership, AI Tech, customer experience, psychology, engineering, finance and data analytics, this treasure trove will surely inspire CEOs, across any field, to take the helm of their companies' digital future.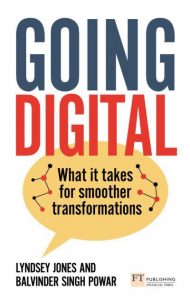 In Going Digital, Lyndsey Jones and Balvinder Singh Powar cut through the technical jargon and buzzwords associated with Digital Transformation to provide a concise and accessible guide to AI, data, diversity, handling crises and more. 
Both experts in the field of digital transformation and management theory, their book focuses on what humans can do that computers cannot, particularly in terms of team leadership, and provides real-world examples of the human dynamics behind digital successes including Zoom, CNN and BlackRock.
Inspiring us with an openness to transformation in our businesses and presenting helpful problem-solving advice, Going Digital encourages us to be the best digital leaders we can be and avoid drowning in data.  By maximising the human element, the writers prepare us to harness the true value of information and avoid common leadership faux-pars in the process.   
Lyndsey Jones' experience as a strategic media consultant, and driving force behind the Financial Times' digital transformation, coupled with professor Balvinder Singh Powar's professional and academic authority on Innovation, leadership and virtual hybrid teams, offer the perfect marriage to help even non-technically minded CEOs understand how they can successfully implement a digital transformation.
Click on the next page to see more of the CEO's Reading List For Navigating The Digital Future.