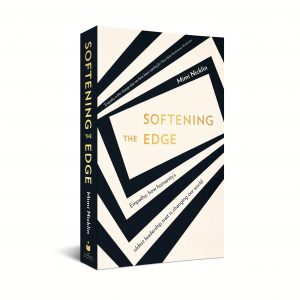 According to studies by the University of Michigan, empathy levels have fallen by 40% in the last ten years. Softening the Edge addresses the growing problem of this 'empathy deficit', and its knock-on effects on happiness and efficiency levels in the workplace, in wider social contexts and in business leaders themselves.
In the uncertain and sometimes traumatic climate of the Covid pandemic, reports suggest depression and anxiety levels have rocketed, but Mimi Nicklin suggests an 'empathy intervention' could be the best way to turn things around for businesses and the world in general.
Drawing on the wisdom of some of the world's most powerful opinion leaders, such as President Barack Obama, Jacinda Ardern and Oprah Winfrey, alongside her own experience of turning around a failing business, Mimi inspires other CEOs to re-evaluate the heart element of our businesses, focusing on the many benefits of empathetic leadership. 
Part business tool, part corporate culture guide, Softening the Edge presents insightful and regenerative ideas on how to harness and exercise empathy and lead by example. It is the perfect guide for the CEO who wants to bring their whole self to work, and it helps enhance wellbeing and productivity while building the kind of stronger relationships that truly deliver.