We all know that the world of business has never been so fast-paced and uncertain, and it means that CEOs around the world are facing ever-increasing pressures on both a personal and professional level.
Leading a business is no longer just about profit, it is about the wellbeing of the people in your organisation. It is not just about shareholder value, but also the value you are adding to society. So how can you tackle such uncertain situations and seemingly conflicting interests, without taking a huge toll on your  personal well being?
Here we have put together our recommended reading list that will help you become the kind of 'Whole CEO' who can achieve truly sustainable success.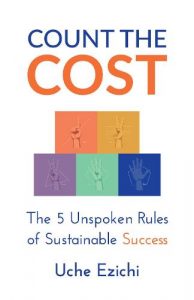 Count the Cost is a compelling story and cautionary tale of how an individual can be flying high in their professional life one day, but then be unable to get out of bed the next due to severe burnout. Crucially, it is also the story of how he was able to bounce back and regain control of his life, picking up some invaluable lessons along the way that many CEOs could learn from.
More than just a memoir, Count The Cost looks at the impact ambition can inadvertently have on a leader's personal life, explaining the value in counting the cost of your dreams and taking readers through five key rules for sustainable success – recognise, realise, rules, review and (re)launch.
Today, the author Uche Ezichi is a highly successful executive coach, speaker and facilitator who works with senior leaders at some of the world's most famous organisations to help build resilience and drive behavioural change. His open, honest style shows how the personal life of any leader could become derailed through stress, but through the right steps, it is always possible to get back on track.
Click on the next page to see more books for the Whole CEO.