5 Startups to Watch in Southeast Europe
The startup scene has seen a couple of interesting years, to say the least.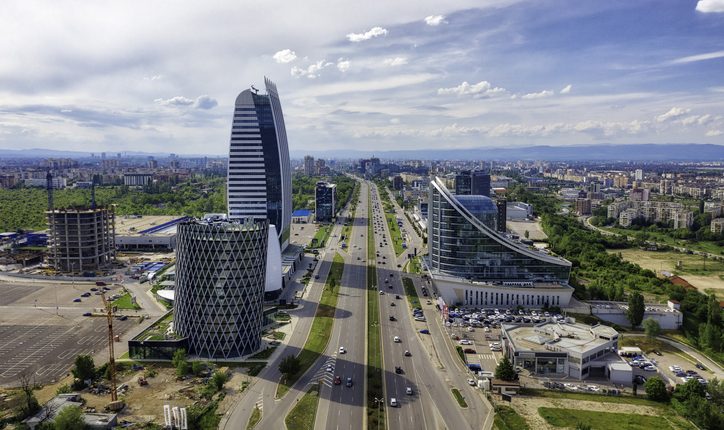 The global market is still growing at breakneck speeds, and according to Crunchbase data, the total VC funding has grown from $335 billion in 2020 to $643 billion in 2021. That's a staggering growth rate of 92% in a year. Although it's great to see that the market is expanding and more innovative companies are getting funding and have a shot at making it, we also see some drawbacks in the super high-growth environment. First, valuations are getting a bit crazy in some spaces, making even the greediest investors a bit skittish. Second, VC investments have always been hardly accessible to the retail investor, and the higher the valuations are — the more difficult it would be to bridge that gap. That's why we consider a new approach for investors who want to have some VC exposure in their portfolio but not pay a monstrous premium. The solution might be simply to look towards the "emerging markets", not necessarily Silicon Valley, since they can still find high-growth innovative companies at a more reasonable multiple.
That's why we consider the SEE region to be one of the most attractive markets in Europe. There's already a developed ecosystem of local VCs, and the market is growing at a record speed as well, with $2.5+ billion raised in 2021. It's also easily accessible and well-connected. However, the region remains one of the most overlooked destinations for foreign investors. Of course, the reason we think it's an attractive destination is derived not only from the effort of seeking lower valuations; instead, we honestly believe that there's a lot of growth potential, and the reason for that is that the companies founded there indeed have some of the most innovative ideas, successfully coupled with good execution. To preface that with a success story, look no further than UiPath, the first Romanian unicorn with a $1 billion IPO on the NYSE last year. Naturally, investors won't learn everything they need to know by just following mainstream media, so here is our selection of some of the more exciting startup stories of the SEE region (Romania, Bulgaria, Greece); the ones more people need to hear about.
Payhawk
Payhawk was founded relatively recently — in 2018 – by co-founders Hristo Borisov and Boyko Karadzhov and has just become Bulgaria's first unicorn. The startup, already backed by Stripe investor Greenoaks Capital, successfully raised an additional $100 million flash-round at a $1 billion valuation with Lightspeed Venture Partners.
That's a surprisingly short journey. From founding the company to $1 billion in 4 years is an extraordinary feat. According to one of the founders, the reason they've succeeded so quickly is simply because they have addressed a significant problem in a large market. But what do they do, exactly?
Payhawk has designed a solution to make corporate spending and expense management way easier.
Indeed, Payhawk bridges the gap between banks and accounting systems. The FinTech startup provides company credit cards that help avoid manual processing of expenses, control budgets in real-time, and fully automate payment and expense approvals regardless of the payment method. The plans for future development are to use machine learning to create smart workflows and reduce the need for manual review and approval.
The goal behind all of this is not simply to make budgeting more manageable, but it actually solves the problem that when employees are returning to the office from business travel, they have to deal with the bureaucracy of writing an expense report for 2 hours and then waiting for a week to get their money back from the company.
Payhawk experienced a crazy high transaction volume growth (triple-digit) last year. And if we're monitoring the corporate card and spend management startups in the US with Brex and Ramp, with valuations of $12 billion and $8 billion respectively, you'd know that this is a startup you should follow closely.
Frisbo
Founded back in 2014 by co-founders Bogdan Colceriu and Laura Frincu, this Romanian startup has one simple goal — to make cross-border shipping in the EU easier and quicker. This is still a relatively early-stage startup since they recently raised another round backed by Bulgarian VC fund Eleven Ventures to reach a valuation of $14 million. Nonetheless, the company has a rich network of warehouses already and is active in 15 European countries, offering next-day shipping to more than 200 online retailers. The company initially started purely as a fulfilment business, but when they realised the issues of scaling such a business, they pivoted to a product that connects retailers with other warehouses in their network, almost like an AirBnB for international shipping.
Now Frisbo offers an end-to-end solution that takes over storage, processing, warehousing, and most importantly, next-day delivery at the cost of local shipment.
The problem they are trying to solve is enormous.
In short, the e-commerce industry in the EU is not where it should be and is way behind when compared with the US.
In the US, nearly 50% of all retailers offer same day or next day shipping. In contrast, out of the top 50 retailers in the EU, only 13% offer same-day delivery, and 38% offer next-day delivery. Again, those are the biggest retailers. When we look at the broad picture, 90% of all online retailers operate only within the borders of their respective countries. And the issue is clearly not one of demand, with multiple consumers studies showing that same-day delivery is the most wanted feature in e-commerce.
If Frisbo manages to change the shipping landscape in the EU, this would be a huge breakthrough not only for the company but for the EU economy as a whole. Who doesn't gain from increased cross-border trade?
Dronamics
Dronamics was founded in 2014 by two brothers — Svilen Rangelov and Konstantin Rangelov, an economist and an aerospace engineer. The story starts when they embarked on a quest not to shave their beards until they've built an autonomous cargo drone. Well in 2017, they had the first test flight of their drone called The Black Swan, which was successful, though — plot twist, the brothers still didn't shave their beards. Perhaps they're aspiring towards a higher goal.
That being said, no goal seems to be too far out of reach for this startup. They recently had an IPO on the Sofia stock exchange, which was oversubscribed nearly five times. It was an absolute success that raised 3 million euros, which will be used to fund the company's daily operations.
One might ask, however, what's so special about that company? At the end of the day, many companies are making drones…
That's right. In order to understand if the brothers will shave their beards eventually, we need to look at the long-term goal of Dronamics.
After they successfully built a small, unmanned, and extremely fuel-efficient airplane. The company is now aspiring to be a lot more than just a drone manufacturer. They're in the business of operating Droneports. These Droneports are especially suitable for delivering high-priority goods, such as machinery spare parts, vaccines, plasma, and other pharmaceuticals. Dronamics have something to show for their aspirations already. They've recently signed two huge deals: a partnership with Hellmann Worldwide Logistics and a partnership with DHL. The first commercial flights are expected to start in 2022.
The whole solution that the company is planning to provide is something that has the potential to change the shipping industry as a whole. We have a lot to look forward to with the company that can save thousands of man-hours spent on medium-range deliveries and the considerable amount of CO2 emissions that come with them.
Biopix-T
This is the newest company we're covering, but nonetheless, they have plenty to show. George Papadakis and Nikolaos Fikas founded Biopix-T in 2019 when they created a spin-off company to work on a prototype for a Point-of-Care (POC) testing device for the Institute of Molecular Biology and Biotechnology at the Foundation for Research and Technology — Hellas. Point-of-Care devices are mainly used in lieu of a lab, for example, in a doctor's office, an ambulance, a hotel, or in limited-resource areas. The company initially succeeded with the first version of the IRIS product, but since it was quite difficult for mass production, they pivoted to a second version.
Now the startup has developed the Pebble device, a micro POC testing centre, which produces highly accurate results quickly, then automatically transfers the data to a database, and is managed from an easy-to-use Android device.
The advantages to this are numerous, but for example, when compared to a standard PCR testing method, the Pebble device delivers results quicker, while it is also cheaper and easier to use.
Naturally, testing device startups have been all the talk in the past two years due to the COVID-19 pandemic, and of course, the Pebble device also has COVID testing capabilities. Still, the functions of the platform go way beyond that. Currently, Pebble also has the capabilities for BRAF V600E and CYP2C19*2 testing, as well as food & plant pathogens.
In early 2021, the Greek startup closed a 1.45 million euro seed round, with the goal to expand the testing capabilities of Pebble to other indications and pathogens.
The reason we're closely monitoring Biopix-T, is that they are way ahead of the competition from a technical perspective, and there's a massive trend for personalised medicine, which will increase the need for POC tests. Not to mention the potential for such a device in a remote location or even in space.
NitroPack
NitroPack is a very intriguing startup. The company was founded exactly 10 years ago as a caching solution for the e-commerce platform OpenCart. Though, since then, the world of site speed optimisation has changed a lot, and so has NitroPack. Today the startup is led by Deyan Georgiev and Ivailo Hristov and is backed by Eleven Ventures.
The company offers a fully-fledged website speed optimisation tool that takes care of caching, image optimisation, lazy loading images, CDN, critical CSS, etc. Integrated with the Google PSI tool, it continuously runs tests and optimises website resources.
Why is the company a more interesting case though?
Well, it serves to show that resilience is what usually leads to success. Not every startup story can be about a company that went from start to $1 billion in 3 years. NitroPack went through many changes, but the team endured until they landed on a product-market fit, that allowed them to grow their customer base 5 times in the past year.
The second question would be, why do we see such potential in this company?
The truth is, they are in the right industry at the right time. Google puts more emphasis on website load speeds every year, and they even made speed a ranking factor for mobile searches. Of course, this industry also has plenty of competition, but the overall SEO services market is projected to grow 17% a year and reach more than $100 billion by 2025. That's why we believe that this company is poised for success.