The marketing and advertising industry has been evolving with the speed of light over the past years, with  media advertising spending growing rapidly as well. Yet, when one thinks about a marketing campaign, the first idea to come to their mind most likely will be about some kind of a digital technique. Indeed, ongoing digital transformation processes have completely changed our understanding of every aspect of your life, including, of course, the sphere of advertising and promotional activities. When it comes to choosing your marketing strategy, it's worthwhile to remember the old saying that warns against putting all eggs into one basket. If your company relies heavily on social platforms and other digital marketing techniques, you're taking a significant risk. The best option here is to diversify your campaign to cover all existing directions. And here is how you can do it to your maximum benefit.
1. Organising Offline Events Or Supporting Charity
Today, the concept of socially responsible business has been put in the spotlight by many experts and world-leading entrepreneurs. Thus, sponsoring some charity event or a good cause comes like killing two birds with one stone: firstly, you will do something meaningful and important; secondly, this is a great possibility to become highly visible and recognisable within your local community and receive positive associations. Organising live promotion events implies approaching one step closer to your target audience. During such an event, you can show your clients and prospects that your company has the best solution to their problems. Live, personal demos and consultations provide a direct connection between buyer and seller. Outreach activities of all possible kinds come in especially handy for beginners, narrow-niche companies and small businesses that mainly service their local community and neighbourhood. 
2. Poster Campaigns 
Posters have been around for decades, which makes them one of the world's oldest marketing techniques. There are several reasons why this is an effective and efficient method to promote your product or service and connect with the audience. Old-school posters are good at inspiring nostalgic feelings and, consequently, reaching your customers at a deep emotional level. Besides, they are extremely good at instantly grabbing people's attention – and this is just what you need if you are planning to launch a new product or service. An additional bonus is the fact that you don't need any more to pay for the services of a graphic designer – you can try to create vintage posters designs as you want without any difficulties.
3. The Power Of Word Of Mouth 
Sometimes the goods and service market is so condensed, that customers can't make the final decision which brand they should choose at the end of the day. In situations like that, they often rely on recommendations and advice from people they know and trust. Word of mouth is already a very efficient peer-to-peer advertising method by itself. However, if you incentivise this option, you will be surprised by the ultimate result you will get. Offering commissions or discounts to customers who bring new customers to your business is a great way to grow your business.
4. Run A Nationwide Radio Or TV Campaign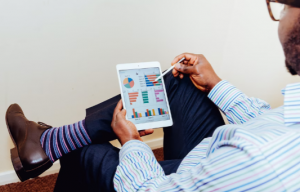 Some marketers mistakenly believe that radio and television are not as efficient as they used to be in the past in terms of their advertising potential. Yet, these two media remain extremely popular, especially among certain demographics and age groups, offering millions of regular watchers/listeners who can be converted into potential clients. Naturally, such campaigns don't come cheap, but the final result is worth every dollar invested. Moreover, broadcasters offer a wide range of various tariff plans, so you will be definitely able to choose the one that suits your needs and budget best.
5. Utilise Branded Clothing And Accessories
It's a commonly known fact that people like getting presents and some useful things for free. So, why not take advantage of this situation? Presenting your potential customers with clothes and some useful small things (like water bottles, coffee mugs, notebooks etc.)that have your company's logo on them, is a great way to advertise your business in a rather subtle and unaggressive manner. Importantly, make sure that the items in question are of high quality because they will be directly associated with your brand name.
6. Develop A Hybrid Mix Of Tactics
Why choose between digital and conventional techniques when they both work? Instead, try combining the best advantages these methods possess into your unique hybrid strategy. For example, once your poster designs are ready, you can use them not only in the printed format but in digital as well – on your Instagram or Facebook page, for instance. Also, consider incorporating QR codes into your non-digital promo activities.
Final Note
When one contemplates marketing options, their mind probably goes straight to the internet. However, it's imperative to remember that there are other effective tools and their various powerful combinations as well that can bring your marketing experience to the next level.