Pandemic Success Stories: The Big Cheese
cheesegeek is a specialist online cheesemonger that delivers British artisan cheeses directly to customers' doors via a monthly subscription or to order. Almost all the cheese it sells is sourced from independent UK cheesemakers, delivered in chilled packaging to keep it fresh. The company's founder — Edward Hancock — recently appeared on BBC Dragons' Den, where he successfully bagged a six-figure investment from Steve Bartlett, wowing the new Dragon with his vision to combine cutting edge tech with a passion for all things fromage. CEO Today sat down with Edward Hancock to hear more.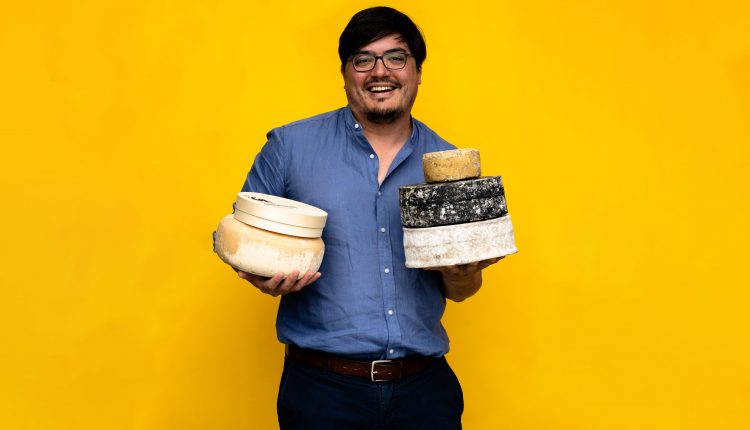 What inspired you to start the business?
I founded the company in 2017, after spotting a gap in the £3.2bn British cheese market for a brand-new company that harnessed the power of digital technology to connect artisan cheesemakers across Britain directly with consumers.
There are now over 750 varieties of cheese made in the UK — almost 50% more than France — produced by hundreds of small cheesemakers across Britain. It's a thriving industry. However, for a number of reasons, that's not really cutting through to the general public — supermarkets are still dominated by big brands. We wanted to change that. As food miles and food provenance becomes increasingly important for consumers, we wanted to create a brand that is both effective and ethical that supports local produce. Nearly all the cheeses sold by cheesegeek are produced by small, family-run producers with using milk from grass-fed animals in average herds of around 100.
How have you grown the business?
It was originally intended as a 'side hustle' alongside my day job in finance. I've been something of a cheese obsessive since the age of 11, but I knew nothing about starting a business and had no contacts in the cheese industry, so I Googled for hours on end to find out more. After buying a huge industrial fridge which I squeezed into my mum's house in Kingston, I used the utility room in her house as a cutting and wrapping room, and the dining room as a makeshift packing room. I paid £500 for a website, taking the first order in September 2017. From taking three or four orders a week, the company has now dispatched over 50,000 orders and has grown to a staff of sixteen based in a 7,500sq ft. headquarters in southwest London. Much of this growth was thanks to the pandemic — which saw sales explode ten-fold overnight — and thanks to our cutting edge, proprietary technology stack, built in-house, meaning cheesegeek has a massive advantage within the industry. Last year, sales were £1.5m — from £280,000 in 2020 — and the company is now able to send out up to 5,000 orders in a single day.
You recently appeared on Dragons' Den. What was that like and what advice would you have for fellow entrepreneurs thinking of applying?

Growing a business is expensive, especially as we're also trying to revolutionise our industry at the same time. I've invested £700,000 of my own savings and we've raised the same amount again in seed funding. However, we thought that by applying to get on Dragons' Den, we could kill two birds with one stone — secure some more investment and also get some excellent publicity on behalf of the British artisan cheese industry. It was a nerve-wracking process but we're really pleased we did it, as we secured £150,000 from the new Dragon, Steven Bartlett.
Last year, sales were £1.5m — from £280,000 in 2020 — and the company is now able to send out up to 5,000 orders in a single day.
In the months before we appeared, I watched every episode of Dragons' Den available on the internet. I wanted to ensure I had thought of every possible line of questioning and knew what the most common mistakes were. I also practised our pitch a lot. I probably rewrote it 20 to 30 times and read it over 100 times. You have only three minutes, so every word counts. We even practised it in front of cardboard cutouts of every Dragon! Finally, I researched the Dragons endlessly – what had they previously invested in, what was their set of skills, what were their likes/dislikes/sense of humour? They have no idea who you are, but you have the chance to research them in fine detail. Knowledge is power.
I would definitely recommend Dragons' Den to other entrepreneurs — as with any investor, they are investing as much in you as your business. You need to show yourself in the best light, and that you are someone who has attention to detail.
What do the next 18 months look like for cheesegeek?
We will be looking to really capitalise on our momentum and opportunity over the next 18 months, both in terms of driving revenue growth, but also our tech development.
Our ultimate goal is to get the world eating more artisan, traditional cheese, so everything we do is geared towards that end goal. This is about democratising traditional, artisan cheese, and anyone — wherever they are, and whatever their base cheese knowledge — should be able to effortlessly begin their cheese journey with us. So to that end, we will be investing in the user experience, adding more layers of personalisation and customisation to subscriptions, for example.
We will also be working towards building out a community of cheese lovers, much like Vivino has achieved for wine. A huge resource in terms of cheese ratings, descriptions, cheesemaker content and even just a place for cheese lovers to share their thoughts on all things cheese (regardless of whether the cheese is sold by us or not). What we have to our advantage is that we are also a retailer, so we are working towards is a scenario where someone tastes a cheese they love in a restaurant (in the UK for now), they can get all the information on that cheese via the app, and then even purchase it from us for delivery within 48 hours. Taking that a step further, you can travel to another country, and get that same cheese experience there, simply with your cheesegeek app.
Finally, by building a database of customer-submitted cheese ratings and data, it will give us an invaluable resource to provide market insight as well as quantitative feedback to cheesemakers regarding how their cheeses — and even batches of cheeses — are received by the end consumer. Something that has never been attempted before.
For more information, go to: https://www.thecheesegeek.com/