After the outbreak of the COVID-19 virus, many business owners had to rethink and strategise on a new workforce model. One of the solutions widely adopted across the board by businesses was adopting a hybrid staff. This kind of structure combines both office-based working and home-based working. Aside from the requirement for social distancing, employees working from home is a countermeasure to prevent the spread of the virus. This move was meant to keep businesses running and help employees have a continuous source of income. However, supporting a hybrid workforce requires using relevant technology to keep business processes running. Technology tools help ensure there is collaboration among employees and track workflow. If your business is struggling to sustain the hybrid workforce model, maybe you haven't embraced the relevant technology for each process. To help you take your hybrid workforce to the next level, here are 5 important tools that you can consider adopting in your business.
1. MyFax 
If you've been relying on an in-office faxing machine to receive and send faxes, then your remote workers might experience challenges. As a result, it might be time to transition to using online fax services. MyFax is an outstanding faxing tool that can be used by both your in-office and remote workers. You don't need a faxing machine to receive or send your faxes with online faxing. You just need to hire the services of an online faxing service provider.  
MyFax comes with several advantages. It has powerful features that help optimise your business processes, such as a MyFax mobile app. This app provides convenience to your employees as they can fax from anywhere through their smartphones. The app has all the features of a faxing machine that converts a photo into a fax document. In addition, MyFax has an email service integrated with email service providers such as Gmail, Outlook, Yahoo, etc. Moreover, you can use the local toll-free and international fax numbers. On top of that, you can archive your online faxes in your MyFax account for future references.  
2. Teamwork 
Managing business projects can be a headache without a good project management tool. This tool should be able to facilitate a hybrid working model. With that said, an online application like 'Teamwork' may be the solution that you need for effective project management. With this tool, you can have good visibility to all your multiple projects, attain better task management, and improve communication among your workers while your projects are underway.  
Teamwork can be customised to suit your specific projects. The customised setup helps you keep an eye on your project status, get feedback from team members, and add files related to the project anytime. Besides the mentioned advantages, Teamwork is an excellent tool that facilitates process documentation to inform everyone on the stages of every project.  
3. Slack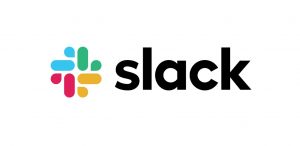 Efficient communication is very important for your hybrid workforce. Slack is one tool that can sort all the communication needs in your business. For instance, it has an embedded messaging app that you can use to organise business communications according to importance and topic. On top of that, you can establish different channels for every department to facilitate communication within their department.  
In addition, to enhance good communication, you can integrate Slack with other communication apps such as Microsoft Teams calls, Dropbox, Google Calendar, Outlook Calendar, SharePoint, OneDrive, among other tools.  
4. Zoom  
Zoom is one of the leading tools for online video conferencing. This is ideal, especially if you have a hybrid staff. Using Zoom, you can hold business meetings with your staff from wherever they are. Additionally, Zoom has a feature that you can use to share your screen for your team to visually understand your presentation. Plus, you can use the chat service to send messages to a group or send messages privately. If there's a need to be divided into groups, a ready option can help you split up your team into different groups and assign each a different channel.  
5. Grammarly  
Remote working may mean more text communication. If you have a team of workers whose first language isn't English, you may need a tool that helps them ensure that all emails and chats are free from grammatical errors. Grammarly is also efficient if you have a freelancing writing company because your employees need to have tools to help them write error-free, top-notch content. Plus, Grammarly can be set into the kind of English you need to use, such as UK English, American English, and Australian English.  
Wrapping Up
Managing a hybrid team can be challenging at first, especially if you don't know the relevant tools that you can use for this kind of setup. This article highlights the advantages of these applications that would be a big boost in your company's productivity even if we're still adapting to the new normal of working remotely. Take the time to get used to it and eventually reap its benefits.