Foxconn Unveils 3 New EV Prototypes As It Moves Away From Consumer Electronics
Taiwanese tech company Foxconn, best known for manufacturing the Apple iPhone, has announced official plans to diversify into the electric vehicle sector.
The tech company has unveiled three sleek battery-powered prototypes: a luxury sedan, a crossover SUV, and an electric bus. However, according to the press release, it appears that Foxconn does not plan to sell EVs itself. The vehicles will instead be released under the "Foxtron" brand in collaboration with other car manufacturers, such as Taiwan's Yulon Motor Group, which constructed the prototypes seen on display on Monday. 
The Model E luxury sedan is perhaps the vehicle generating the most excitement out of the trio. The luxury sedan's sleek design comes courtesy of longtime-Ferrari partner Pininfarina, with the vehicle also featuring a forceful powertrain. While it is currently unclear how many motors the sedan will feature, Foxconn has promised it will have an impressive 466-mile range, will be capable of delivering 750 hp, and will be able to launch from 0 to 62 mph in just 2.8 seconds, putting it in the same league as Tesla's Model S.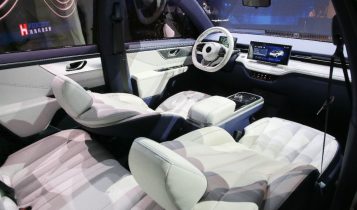 Foxconn also intends to produce a crossover SUV, the Model C, which features the same generous interior space as the Model E. Despite its smaller size, it will allow for seating up to seven passengers. 
The Model C will be able to accelerate from 0 to 62 mph in 3.8 seconds and travel up to 434 miles on a single charge. Meanwhile, the Model T electric bus will be capable of carrying a full load of passengers 250 miles without stopping. 
The release date for the Foxtron line of EVs is yet to be announced, however, it would seem that work on the line will begin soon.