How COVID-19 Has Accelerated Demand For Technological Innovation In Airports And Why Contactless Experiences Are Necessary To Reboot The Travel Sector
Miguel Leitmann, CEO of Vision-Box, explains how the COVID-19 pandemic has affected the aviation and travel sector. 
The COVID-19 pandemic resulted in an unprecedented global collapse for the travel industry compounded by the sharp downturn for the air transport sector and its supply chain. The result, which continues to play out today against the backdrop of mass uncertainty regarding travel restrictions and ever-changing international government guidelines, is a path to market recovery characterised by an urgent need to focus on digital, seamless, and contactless passenger-centric innovation between industry stakeholders. With the improved, safe passenger experience paramount on the one hand, the international travel industry must also prioritise navigating a recovery with minimal expenditure by reducing operational costs through automation, self-service, shared processes, identity management, and digital services beyond the airport in a stakeholders' partnership model. 
The need for a technological upgrade was a challenge facing the aviation and international travel market long before the pandemic with regards to passenger experience, financial outlay, and efficiency. The outbreak of COVID-19, and the resulting demand for fewer physical touchpoints against the threats of viral transmission, has only accelerated this need and brought it to the forefront of the global agenda. 
COVID-19 accelerated a pre-existing need for innovation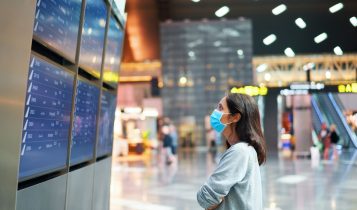 Over the last two decades, airports and airlines have implemented elaborate processes in an attempt to cope with the growth of worldwide travel demand, somehow constrained by conservative approaches due to the weight of outdated platforms and infrastructures. Unfortunately, to deal with higher passenger volumes, most capital investments were directed to increasing square meter capacity with bigger terminals and more landing fields and not the intrinsic platforms which serviced this increased capacity. The result was a larger culmination of travellers against outdated operations, increasing queue times, and unnecessary expenditure.
Most passenger-related "checking" processes can be done before the individual arrives at the airport if the information could be shared, thus improving operations on-site and reducing costs. The concept of common use was much more related to optimising shared physical links of communication infrastructures, while the market was shouting for the common use of information and data, centralising the experience on the most important asset: the passenger and the quality of their journey. 
Technological innovation will help rebuild the travel sector, but how?
The technology required to modernise traveller experience and bolster safety is already designed and available, and it's clear that biometrics, seamless and contactless methods will be elementary to welcoming passengers back to the airports and into the airplanes on a pre-pandemic scale. Passengers will be very selective, even when it comes to the provided services of low-cost deals, and much of this will consider what their travel experience will entail. Much more than the technology, it's the alignment of all the involved stakeholders, beyond borders, which will be decisive in the return of a strong international travel market. Recent developments with regards to discussions of internationally recognised health or vaccine certificates have demonstrated the crucial need for multi-stakeholder management. In my view, the underlying service platform that can provide a real common use environment, where industry stakeholders can optimise their operations and share real-time information, is key for this to happen.  
Safe, seamless, and contactless travel demands an all-encompassing ecosystem where travel stakeholders collaborate across the whole journey experience. The Vision-Box Orchestra™ Identity & Border Management Platform had been designed to enable just that. As a collaborative platform of real-time intelligence, it is designed to accommodate large volumes of information on passenger identity, passenger flows, connected devices, and third-party systems, thus streamlining communication between all travel stakeholders and crucially, putting the passenger's interests at the core.
A part to play; Vision-Box seamless technology
In 2015 Vision-Box implemented the Aruba Happy Flow, an end-to-end seamless passenger handling platform based on biometrics specifically envisaged for improved experiences, reduced operating costs as well as pre-clearance advantages for passengers returning to Europe and the US. Since then, the industry has been gradually piloting and eventually stepping up at scale for some early adopters of this technology. This has been the case with Schiphol Airport, Emirates T3 in Dubai, Air Asia in Malaysia, among others, who were able to build a business case out of it. During the pandemic and now with the slow signs of a returning travel market, it's all about centralising and extending the passenger's experiences, where safe, seamless, and touchless common shared services are driving the industry's investments more vitally. The catalyst of this new era relies on the most pivotal word for a traveller: trust.   
Throughout the pandemic, Vision-Box took the opportunity to improve the company's performance by investing more on focused goals, while clarifying strategies with customers and suppliers as well as with our 500+ employees. We have taken the opportunity to empower our teams to manage more efficiently and spend more time on coaching and recognition while providing new collaboration technologies on a global scale. This has allowed us to develop higher intimacy with our customers and further adapt to their plans with new business models which allows us to expand across our product breadth. As a result, the company became much more resilient and data-driven than it was before the pandemic, strengthening our decision-making capability to the benefit of our partners.
2021 and beyond
The implementation of seamless and contactless platforms is currently at full speed all over the globe, and the major impact of this is expected to be felt by 2022/23, as planning and deployment usually need 12 to 18 months to be effective. This is well-aligned with the expected return of mass international travel next year. The speed and the intensity of a strong return rely on the trust and confidence levels of travellers, maintaining the notion that viruses and vaccines are here to stay forever, conditioned by how quickly all stakeholders align forces and commit to co-investing in seamless travel. The way passengers interact with travel stakeholders along their journey is transforming at an accelerated pace with passengers increasingly demanding easy-to-use, safe, and seamless experiences which put data privacy at the centre. It's sustained by the selection of a proven and scalable identity management platform, safeguarding all privacy and data protection measures to enable the sharing of data and travellers' journeys processes. Biometric technology will be the catalyst, not the enabler for this.
Stakeholder individuality vs Stakeholder collaboration, a model for the future 
In years gone by, the multitude of stakeholders has acted isolated in their silos, with aeroplanes, airports, and border control authorities, as well as close by service providers like car rentals, hotel chains, transport companies, not investing at the benefit of shared digital processes under a traveller-centric standard. The individuality of respective stakeholders has been to the detriment of the travel and hospitality sector, with a collaborative and interactive approach far better suited for the future.