Whether it's the timeless cities of Venice and Lisbon or off-the-beaten-path destinations like Corrèze, Europe always makes for an ideal destination for a luxury holiday. The region is not short of luxury hotels and resorts, but some places can leave even the most seasoned travellers impressed. There's the luxury canal-side apartment in Venice, where Angelina Jolie and Brad Pitt have stayed, and the magnificent castles in Scotland and coastal villas in Portugal, where the views are as perfect as they come.
Check out these luxury places to stay in Europe where you can have the most incredible holiday experience possible.
Canalside Apartment in Venice 
Venice is, no doubt, one of the most beautiful cities to visit in Italy. While the city is often crowded with tourists, it's worth braving its busy streets. Venice is known for its intricate network of canals lined with medieval and Renaissance-era buildings and palazzos. The Gritti Palace is a 15-century palazzo beside the Grand Canal that is now one of Venice's most luxurious hotels. Its prime location means you can enjoy the scenic views of the Grand Canal directly from your room. Decorated with valuable antiques and frescoes, with equally sumptuous interiors to match, you will feel like royalty when staying at this impressive canalside hotel. 
There are luxury canalside apartments in Venice that are more suitable for small groups and families, such as the Palazzo Ca'nova. It consists of four luxury apartments housed in a historic palazzo by the Grand Canal. The apartments are only a few minutes away from the popular attractions in the city, such as the Piazza San Marco and St. Mark's Basilica. All four apartments can sleep up to seven guests and have high-end services and amenities.
Luxury Motorhome in Corrèze
Corrèze is in the French region of Limousin and is famous for its outstanding natural beauty. While it's not as popular as Paris and other tourist destinations in France, it has scenic rivers and gorges, beautiful lakes, lush forests, and gentle farmlands. If you're looking to explore Corrèze, what better way to do it than on-board a luxury motorhome? Staying at a luxury motorhome means waking up to a gorgeous view of the French countryside on your doorstep. It combines comfort and convenience for the ultimate luxury holiday experience. Unlike staying in hotels, renting a luxury motorhome means you will only have to unpack once. You can create your itinerary as you please and drive to as many places as possible. 
Southwest France has a well-equipped network of campgrounds where you can park your motorhome and spend the night. Aside from the gorgeous views, another great thing about exploring Corrèze is that it offers plenty of activities for everyone to enjoy. Here, you can go fishing, canoeing, and hiking. There are also golf courses and adventure water parks. You can even go for hot-air ballooning if you're brave enough!
Highland Castle in Scotland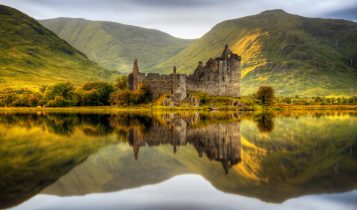 The castles of Scotland offer a glimpse into the country's colourful past. But some of these castles are not mere attractions – they have been converted into luxury accommodations where you can spend the night and feel like a monarch. Whether you are looking for the ultimate romantic place to stay, or spacious accommodation to house the entire family, staying at a Highland Castle in Scotland will bring your childhood fantasy into reality. There are plenty of castles in Scotland that you can rent for the night, but the castles in the Scottish Highlands are famous for their gorgeous views of mountains, lochs, and rugged coastlines. The Tulloch Castle Hotel, for instance, is a 12th Century Castle set at an imposing position overlooking the highland views and spreads out like an open atlas. In the secluded area of Highland Perthshire, you will find the Dalmunzie Castle, a stunning quintessential mansion sitting proudly at a 6,500-acre estate.
Coastal Villa in Portugal
Portugal is home to stunning beaches, verdant landscapes, and exquisite food and wine. As one of Europe's most popular tourist destinations, there has been an upsurge of super-chic beach villas in Portugal in the past few years, from tranquil countryside cottages to luxurious spa resorts. But if you want to stay somewhere close to the ocean and stunning beaches, staying at a coastal villa is highly recommended.
The Lisbon Coast is an ideal place to stay for a relaxing holiday in Portugal. It has a long stretch of golden beaches and is home to a vibrant seaside town. If you prefer to stay in this area, you can choose a coastal villa near Cascais, Estoril or Sintra. Algarve is a more popular destination for a beach holiday in Portugal. With more than a hundred miles of secluded coves and white sand beaches, the Algarve region offers one of the most dramatic coastlines in Europe. You will not run out of options for a luxury coastal villa in Algarve. From cosy villas ideal for couples on a romantic getaway to more spacious villas for families and big groups, these villas are fitted with amenities like private pools to offer you a comfortable place to stay during your holiday in sunny southern Portugal.
Eco Pod in Norway 
Cuddle up in an eco-pod as you witness the spellbinding show of the Northern Lights on your luxury holiday in Norway. Eco-pods are gaining popularity in the world of glamping in Norway. These are unique, sustainable-style abodes that look like sheds and are ideal for downsized living. Over the past years, the eco-pod revolution has gained momentum in the hospitality industry. They are now used for a variety of purposes, from permanent residence to glamping dwellings. 
In Norway, the eco pod is one of the most preferred accommodations for adventure seekers looking for a unique place to stay in the Norwegian wilderness. Some of them have floor-to-ceiling glass windows for a more unforgettable stargazing experience. And if you come here between September and March, the stars could be accompanied by the dancing northern lights! Aside from the eco pods, the other options for unique accommodation in the Nordic region include warm log cabins with glass domes, designer hotels with magical skylights, and innovative bubble rooms.