4 Luxury Hotels to Stay at Once the Pandemic's Over
Although some restrictions have been lifted, travel is not fully back to normal yet – and might not be for a while. However, this does not mean that we can't lust after the places we want to visit once the pandemic's over! Here are CEO Today's top picks for luxury hotels to stay at once life resumes.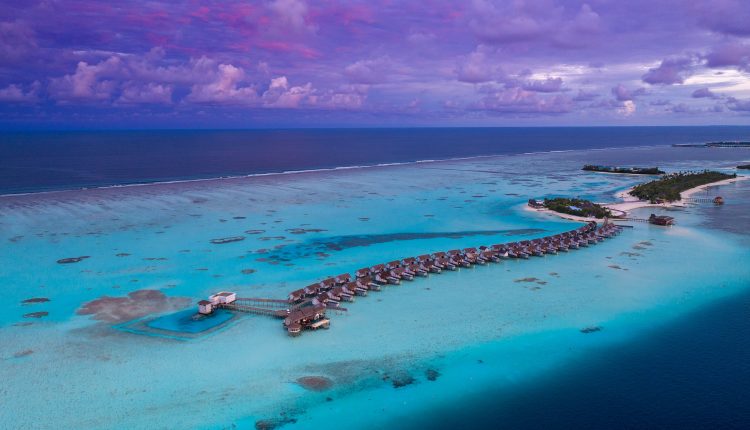 Laucala
 Island Resort Hilltop Estate 
Fiji  
The holiday home of Dietrich Mateschitz, the owner of Red Bull, is set amidst coconut plantations, white-sand beaches and lush mountains on Laucala Island in the Koro Sea in Fiji and a stay at the Hilltop Estate is definitely something worth adding to your bucket list! 
Equipped with 1,200 square metres of living space, 11,000 square metres of bedroom space and other private quarters, a stunning main residence with its own panoramic pool, two spacious guest residences and special services such as a private cook, a chauffeur and a private nanny, the Hilltop Estate offers the perfect balance between privacy and five-star service. With its breath-taking views of lush jungle and the calm sea, Laucala Island Resort Hilltop Estate provides its guests with a one-of-a-kind experience. The vibe is relaxed, yet super luxurious and inspires everyone to slow down and fully immerse themselves in the timelessness of this tropical paradise.   
Laucala Island Resort Hilltop Estate offers its guest an array of experiences and activities, including rain forest tours, horseback riding, surfing, golfing on the 18-hole championship David McLay Kidd-designed course, diving or simply relaxing in the estate's sublime spa. Whether you choose to dine in the comfort of your own villa of or in one of Laucala's five restaurants and bars, you can sample dishes prepared with products and ingredients raised and grown on the island.  
For more information and to book your stay, go to https://www.laucala.com/living/hilltop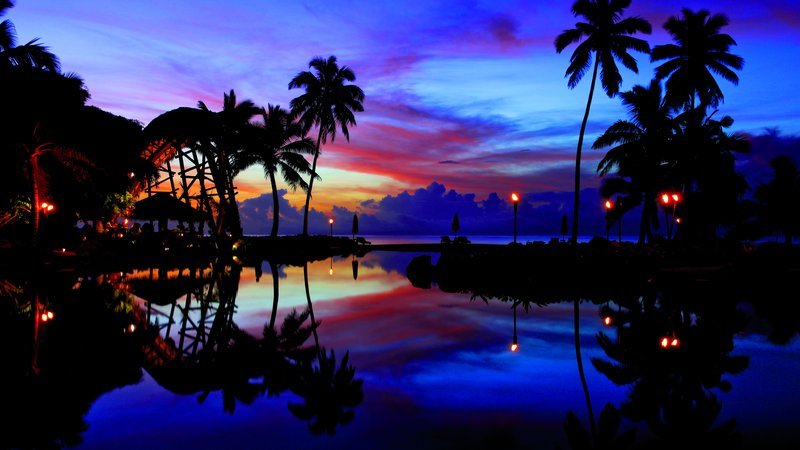 Monastero
 Santa Rosa Hotel & Spa
Amalfi  
Italy's Amalfi Coast is known for its jaw-dropping views; however, no view quite compares to the view from Monastero Santa Rosa Hotel & Spa. Perched high up on the edge of a cliff, Monastero Sana Rosa is a 17th-century monastery which has been carefully and respectfully renovated into a super-exclusive five-star hotel which honours the building's past. With its lush grounds with four levels of gardens, a dramatic infinity pool overlooking the Amalfi Coast and the endless Mediterranean Sea, a Michelin-starred restaurant, a luxe spa and only 20 rooms and suites, the hotel guarantees to show you the true meaning of la dolce vita.  
And for the ultimate relaxation of all guests, the hotel accepts guests over the age of 16 only. 
For more information and to book your stay, go to https://monasterosantarosa.com/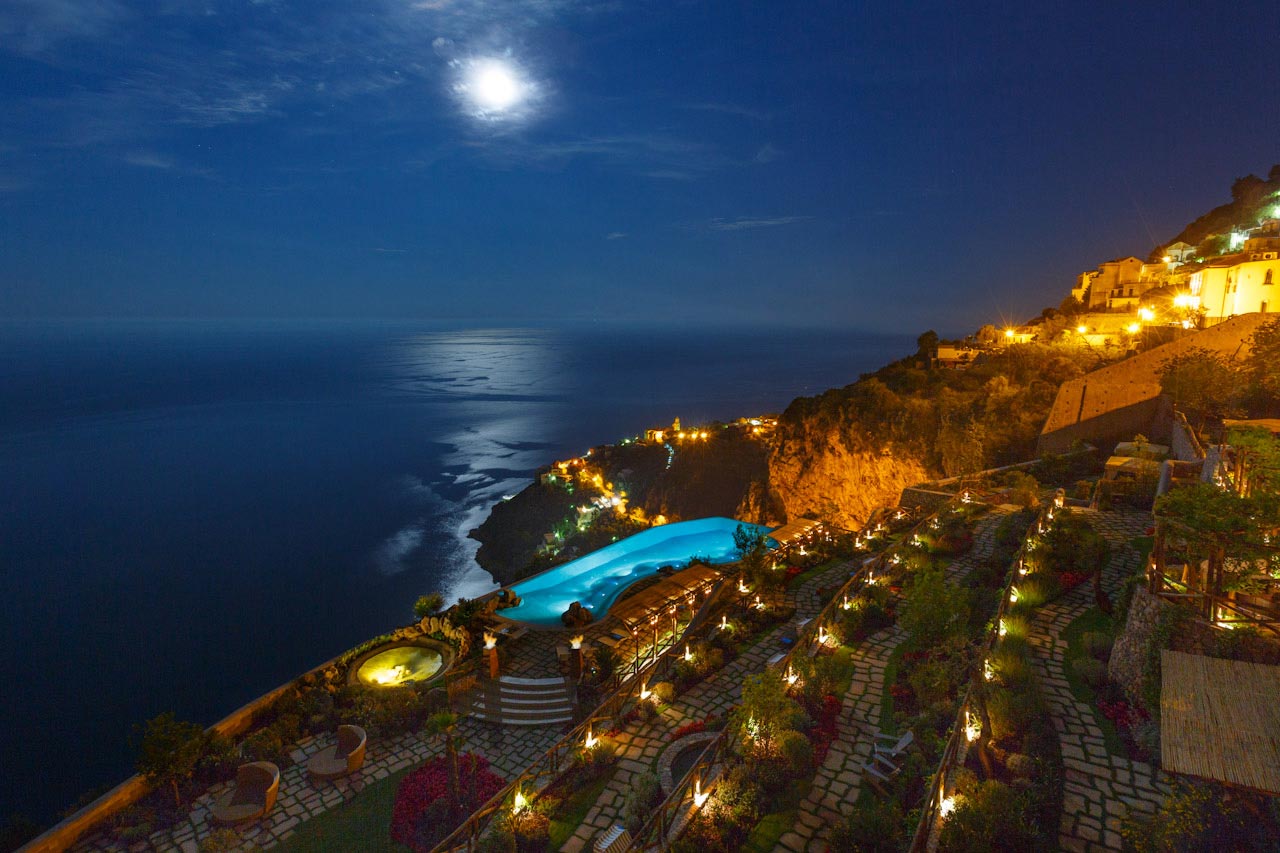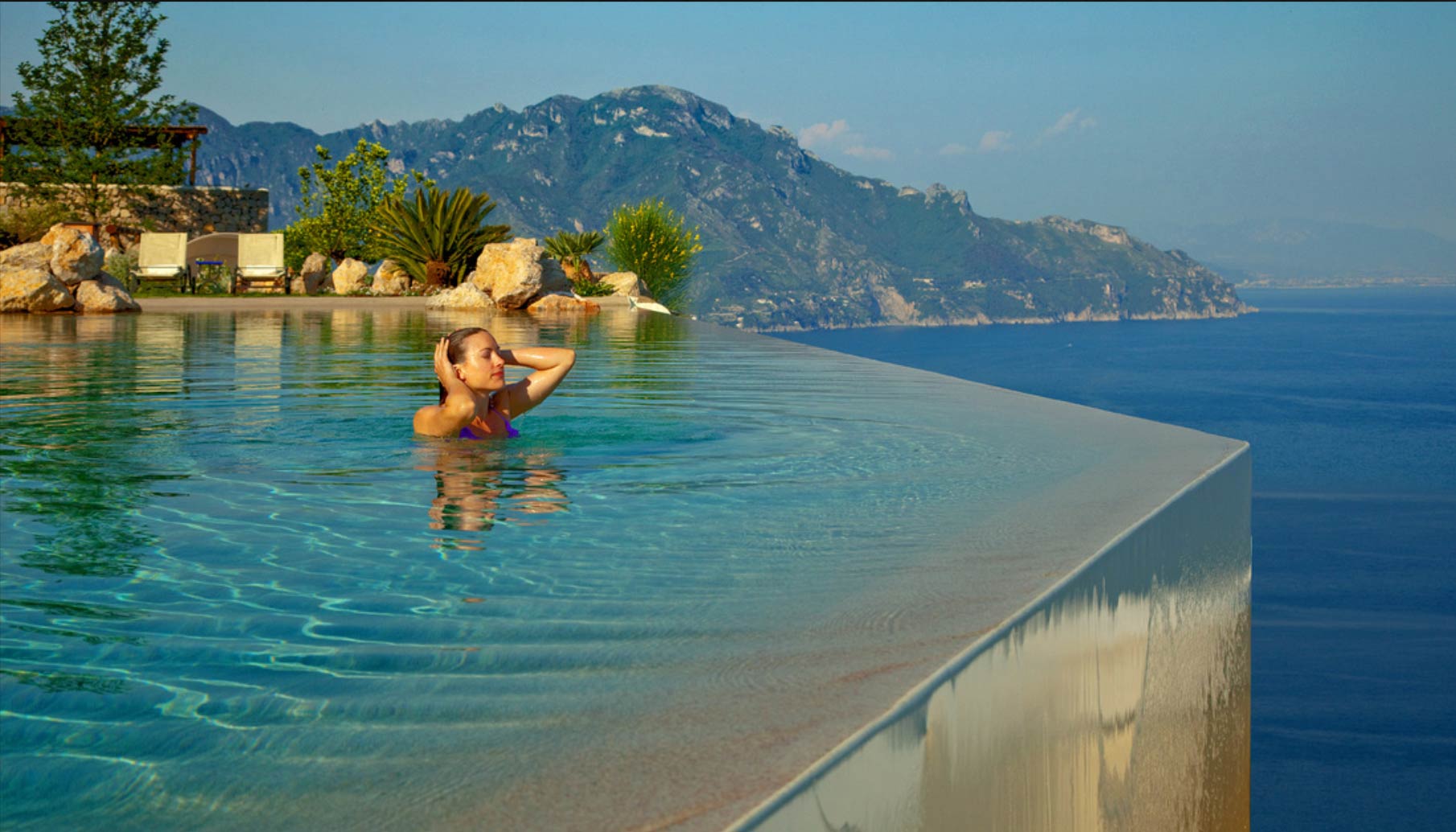 OZEN 
b
y Atmosphere at 
Maadhoo
 Island
Maldives 
Nestled in the South Malé Atoll, just a 45-minute luxury speedboat ride away from Malé International Airport, OZEN by Atmosphere is an all-inclusive resort which offers a unique approach to luxury travel. Its exclusive Atmosphere Indulgence plan doesn't just include meals, snacks and drinks in the resort's restaurants and bars, but also an abundance of exciting experiences and activities. Spend your days enjoying unlimited snorkelling excursions, learning a new water sport with free equipment rental and access to Atmosphere Aqua Club or if you prefer your holiday at a more leisurely pace, you can indulge in rejuvenating treatments at the Elena by Atmosphere spa on the island. In addition to this, you can also enjoy daily live music and DJs, as well as complimentary excursions.  
Those who have a fear of depths can still take a peek at the underwater world in the Indian Ocean – and they can do so whilst enjoying a fine-dining experience simultaneously. M6m is OZEN by Atmosphere's exclusive underwater restaurant serving speciality seafood in a truly unique setting!   
For more information and to book your stay, go to https://www.ozen-maadhoo.com/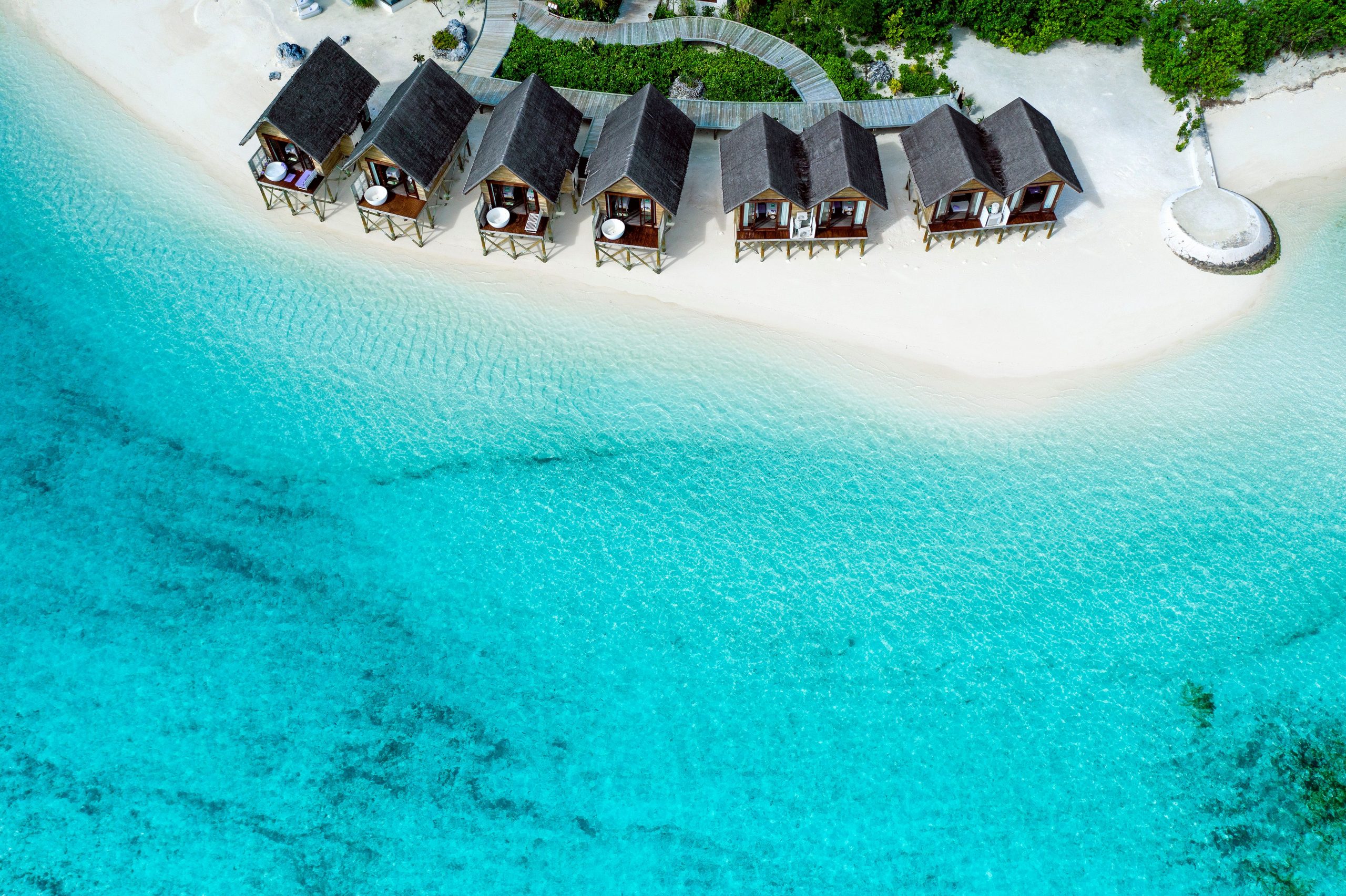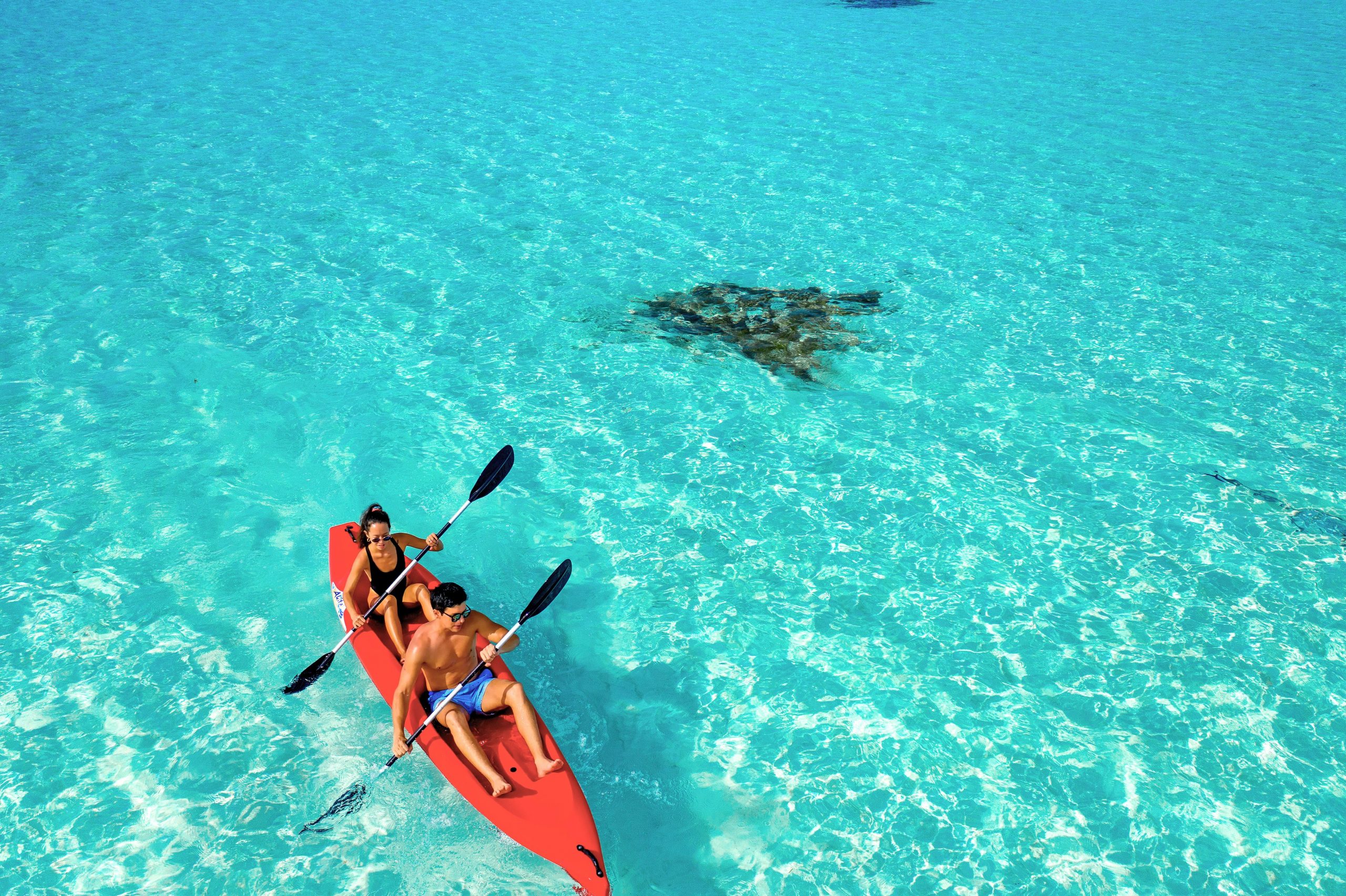 Lovers Deep Submarine Hotel
The Caribbean  
If the lack of travel over the past few months has made you crave something extra memorable and special, Lovers Deep Submarine Hotel should be at the top of your list of things to experience when life gets back to normal.   
Surrounded by schools of fish, pods of dolphins and bright coral, Lovers Deep is a luxurious submarine hotel which takes its guests deep underwater. And the best part – you don't have to share this experience with anyone else, apart from your partner – Lovers Deep is a private experience designed for couples only, hence the romantic name.  
On board, guests can enjoy fully catered service with their own captain, chef and butler – all working hard to ensure an unforgettable stay for every person who sets foot on the submarine. 
While you can be picked up from every Caribbean island, the recommended boarding location is St. Lucia. Book your stay, with prices starting from £175,000 per night (excluding air travel) and prepare yourselves for a truly extraordinary experience!   
For more information, go to https://www.oliverstravels.com/blog/the-mile-low-club-olivers-travels-announces-its-most-exclusive-property-yet/