The Founder and Chairman of leading luxury Indian restaurant brand and catering giants Madhu's, Sanjay Anand MBE, has overseen many industry firsts as a seasoned hospitality stalwart. From being the first Asian caterer to sign an exclusive contract with a hotel in 1992, to becoming the first specialist Indian food supplier to the House of Commons, number 10 Downing Street, Buckingham Palace and Windsor Castle, a caterer for several private events hosted by HRH Prince Charles and the first specialist food supplier to The Savoy Hotel following 147 years of in-house catering, Madhu's has etched itself into the industry's Gold Standard. Inspired by his grandfather, a successful south Asian caterer and hotelier who owned the 'Brilliant Hotel' in Nairobi Kenya in the 1930's, Sanjay Anand opened Madhu's in 1980 at the age of 17 alongside his brother Sanjeev, aged 16. Over 40 years on, as the brand lifts the curtain to its two most high-profile luxury restaurants in coveted postcodes within Mayfair and Hertfordshire, Sanjay Anand sits down with CEO Today to reflect on his journey, lessons learned and the current climate for the hospitality industry.
As the Chairman of Madhu's, what does a typical working day look like?
A typical working day today is different to a typical working day prior to the pandemic. Following the complete shutdown of the events industry during the lockdown period, for which we typically catered upwards of 350 events a year for, our focus was completely shifted to opening two high-end exclusive restaurants – Madhu's of Mayfair at The Dilly and Madhu's at The Grove Hertfordshire. Now both premises are open, and the demand has been so high, you could say an extra few hours have been added on to my day!
My phone calls and emails usually start around 8.00am and by 11.00am I'm in the office with back-to-back meetings, whether that be at our headquarters in Southall, any one of the restaurants, with suppliers or at the hotels we cater for. Most client meetings are booked from the afternoon or evenings and on events day I make a point to attend them all, even if we have 8-9 events. I think it's crucially important to meet the main client as well as conduct spot checks on the quality of the food, service and ensure our standards are being adhered to.
Now the new restaurants are open, I'll spend some evenings there entertaining guests and usually my day will end fairly late. It's all very busy, and very fast paced, but I like it that way. I have one day off a week – usually a Tuesday.
What is the most valuable lesson that your career has taught you so far?
Well, there are plenty. I'd say the main one is to always be on top of your trade and know it inside out. Life has a tendency to throw curve balls at you, so if you are confident in your own knowledge of your craft then you know you are in the best possible position to tackle these challenges head on. Nobody can take your knowledge away from you – it's one of the few things in life which stays with us no matter what happens. The hospitality way of life has been in our family for generations and this heritage has enriched my knowledge, whether that be knowing our food, our service and our entire operation inside out or knowing the nuances of a successful business. 
Another lesson is the benefit of standardisation. We have a fabulous team at Madhu's, but our USP is the standardisation of our recipes which means we are not chef reliant. Everybody who works for Madhu's works in the Madhu's way – learning the secret recipes which have been handed down four generations. I think it's important, when you have a brand which provides services across the country at events or in our restaurant chains, to make sure that people have the same taste experience wherever they dine.
During the pandemic, you opened Madhu's of Mayfair at The Dilly and Madhu's at The Grove, Hertfordshire. What advice do you have for anyone looking to open a restaurant amid the current climate?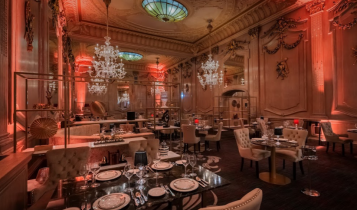 We did indeed. As I said we were a company which would do anything between 300-400 events a year, with two restaurants and on-site collaborations with the likes of Harrods, Harvey Nichols and many more. You can imagine that from March 2020 everything came to a stop. We went from turning over £12m to around half a million in one year because of the pandemic, but this enabled us to step back and properly plan out our endeavor to open two high-end restaurants. We are so used to providing catering services for high-end venues, such as The Savoy, but we wanted to create an exclusive luxury experience of our own by opening two more locations in Mayfair and at The Grove in Hertfordshire. When we saw the premises at The Dilly for Madhu's of Mayfair, we were amazed. The venue is magnificent, within a listed property with high ceilings, superb architecture and chandeliers. We really went to town with the details, right down to the hand-crafted marble tables exclusive to Madhu's. We wanted the dining area and lounge area to tell the Madhu's story, with hints of our 1930's heritage perfectly mixed with modern taste.
Honestly, the response we usually get when we say we opened two restaurants during the turbulence of the pandemic is 'are you crazy?'. But I believe that if you are providing a product which you know is second to none, the opportunity is still out there – perhaps at a time when your 'competitors' are not on the ball as much as they would have been. Nobody expects you to do something like this given the uncertainty, because let's be honest – it's not really the done thing.
The current climate is unpredictable, but the golden rule is to believe in the worth of your service. Your belief should be so strong that not even a pandemic could dampen the enthusiasm you have for your industry. People love good food and if you can create an atmosphere which perfectly serves your creations, then they will come back for more. Never stop dreaming and don't second guess your instinct.  
Madhu's of Mayfair is open now at The Dilly hotel – 21 Piccadilly, Mayfair, London W1J 0BH 
Bookings can be made via https://www.madhus.co.uk/our-restaurants/madhus-mayfair/  or by calling 020 8574 1897.