Andrew Duncan, Partner and UK CEO at Infosys Consulting, explains how businesses can meet ESG targets.
Economic recovery will need to consider far more than just your business' – or even your country's – finances. As we emerge from the pandemic, leaders will be met with equally global issues: climate change and accelerated inequality. To overcome these huge challenges, a proportionate global response from big businesses will be essential.
Whilst ESG was slowly but surely rising up the corporate agenda before the pandemic, the events of the past year have thrust large companies and their approach to corporate social responsibility into the limelight. As KPMG found in 2020, international business leaders across the board, from oil companies to consumer-tech manufacturers, are recognising the urgency and importance of understanding, and responding to, the needs and wants of society – sustainability being a key concern.
For most, the ESG targets have been set and the pledges have been made. The question remaining is: how do we get there?
Internalise your pledges
Meeting the ESG expectations of customers, stakeholders and governments takes more than just a mission statement. In fact, stopping at this stage is likely more detrimental to business than doing nothing at all – running the risk of 'green-washing' and losing valuable credibility in the eyes of stakeholders.
 Making the pledge and setting the targets is just the beginning. It must be followed by an entire upheaval of corporate culture and company values – communicated to new-starters and global partners alike. To carry real weight, this change must start from the top, led by the C-Suite, and especially the CEO, at a global level. Unilever CEO Alan Jope is a good example of a leader unafraid to call out what needs changing, such as "the single-minded pursuit of profit", when addressing ESG challenges. 
We've seen this before in the digital transformation of most industries over the last few years – neither technology nor sustainability is where slow and steady wins the race. Businesses must recognise the urgency and the demand, and act at a pace to match. Those who stick with incremental, barely noticeable changes year by year will likely find themselves on the wrong side of the ESG gap.
The green workforce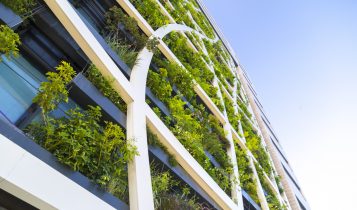 A clear ESG purpose and agenda can unleash employee potential – helping CHROs win the war for talent, retain their best people, and boost employee motivation. Now, around two-thirds of millennials take a company's social and environmental commitments into account when deciding where to work. To reap the rewards, leaders must empower and nurture their people and provide the necessary resources to ensure that environmental, social and governance objectives are met, and policies, procedures and standards are appropriately implemented. 
However, unlike established corporate functions such as finance, ESG is in its infancy, and organisations are still developing their policies. A key part of the required cultural shift will include upskilling and reskilling employees and changing how teams are incentivised, including the integration of societal-impact goals into compensation.
Putting your money where your mouth is
Many leaders are still focused on finding cost-cutting measures to offset the economic losses of the pandemic while being agile in a business landscape that remains volatile. It will likely prove challenging for many to fund the investments needed to drive their ESG initiatives.
 Even so, according to HSBC's Made for the Future report, almost all (97%) of investors globally expect to redeploy capital in response to environmental and social challenges and opportunities over the next five years. To drive a programme successfully, the CFO needs to understand the value and see ESG as a commercial agenda. Indeed, smart investments in climate resilience and a lower carbon future can actually be cost-effective in the long term. For example, more efficient work practices and higher productivity will drive down the working capital required per unit.
Digital and sustainable
Realising digital and ESG goals are not mutually exclusive. Most of the green revolution is powered by emerging technologies, including electric vehicles, renewable energy, carbon capture technology, advanced analytics, IoT and blockchain. As outlined in the WEF's Davos Agenda 2021, companies need to weave digital transformation and sustainability into their DNA in order to survive.
For instance, as vaccine programmes are rolled out, many organisations will be looking at a return to the office. Microsoft recently announced it will start welcoming employees back to offices, albeit in a hybrid work model where no employee will return to the office full-time. While Microsoft leads the way on technology investments, for other businesses, this move will spark investments in smart and sustainable tech – particularly sophisticated systems and sensors for office space. And for those looking to accelerate their cloud transformation programmes, improved sustainability is a natural outcome of switching from on-premise. 
The age of transparency
Reporting on past performance or minor changes will no longer be enough. To satisfy the appetite of consumers and stakeholders for sustainable business, we need to see real change. Now, the only reason to be looking back is to establish how to improve moving forward.
When it comes to ESG, the job is never complete. Leaders will therefore need to demonstrate ongoing improvements and commitment to the cause. The key is to maintain focus on the future – which is why communicating predicted impact forecasts is becoming a fundamental expectation of stakeholders when reviewing performance. Reporting alone is not enough – this review should be transparent and honest, or risk backlash from the truth-hungry consumer and stakeholder. For example, some corporations have come under fire recently for having as few as five women in executive leadership positions, but using blended measurement in annual reports to make the stats across-the-board appear as evidence of equality. 
These expectations are not just internal. Consumers globally are more educated and informed than ever before, so business leaders must be prepared to offer full transparency on their progress, and traceability of their products' environmental impact, as consumer brands such as Oatly and Unilever have started to offer. For the modern customer, a company that shares how they track against their ESG KPIs garners trust and respect – setting them apart from those whose ESG initiatives end at the mission statement.
The future is bright
ESG will certainly be at the centre of the world stage moving forward. Equality and sustainability are ongoing challenges, and the responsibility of igniting necessary change largely falls on the laps of global business leaders. Every CEO will be under immense pressure to deliver against ESG goals, no matter what's happening inside or outside the four walls of their organisation.
However, with challenge comes opportunity. Creating real change will set the businesses who only 'talk the talk' apart from those who truly 'walk the walk' in the minds of consumers, stakeholders and legislators.