Leadership communication expert Janie Van Hool explains the importance of listening as a business leader. 
It's 09.00hrs on a Thursday morning and I arrive at the reception of a well-known bank for my conference presentation coaching session with the CEO. Passing the time as I wait to be called up to the executive floor, I begin a conversation with the receptionist. She is professional, warm and proactive – in short, an excellent "face" of the business. After a few minutes of chit-chat, she leans forward and says, in a soft voice, "What's he like?". "What's who like?", I say. She whispers, "The CEO! What's he like? I've never met him…"
I'd like to say that this is an isolated incident, but it's not. In my years as an actor, before I developed my expertise in leadership communication, I worked on many reception desks. I know what it's like as the executives sweep past with a cursory nod – and sometimes, a warm smile and cheery wave. I know in my capacity as coach and communication advisor to C-suite leaders across a range of businesses that many deeply appreciate the commitment and connection their frontline staff have with clients and customers… but this interaction is something the leaders hear about from their reporting lines rather than from personal inquiry. If conversations with colleagues through the business do happen, they are likely to be formal, polite and brief exchanges. The big conversations of the day will be held in leadership team meetings where debate is held on how best to influence others. Internal communications and people managers are relied upon to cross the divide, to engage, inspire and drive the business forward. Listening across the business for too many leaders is something assigned to, and done by, others.
Researching for my book The Listening Shift, I came across Henry Ward, CEO of equity management platform, Carta. Ward developed a "shadow organisational chart" to understand how influence worked in his business and who the real influencers affecting culture and decision-making were. Ward was humbled to discover that of the top 20 influencers across his company, he did not make the top 10. He seems an exemplar of the open, curiosity-led and human style of leadership we seek. We need leaders who collaborate and facilitate – we crave leaders who listen. 
In my experience, leaders often feel a pressure to be able to solve the problems they are presented with. They listen ready to tell people what they should do and, as such, carry an air of confidence and certainty that may stop people engaging with them honestly and truthfully. For example, we know that 49% of people polled would not talk to their managers about their mental health. The impact of this alone is significant enough to affect the businesses they work in. What else might be missed in the failure to connect through the lack of skill and efficacy in listening conversations? What might you be missing in your business by not engaging with, and listening to, voices across your organisation?
Five ways to effectively listen across your business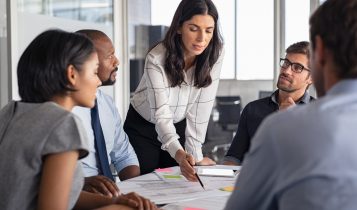 Listening is the foundation of diversity in business… soliciting views from the rainbow of talent and perspectives. Here are five ways to listen effectively across your business:
1.First, undertake a listening audit. Keep it short – 3 or 4 questions at most – and make it anonymous. This might be uncomfortable, but it's a valuable insight into how much your people feel heard. It will tell you about their sense of psychological safety, feeling of community, how engaged they are with your strategy and whether the difficult conversations around diversity, equity, inclusion and mental wellbeing are being successfully conducted. 
2. Second, find your listeners and train them well: Your business will be full of people who are curious and willing enough to lead the way towards a listening culture. Train people to listen well with as much focus as they are taught to present well. Training as a Samaritan listening volunteer takes around 50 hours, plus 24 more mentored sessions spread over many months. It's intense and involved because it matters – as it should in your organisation. It is vital to have communicators in your business whose skilful listening is valued as much as public speaking is.
3. Third, initiate a culture of 'listening groups': Focus groups have long been a feature of inquiry in organisations but are more designed to validate and defend leadership decisions than engage in genuine exploration. Listening groups are facilitated opportunities for people to share their experiences without encountering defensiveness or persuasion. There is no outcome needed from a listening session.
4. Fourth, use town halls as an opportunity to listen rather than speak: Town halls are a great opportunity to communicate with people across your business, but they are often too presentation focused, with leaders talking, followed by formal Q&As that people may participate in, with limited results. They seem a bit half-hearted. There is a huge opportunity to develop these into regular listening events, which should be the point of them.
5. Finally, set out on a listening tour (you can also do this virtually). The only rule here is that you listen with an open mind, and sincere and genuine curiosity. Being visible and present as you listen is powerful stuff – no matter the size of your business. For example, Barclays Chair, Nigel Higgins undertook a listening tour in 2019 that enabled a deeper understanding of organisational issues and priorities to inform board-level decision making. 
Unless you are one of the 2% of people who have had formal listening training, you may need support to become a skilful listener and I suggest taking a beginner's mindset to your development journey. As we currently analyse and appreciate the leadership style of England football Manager Gareth Southgate, it's worth noting that he is described as "a good talker, but an even better listener". The results of his approach speak loud and clear. Are you listening?
Janie Van Hool is a leadership communication expert and the author of The Listening Shift: Transform your organisation by listening to your people and helping your people listen to you is out now.