Danni Rush, Chief Operating Officer at Virgin Incentives and Virgin Experience Days, shares her opinion on the return to offices and recommends how employers can manage the change. 
From Monday 19th July, the Government will relax the working from home advice it set out before the first nationwide lockdown in March last year. Speaking at the start of this month, Boris Johnson confirmed "it will no longer be necessary for the Government to instruct people to work from home" and that a return to normality was now in touching distance. Yet despite the PM's optimism, many employees will be returning to offices that look and feel far from normal. 
The return to the office 
The strange post-COVID-19 office environment bears little resemblance to the one many employees left behind in March 2020, with complicated social interactions and lingering anxieties about masks and vaccinations certain to dominate office conversations for the foreseeable future.
 Shifting discussions away from COVD-19 and rebuilding a predominately in-person company culture is not the only challenge facing employers in the coming months. According to the Supporting your remote workforce in 2021 and beyond report, around 40% of UK office workers are worried about catching COVID-19 from their colleagues by returning to the workplace. Over a third of workers also said they were fearful of contracting the virus through contaminated equipment such as computers and keyboards, while more than half were in favour of mandatory mask wearing in the office. 
Incentivising the return to work
Dealing with these concerns and making the office an inviting and safe environment will be a challenge for businesses in the coming months, but it is also key to increasing office footfall. By creating a positive working environment, with plenty of enticing features, you're more likely to encourage employees to return to the office. Welcoming and enjoyable physical features, from more extravagant facilities like showers or a table tennis table, to functional ones such as comfortable desks and chairs or collaborative meeting rooms can help persuade employees to return. Promoting the COVID safety measures in place can also help to reassure any team members who may feel uneasy.
Businesses can also overcome any hesitancy by incentivising the office return through employee well-being initiatives. For example, hampers for employees to enjoy on their return including gifts that work flexibly for a hybrid workforce, such as gift vouchers or experiences. Rewarding returning employees and recognising the importance of the occasion can help towards creating a more harmonious and welcoming company culture. 
The value of flexible working 
The commute has also been cited as an area of concern, with a separate study, commissioned by Addison Lee, finding that over half of workers (53%) are more comfortable about going into the office if they did not have to travel by public transport. Employers must be proactive in appeasing these worries by offering flexible working. For instance, to alleviate the worries about the commute, employers could choose which hours they work, as long as they are committing to their 7.5 hours. This means they could start no later than 10 am and finish around 4 pm, thus giving them the chance to avoid rush hour. 
The benefits of office-working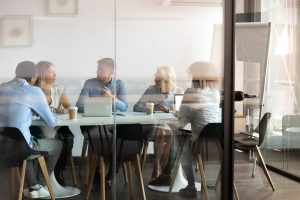 Employers will also need to re-educate their teams on the value of office-working. Although video-conferencing tools like Google Meets and Zoom have been vital during the pandemic, most human encounters can't be done via a screen. For instance, although the value of water-cooler moments may not be immediately obvious, they are essential for career building, with the predetermined walk past a senior colleague's desk often being the best way to make an impression and network within a company. 
The digital alternative to this casual meeting – a video call – is a far more awkward and intense option for most employees, plus it is easier for managers to dodge an email or Zoom invite. As a result, employees who've been working from home during the pandemic have missed out on this organic mentoring that happens naturally within an office. The problem is particularly pronounced for graduate workers, who may struggle to get the best value out of a remote internship and won't be able to experience different departments within a business due to the siloed nature of home working.
The COVID-19 pandemic has changed the way we all work in ways that were not imaginable just a few years ago. But there are still considerable benefits to office working which should not be overlooked. While none of us wants to be in the 5.30 pm crush on the train, there is a balance to be struck between home and office working. Ultimately, the option that is most attractive for employers is a flexible approach to work, where the organic, irreplaceable benefits of office-based working are not lost.