Natasha Mudhar, Founder of the global social impact enterprise The World We Want, launched to drive progress towards the UN's Sustainable Development Goals by engaging the private sector, governments, and high profile individuals in impact-driven collaborations, argues that businesses and private organisations have the power to drive sustainable change whilst remaining profitable even in the COVID-19 recovery phase. 
Pre-pandemic, the corporate sustainability agenda had well and truly entered the global conscience, with all signs pointing towards a positive shift in the way businesses approached ethical, social, and environmental responsibility. In fact, the years leading up to 2020 felt like a watershed moment of sorts, peddled by heightened consumer power in deciding where to place custom based on corporate social output and a sustainable image.
However, the impact of the global pandemic has been profound across all elements of life, transcending human tragedy, broken families, and damaged communities. Aside from the catastrophic fatalities around the world, the real-life impact for many has been the economic downturn and a sucker punch to multi-sector businesses. Said economic impact has not been exclusive to the SME community, with a series of major high-street stalwarts also succumbing to the economic freeze. Against the backdrop of the 2030 deadline for the world to realise the UN Sustainable Development Goals (SDGs) and the crucial role of the private sector in accelerating progress, the multilateral economic volatility has arrived at a challenging time.
Inevitably, the pandemic has put companies under test for their commitment to ethical business conduct and CSR in light of certain financial strains. From an outsider's perspective, it might be logical to assume that a reduction in resources, wavering media and consumer scrutiny, and mounting pressures to rebound to pre-pandemic revenues would mean that CSR investment has slipped down the agenda amongst corporate leaders. But in reality, the pandemic has provided a wide range of significant opportunities for CSR activity – particularly those that can offer immediate help and assistance to the fight against the legacy impact of the virus. What's more, with a refined approach, businesses can remain at the forefront of CSR innovation while remaining profitable and combatting the financial impact of Covid-19.
To drive sustainable change, businesses must accelerate technological innovation
Being a sustainable business is more than merely minimising a company's environmental footprint, but encompasses ensuring the long-term resilience of a business, in a manner that does not compromise our ecosystem for generations to come. Integrating sustainability is very much cemented on the corporate agenda, with many businesses acknowledging the salience of environmental and social conditions to their companies. In fact, a recent report by KPMG revealed that 43% of the world's largest 250 companies are tying their sustainability efforts to the SDGs, specifically with that of SDG 12, "responsible production and consumption", as well as SDG 13, "climate action".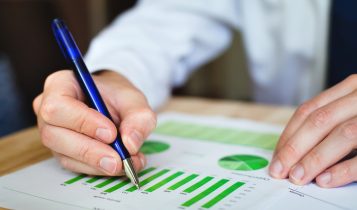 Businesses have announced self-imposed sustainability targets, but the question of how to effectively meet them remains unanswered. Within the context of a global pandemic, is sustainability just another hindrance in already strenuous times? At The World We Want, we would be inclined to disagree, and advocate that technological innovation, whether it be through digital transformations or nature-oriented solutions,  is the ultimate means by which companies can drive sustainable change. Business models and technology innovation must work in tandem to propel sustainability success. The largest multinational corporations must innovate to survive. Innovation has commonly come to exist in the form of circular initiatives, which are deliberately regenerative and necessitate a shift from the typical economic mantra of "take-make-dispose". Several companies, such as Danone and DS Smith, are already availing of newer technologies to eradicate waste and pollution from their value chains. 
Balancing profit with purpose 
When driving sustainable change, it is critical to dispel the myth that the more CSR orientated companies become, the more it will erode their economic competitiveness. In years gone by, many executives have unduly perceived the need to become sustainable as a dimension of corporate social responsibility, separate from business targets. This is simply not true. 
Profitability is the foremost goal for any company, but it can co-exist with the adoption of more sustainable measures. Businesses have generally concentrated on boosting value for their stakeholders, and, undoubtedly, short-term financial profitability is integral to accelerated recovery. But stakeholders today are particularly vigilant when it comes to observing a brand's ethos and its stance on sustainability. 61% of consumers are making more environmentally friendly, sustainable, or ethical purchases, with 81% likely to continue post-pandemic. It is thus imperative that we expand our view to include more purposeful elements of profitability: social well-being, equality, and our planet. Ultimately, this is a win-win, and here is how it is possible. 
To ensure that their environmental endeavours bear fruit financially, companies have adopted two fundamental approaches. Primarily, certain organisations have endorsed a more long-term view by investing in expensive modes of sustainable operation, which will eventually culminate in much lower costs and higher yields. North India's leading cement manufacturer, Shree Cement, for instance, invested in advanced technologies such as machinery that recycled hot exhaust from a kiln to power a separate electrical plant. These developments initially demanded considerable capital investment, but in the long haul cut expenses and emissions substantially. Moreover, this strategy helped the company eclipse its rivals, all whilst guaranteeing profitability. Today, Shree is among the top three cement producers in India and reported its highest-ever profitability in its mainstay cement business in March 2021. 
In a similar vein, other organisations have adopted a more improvised approach to sustainability. To start with, they make small changes to their processes to produce substantial cost savings. These savings are then used to fund sophisticated technologies that are both sustainable and render production far more efficient. Florida Ice & Farm, Costa Rica's largest beverage bottler, is the perfect case in point. It simply began by repairing water leaks in its production equipment in a timely manner. As a result, the company was able to invest in state-of-the-art technology and thereby recover the amount of water equal to a medium-sized dam by 2010. In 2017, the company hit a milestone and became the first non-European company to achieve the Carbon Trust Standard for Zero Waste to Landfill. 
Collectively, these approaches seemingly demonstrate that economic development and the environment do not have to be addressed in isolation. In fact, the quest for sustainability can prove a potent tool for the reinvention of businesses that are facing constraints on their resources. Taking a leap of faith may involve short-term costs, and a willingness to dispute conventional financial wisdom, but its rewards are likely to harbour long-term gains for many years to come. 
Pandemic recovery as an opportunity for green recovery
The Covid-19 crisis has exposed the vulnerabilities of many of our basic ecosystems. It has tested both our preparation and resilience, with the magnitude of the problem sounding very familiar to those who have championed urgent action to avert climate change. As we look towards a post-pandemic future, the case for building back better and greener is most compelling. The bottom line is that CSR is not a compromise for turnover, but a crucial business strategy that separates innovators from their competitors. With the correct advisory and preparation, the private sector can be a driver for sustainable change and the SDGs without forgoing profits.
To learn more about The World We Want and their new Act, Build, Change, DO (ABCD) Humanifesto, visit https://theworldwewant.global/humanifesto/ and follow them on Twitter, Facebook, Instagram, LinkedIn.