The Virtual Economy: Where Your Brand's Future Consumers Are Already Spending Big
The next generation of consumers - our children – will see virtual consumption as important.
Dave Ralph, Lead Design Strategist at Seymourpowell, explores why brands must start to view the virtual economy as a viable source of future revenue. 
Your first encounter with the virtual economy may have been on your credit card statement. Several small transactions charged by a company you'd never heard of, that on joining the dots, were something to do with your 12 years old's Minecraft obsession.
Dig a little deeper and you'll start to find that this digital universe is not just the domain of credit card pinching teens and hardcore gamers. It's increasingly a viable channel for existing big-name consumer brands to monetise or promote new products and services. From Gucci to Verizon, brands we know and love are embracing a new virtual form of consumption with the 2.69 billion (Newzoo 2020) strong gaming cohort, which includes everyone from screen-obsessed teenagers to parents and celebrities.
Not just a fad or fledgling industry
What some of us see as merely "games" are actually access points to thriving digital marketplaces, a foundational segment of the virtual economy. In-game purchases, known as microtransactions, are the primary revenue model for many of these platforms – found in casual games like FarmVille, shooters such as Call of Duty and virtual world platforms such as Roblox, Minecraft and Fortnite. In-game purchases made up around $90 billion of the $109 billion US revenue generated by the global multi-player gaming market in 2019 (SuperData, 2019). In this respect, this is no fledgling economic island. In fact, this virtual economy is now larger than Cuba or Sri Lanka's annual GDP.
How can brands get involved?
In this new and sometimes opaque virtual economy, how should traditional consumer brands go about examining the potential of investing in virtual products or experiences? Let me take you through three high-level strategies that represent a step, a stretch and a leap for a traditional product or service brand to enter the virtual economy.
The Step: Provide exclusive digital content tied to your product or service experience
A first foray into digital asset creation for virtual platforms shouldn't necessarily be something you charge users for. It's more about developing your playbook and understanding where your target consumers might be and what they value. It can start with something as simple as a Snapchat Geofilter, a location activated filter for the popular social media app that users can access at locations of their choice. McDonald's, Starbucks and General Electric have all created unique filters tied to stores, locations or times of day, which users can access when they are in the vicinity of a geotagged location.
On a larger scale, Verizon constructed a virtual NFL stadium within the Fornite Creative Mode universe as part of its Superbowl LV activation campaign earlier this year. The stadium could host 50 fans simultaneously and allowed users to participate in virtual meet-and-greets with avatars of real NFL players, as well as competing in exclusive mini-games throughout the stadium.
Taking a step into the virtual economy is about learning how to implement typical marketing strategies of exclusivity, access and community through these existing digital platforms. Which platforms you choose will be determined by your target consumer's digital habits.
The Stretch: Create digital twins of products or merchandise and sell them within virtual world economies
The virtual world offers the chance to play creatively with physical attributes in ways that defy the laws (or stylistic tastes) of the real world. Unsurprisingly, it's been the creative industries of fashion and design that are leading the way in innovating within this space.
Luxury fashion house Gucci has been at the forefront of experimentation with virtual fashion assets, in a desire to capture the attention of hyper-image conscious, social media hungry Gen Z consumers. Not only has the brand digitised its entire trainer catalogue for virtual try on in the Gucci app, but it has also released an exclusive digital-only trainer – the Virtual 25 – designed by Gucci Creative Director Alessandro Michele that people can try on using augmented reality and "wear" in photographs for social media. At $8.99, this digital trainer is a steal, when compared to a real pair of Gucci's that retail for upwards of $500 USD.
Digital artist Andrés Reisinger shot to fame earlier this year when items in his collection of "virtual furniture" sold for thousands of dollars each via virtual asset auction site NiftyGateway. For Andrés the unbounded creativity afforded to him by the virtual world allowed him to design pieces that featured bizarre, gravity-defying forms in plush materials and finishes that would be extremely hard to reproduce in real life. Winning bidders were able to furnish their virtual homes by uploading their furniture to virtual platforms such as Minecraft.
To succeed, this strategy requires greater commitment and resources. For Gucci, the virtual economy is an embedded channel in their retail strategy and a multi-year investment in innovation. Whilst creating digital assets to sell needn't be expensive, any brand must first invest time to understand the underlying technology, user typologies and marketplace dynamics of potential virtual platforms, whilst building the appropriate relationships with the gaming companies who own these platforms.
Leap: Use blended reality technologies to blur the lines between real and virtual world experiences of your product or service
This last strategy is more of a prediction of where things may head, as mixed reality technologies proliferate and the lines between the real and virtual worlds become increasingly blurred.
Streetwear festival ComplexCon's 2020 event was held within a bespoke virtual world called ComplexLand. Visitor avatars could enter the world and purchase real streetwear items in timed drops around the virtual space, listen in on talks and panels and order food at virtual food trucks. But far from simply being served virtual grub, the organisers enabled a real food order to be delivered to participants' houses, within minutes of placing an order with the virtual street vendor. It's not hard to imagine companies like Deliveroo and Just Eat opening up virtual "restaurants" in the future, that satiate real and virtual appetites.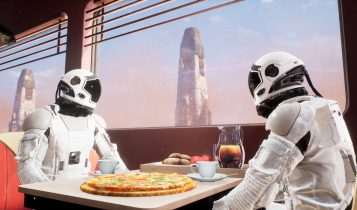 The next frontier is to use sensory psychology to amplify real-world experiences through colour, scent & sound. Leading the charge in this space are experimental dining experiences created by chefs such as Mattia Casalegno, whose AeroBanquets RMX mixed reality dining experience serves small courses to diners who experience holding and eating the dishes within a VR universe. What's exciting about this approach is that it throws away the sensory conventions of food consumption, allowing chefs to play with our perceptions of taste and smell through the influence of colour, sound and moving images.
Although this space is in its infancy, the rapidly decreasing cost and mainstreaming of VR and mixed reality headsets will open up opportunities for brands to explore sensory augmentation of real-world product experiences within our homes. It may not be long before you are sipping your favourite herbal tea, immersed in a virtual environment that uses colour and sound to relax and calm you while enhancing the flavours of the brew.
The virtual economy is here to stay, how will your brand take part?
Just like the gaming industry as a whole, the virtual economy is yet to be taken seriously by many brands. For many, it remains a world of strange abbreviations and outlandish, trivial items to purchase. This attitude must change quickly. The next generation of consumers – our children – will see virtual consumption as important, if not more so than what they buy in the real world, which is why brands need to see this space as a viable source of future revenue. As Gucci CEO Marco Bizzarri said at the opening of the Gucci Garden in Florence, "We want to start before everyone else to get up to speed. Certainly, they are not operations that bring a lot of business now, but they could be a source of business tomorrow.'' Wise words, from a 100-year-old fashion house.