How Nespresso's Driving Sustainability in the Coffee Industry
Guillaume Chesneau is currently the Managing Director of Nespresso UK and ROI, responsible for leading Nespresso's operations in both markets as the company focuses on business growth and driving transformative sustainability initiatives.
Nespresso needs no introduction – it is the company that pioneered portioned coffee globally. But what not that many people realise is that from sourcing through to recycling, sustainability is at the core of Nespresso's business. The company sources 95% of its coffee through its AAA Sustainable Quality™ Program, with over half of it also certified by the Rainforest Alliance or Fairtrade, and offers capsules made from aluminium – an infinitely recyclable material which is recirculated into the aluminium supply chain. Below, we hear more about everything they do in their attempts to be more sustainable and their plans to achieve carbon neutrality for every cup of Nespresso coffee by the end of 2022.
Sustainability has risen on the global agenda this year. How is this affecting large businesses?
Sustainability is at the core of the Nespresso business model and has been for more than 30 years. As a business, we depend on a reliable source of high-quality coffee, which we can only guarantee if we adopt the principles of creating shared value, supporting resilient coffee farms and communities and protecting vital ecosystems.
We have long had initiatives throughout our value chain that are focussed on sustainability. Our AAA Sustainability Quality™ Program has been active since 2003, which at its core works in partnership with coffee farmers to embed sustainable farming practices into their day-to-day activity. At the opposite end of the chain, we also celebrated the 10th anniversary of our recycling scheme this year.
So, while major global events such as the pandemic have provided each and every one of us with an opportunity to reassess how we live and the impact this is having on the planet, climate change and sustainability is not a new issue for businesses. What it has done, however, is accelerate progress and highlight the urgency on which we all need to act. We have done just that by announcing our commitment to be carbon neutral across our global operations by 2022.
For all businesses, the pressure is on to turn words into action. Purpose is more important than ever, and brands need to be clear on their approach and the concrete steps they are taking to positively impact the environment and society, and drive real, lasting change.

Achieving carbon neutrality by the end of 2022 is an ambitious commitment – why has Nespresso set this objective?
While Nespresso has been carbon neutral across its business operations since 2017, we recognise that we need to go further and move faster on our sustainability commitments.
This is why we are accelerating our green agenda, tackling emissions in our supply chain and product life cycle to offer all of our customers a carbon neutral cup of coffee by the end of 2022. It is an ambitious goal that builds on a decade of investment into solutions that reduce the carbon footprint of our business – but crucially, one that we are confident of reaching.
Post COVID-19, green recovery will be more important than ever and we are making this a priority for our business.
How does Nespresso plan to achieve carbon neutrality by the end of 2022?
Businesses and individuals must act now to tackle the pressing issues facing our environment, which is why I'm so proud of the actions we are taking in the UK and across the world to accelerate our carbon neutrality goals. Globally, our plan to achieve this ambition is three-fold:
Carbon emission reduction – driving towards 100% renewable energy in all of our global boutiques, as well as enhancing the circularity of Nespresso products and packaging.
Investing in insetting initiatives – planting trees in coffee farms and the surrounding landscapes that will capture carbon from the atmosphere.
Gold Standard offsetting – investing in projects that support forest conservation and restoration, as well as implementing clean energy solutions within farming communities globally.
In the UK, we are well placed to support the global Nespresso efforts. We recently celebrated the 10th anniversary of our dedicated recycling scheme, our offices are powered by 100% renewable energy, and we have introduced paperless systems in boutiques and installed meters to better monitor, manage and reduce energy usage.  
Nespresso has been at the forefront of capsule recycling for years. What more can be done to motivate more people to recycle their capsules? 
Investment in making it as easy and convenient as possible for customers to recycle is crucial. We are continuously looking for ways to improve our UK recycling scheme.
We also recently announced that Nespresso is collaborating with other coffee brands to start Podback – a new cross-industry recycling programme launching in 2021. Podback will enable UK consumers to recycle their capsules in several easy ways, including kerbside collection for the very first time. We are working closely with manufacturers, retailers and local authorities and calling upon them to join us and ensure the scheme has maximum impact.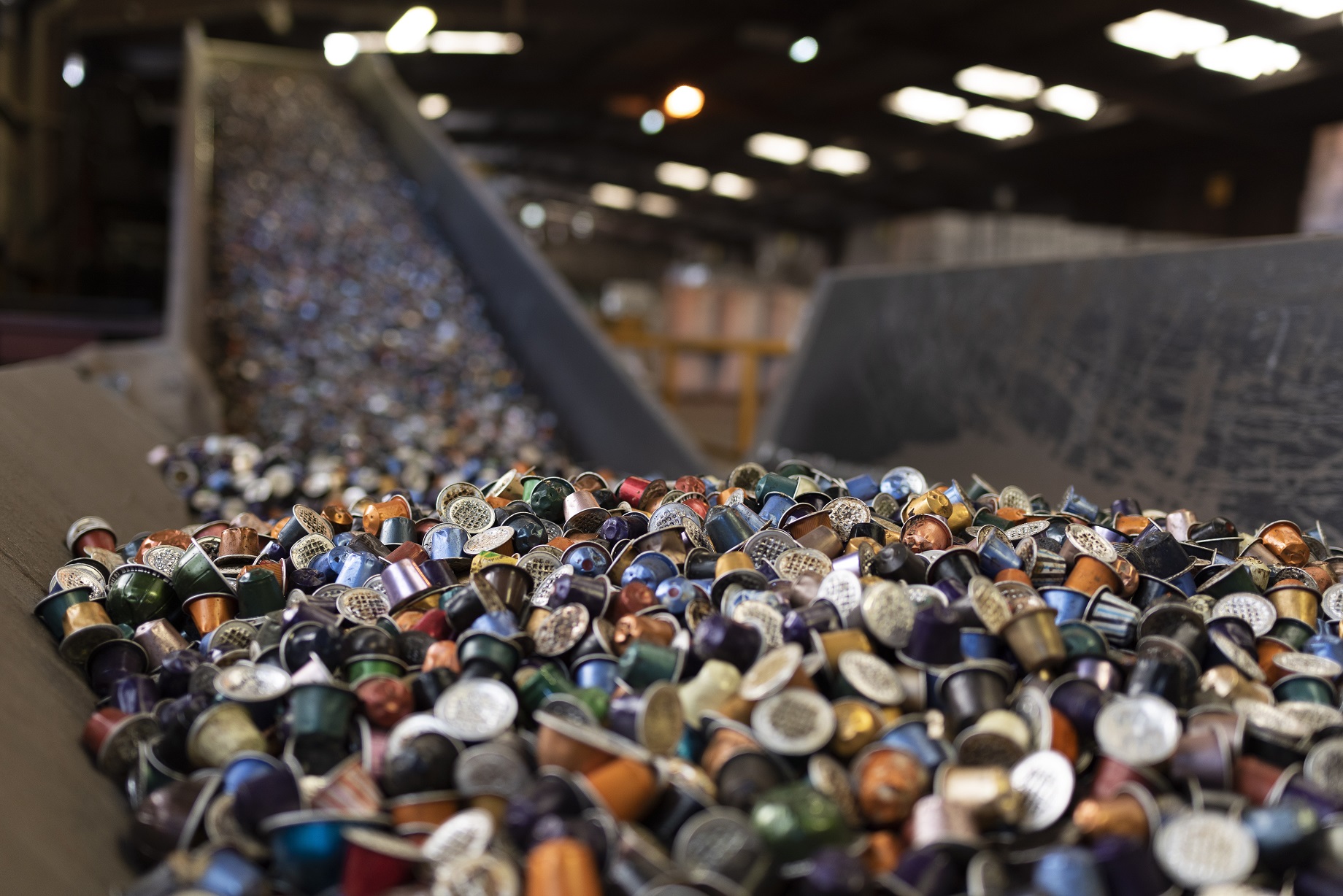 It's important to encourage consumer participation by regularly communicating the importance of recycling, which is why we established our partnership with Swedish lifestyle bike brand Vélosophy last year to produce a stylish bicycle made from recycled aluminium coffee capsules. The result was RE:CYCLE, which beautifully illustrates the potential of recyclable aluminium. RE:CYCLE returned this year following a hugely successful launch in 2019.
What is the percentage of customers who actually recycle their capsules?   
Over a third of all Nespresso capsules (39%) are being recycled. We have the capacity to recycle every Nespresso capsule, and we're confident that the new Podback scheme will have a significant positive impact on boosting recycling rates.
Tell us more about Podback.
We're very excited to be a co-founder of Podback, which is the first UK-wide recycling scheme for coffee capsules. The long-term ambition is to expand the programme to include all coffee brands that use plastic or aluminium pods in the UK. Podback will expand recycling options for coffee pods in three ways:
Collect+: Consumers will still be able to drop-off their used coffee pods at over 6,500 Collect+ locations across the UK as they do currently.
Kerbside collection: Research has shown that 90% of UK consumers want to recycle coffee pods through their household recycling. Podback will enable them to do that for the first time. Exeter City Council, Cheltenham Borough Council and South Derbyshire District Council are in advanced discussions with Podback to become the first confirmed partners, meaning that from launch, over 330,000 residents living in these areas will be able to have their pods collected alongside their household waste and recycling. Podback is in live discussions with several other local authorities to have collections operational at launch, with ambitious plans to expand across the UK.
Retailer 'handover at home': Podback is in discussions with retailers to facilitate a 'handover at home' option next year, meaning that consumers can have their used coffee pods collected for recycling when they have their groceries delivered.
What does Nespresso do to ensure sustainable coffee sourcing and production? 
Our Nespresso AAA Sustainable Quality™ Program is vital to realising our ambition of sourcing high-quality, sustainable coffee, and creating shared value by improving the livelihoods of farmers, their families and communities.
Through the AAA programme, launched in collaboration with the Rainforest Alliance in 2003, we have built long-term relationships and work directly with more than 110,000 farmers in 14 countries, providing valuable support to help them embed sustainable practices and enhance the yield and quality of their harvests. By boosting coffee quality and production, farmers can in turn attract premium prices and enhance their quality of life. Today, we source 95% of our coffee through the AAA Sustainable Quality™ Program, and over 56% of it is certified by the Rainforest Alliance or Fairtrade.
One of the key aims of the AAA Program is to foster long-term security and stability within these communities. Through our work in the Caldas region of Colombia, we found that a small proportion of coffee farmers had access to a pension. In response, Nespresso contributed to developing the first-ever retirement savings plan for smallholder coffee farmers in 2014, which led to the launch of a dedicated initiative called the Farmer Future Programme.
What other work does Nespresso do to help coffee farmers?
Our Reviving Origins initiative, which aims to restore coffee agriculture and local coffee economies in regions affected by adversities, such as conflict, economic hardship and environmental disasters, is one way in which we apply the AAA Program.
The Reviving Origins program was announced in 2019, with the launch of distinctive, single-origin coffees as seasonal offers from Eastern Zimbabwe and Caquetá in Colombia, followed by Puerto Rico, the Rwenzori Mountains region of Uganda and the Kivu region of the Democratic Republic of Congo.
In all regions, Nespresso provides continuous training on high quality and productivity as well as free technical assistance through our AAA agronomist network. The programme has already made a significant difference in Eastern Zimbabwe and Caquetá. Following the launch of the initiative, production of AAA high-quality coffee has increased in both regions – up by 9% in the Manicaland province of Zimbabwe, and 10% in Caquetá in 2018-2019.
The long-term aim of the programme is to establish Reviving Origins coffees as permanent blends, available all-year-round for consumers to enjoy. With the support of our partners and customers, our work will continue to bring lasting stability and positive change to farmers in these regions and other coffee-growing communities that could benefit from the programme.
What key sustainability trend do you think we'll see from businesses next year? 
Profit with purpose is becoming the new norm, as more companies successfully embed sustainability within their business model, recognising that responsible practices are an essential element for growth, and embracing their responsibility to be a force for good in the world. Forward-thinking businesses are broadening their focus beyond the bottom line, to explore how they can create social and environmental value and drive meaningful change. This is the expectation of modern society and businesses need to deliver or they'll risk getting left behind.
From sourcing through to recycling, sustainability is at the core of our business and we remain fully committed to rising to the challenge in 2021 and beyond.