Building the World's Number 1 Work-From-Home Solution
This month, we introduce you to a company that has, despite the challenging year that 2020 has been, seen impressive success.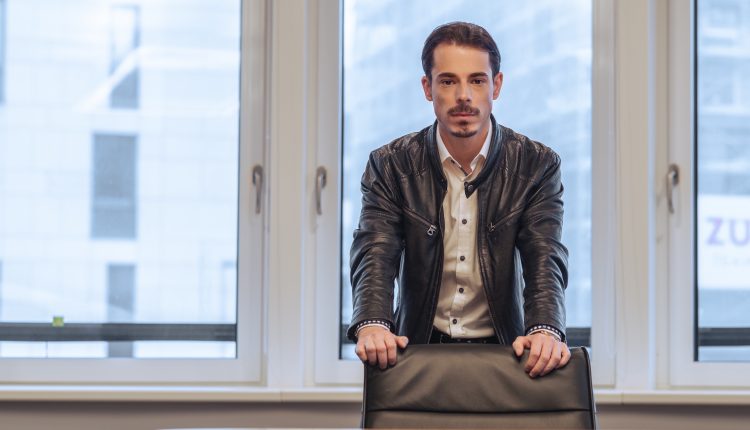 AnyDesk is a platform which provides independent remote access to personal computers and other devices running the host application. It offers remote control, file transfer, and VPN functionality and enables everyone to work from home within 15 seconds after installation.  
To hear about the company, the way they've navigated the success they've seen (not just this year) and AnyDesk's plans for the future, we caught up with the company CEO and one of its three co-founders – Philipp Weiser.
Philipp has always had an interest in remote desktop software and visual transmission, as well as internet technology overall. His career in the sector began when he was still a university student who used to implement open-source systems for audio-visual transmission over the internet. This passion for the field brought him to TeamViewer where he stayed for three years. The experience there introduced him to AnyDesk's other two co-founders, which resulted in the foundation of AnyDesk. We hear more about it below.
How did the idea about AnyDesk come to life? 
Our work at TeamViewer and our interest in this technology inspired us to set up AnyDesk. During my time at TeamViewer, I had lots of ideas that I couldn't bring to execution, so meeting two other like-minded people there and starting our own company with them was a logical step if we wanted to bring our ideas to life – which is exactly what we did.
Was there a gap in the market at the time? 
In retrospect, we can probably say yes because we've been quite successful, which naturally means that there must have been a demand for our offerings. Back then, however, it was hard to say if this was going to be the case, so we did extensive market research and we knew that we were entering a market which had more than 10 direct competitors. However, the reason why we still thought that this was a good idea was because we knew we can make a product which is 10 times better than the market average. This was, of course, a high aim, but we were sure that we can do it. Otherwise, I think no user of an existing remote desktop solution would have switched to AnyDesk.
After two years of development time, we released our first product. We did some marketing and some press work, and we saw that early adopters really noticed the difference in terms of comfort and user-friendliness when using AnyDesk vs. the existing solutions. We knew we can offer a better product and we managed to achieve it. An exponential growth curve began the moment we got out first 10,000 users, and it's still ongoing to this day.
My advice to fellow entrepreneurs is to never develop a product or a service which fits within a very niche category. Always aim for versatility!
Despite the pandemic, AnyDesk has been one of these companies that have actually seen success. How have you navigated this? 
When the COVID-19 pandemic first hit the world, we had to scale our AnyNet network to almost 10 times as large in a matter of just three days, which was of course a challenging task. Fortunately, we managed the process without any major downtime, which means that our service was not interrupted during this period of transition. On top of that, we had to scale up our sales and customer service hotlines manifold because of the huge spike in demand for remote desktop and work-from-home solutions.
After the first wave subsided, the users which we gained throughout these first few months continued using AnyDesk and our usage level was double than what it was before the pandemic. A lot of customers who had already been using AnyDesk discovered the benefits of the product which encouraged them to obtain a licence, which resulted in commercial success too; there was one month where we generated 10 times the revenue which we normally generate.
Our free version is still running, of course, so we're still able to provide support to small businesses and private users who can't afford a licence during this crisis. Through that, we try to create a balance between our offering. I don't like to say that we have profited from this difficult time. I prefer to see it from the perspective of our company: we are trying our hardest to successfully provide a remedy that can help businesses overcome some of the challenges the pandemic's presented them with.
What are your tips on working safely from home? 
I would really look into the security of all the tools I use and implement a multi-tier approach. It is important to be careful with confidential data and properly look into security policies.
On the social side of things, I recommend getting at least one hour per day away from screens – going for a walk outside is certainly the best way to give your eyes and mind a break.
Technology has the power to change not just the face of the planet, but also the notion of what it means to be human.
From a business point of view, as a CEO, what are some of the most important lessons the pandemic has taught you? 
One observation is that despite what you may think, you can in fact scale a company at an incredible pace! It is truly remarkable how much you can scale when you're forced to act quickly and think on your feet! This is not comparable to a speed limit on a highway, in the sense that if you're going fast, it's impossible to go 10 times faster – you are constrained by the car you're driving and its speedometer. In business, however, there are virtually no limits and things can very easily become much more overwhelming than you would have ever expected.
In our particular case, we had to scale because had we failed to do so, our systems wouldn't have been able to keep up. AnyDesk has always been ahead of its time by at least one or two years, so our network was able to take that sudden pressure and we managed to successfully cope with the increased usage we saw in the first three-four days of lockdown.
The main reason why we navigated this successfully, in my opinion, is because we always try to imagine where we want the company to be three years from today, so we try to always be a few steps ahead. This has definitely been one of the main lessons this experience has taught me – it's good to be prepared for everything.
What's on AnyDesk's agenda for 2021? 
We plan to be a little bit more mainstream in the future, which means that one of our major tasks will be to extend our offering.
A lot of people who are not too closely involved with the software industry know who we are, or they know someone who has used AnyDesk. Or they have used it themselves. Our plan is to continue working on making the brand more recognisable.
We also have some goals concerning how we market our software. In the new year, we plan to rebrand and reshape our whole approach. We have several new product launches coming out soon, which will support our existing offering. They will complement our current products that will enable collaboration and bridge distance, enabling people to work from anywhere.
One of the things we have in mind is a possible solution for the IoT (Internet of Things) space. It will be connected to programming devices to control themselves and interact with each other, without the need of a person to do it.
So, all in all, very exciting times ahead!
The pandemic is likely to change the workplace forever, with working from home becoming more and more widespread. Do you feel lucky to be operating in this space and to have been there at a time when the whole world needed your services urgently? 
We feel lucky that we were able to bring together the experts needed to create a business which has a lot of potential for the future, which spans far beyond being lucky just in this very moment when everyone is supposed to work from home. The fact that we can react so well to the current situation comes from thorough research and deep reasoning, which preceded the pandemic.
We are excited to be in a market where we can scale indefinitely, without the need to employ many new people, but this was all part of the plan all along.
When you started the company, were you expecting that working from home will be becoming more and more popular in the future? 
Yes. In fact, with our first website, the plan was to differentiate ourselves a little bit from the market, which back then was specifically tailored towards remote support. We made a decision that working from home will be our first use-case and this was the main thing we built our first website around. AnyDesk, with its lower latency and higher frame rate, makes you feel like you're sitting directly in front of the PC you're controlling, which is what really distinguishes us from our competitors. We figured that this might also be an alternative to certain cloud solutions, where you store your data in the public cloud and do not have control over it anymore. AnyDesk's goal was to help you gain access to this data, so you can work from anywhere in the world.
So, essentially, yes, remote support was also a main use-case, but we did have this feeling that working remotely will be becoming more and more widespread.
My advice to fellow entrepreneurs is to never develop a product or a service which fits within a very niche category. Always aim for versatility!
What is your ultimate goal for AnyDesk?
At present, we are the number 1 most used remote desktop work-from-home solution in the world. Of course, we plan to continue building on that and we want to become the category leader in every country in all continents. It would also be amazing to hit 1 billion AnyDesk-enabled devices!
In addition to this, we're currently working on creating several add-on projects which reside in the same space and complement our existing offering.
What excites you about the future of technology? 
What's exciting about technology is that its consequences could be extremely unforeseeable. It can cause unpredictable major shifts in paradigms which can happen over the course of a very short time – it can even create new cycles in the world economy. Technology developments move faster and faster and it feels like there should be a focal point which we are going towards. It is, however, extremely difficult to predict what will happen. Technology has the power to change not just the face of the planet, but also the notion of what it means to be human.
What is your advice to young people, who have an idea for a company? 
My advice will be to do it. However, it is important to talk to as many people as possible about your idea. Speak to someone who can find a reason why the business may fail – and I'm talking about hard, technical reasons. It is healthy to constantly argue with yourself and to try to find potential constraints which could get in the way of actually executing your idea.
A lot of ideas are not interesting enough to create a company or even a market and other ideas are too far away in the future and may require extreme efforts to bring to life because of that. There are also some ideas that are not concrete enough. My ultimate advice would be to first know where you're standing – not just in the market, but also from an economic, political, scientific and philosophical point of view and then see if there's a reason which may not allow you to start your project.
Once you've done your risk assessment, you have to really strive towards executing that idea and not give up. Starting a business is much harder than most people think.