Welcome to the Sustainable Revolution: How are Luxury Brands Becoming More Sustainable?
Fashion is the second most polluting industry in the world after oil.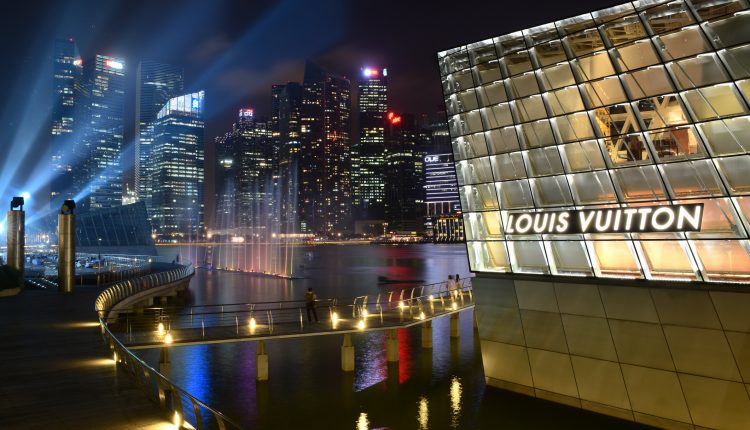 And although luxury brands have an advantage over fast-fashion retailers because their products are items that you'd keep in your collection for years to come, they shouldn't ignore the growing trend towards sustainable and conscious products. Millennials and Gen Z consumers, who are currently driving 85% of global luxury sales growth, are actively making changes to their lifestyles that can help the environment and are expecting that luxury brands should begin aligning their values with the values of the generations of today. Millennials and Gen Zs are indeed becoming increasingly more environmentally conscious, carefully evaluating the social impact each one of their purchases has, which in turn means that their purchase decisions are based on buying from brands that resonate with their values and views.
But it's not just about what Millennials and Gen Zs want anymore. According to a study by Bain & Co, 89% of all consumers expect brands to publicly communicate their sustainable actions, especially in the luxury sector.
Luxury companies that want to retain their status in the high-end market can't afford to ignore these calls for action. If they want to remain relevant, they should take the threat of the climate crisis seriously and shift to making sustainable and ethical luxury.
That's of course not to say that all luxury brands are behind on the trend. High-end retailers like LVMH and Gucci have launched numerous campaigns and initiatives which show their dedication to the environment. More and more designers, such as Armani, Jimmy Choo, Givenchy and Versace, have announced that they'll no longer use fur in their collections. Let's take a look at some of the high-end brands that are catering to the 'green shift' and have made a commitment to our planet.
Stella McCartney
Stella McCartney is a designer who's become synonymous with the term 'ethical fashion'. Since the launch of her first collection, she's been reshaping the world of fashion through creating modern, high-end garments that are cruelty-free (not using fur or leather), and are made from ethically sourced wool, organic cotton and recycled textiles (nylon, polyester, etc.). She is a pioneer in sustainable fashion, which used to be a niche category when she started, yet, her beautiful designs made from alternative materials have demonstrated that consumers don't need to sacrifice their moral codes to be fashionable and look good.
As a member of the Ethical Trading Initiative, the brand is also mindful of the suppliers it works with and does its best to support Europe-based small businesses and artisans. Stella McCartney has also collaborated with numerous NGOs and environmental organisations, including Wildlife Works, Parley for the Oceans and Fashion Positive, to bring some attention to the impact our clothes can have on the planet.
Vivienne Westwood
Vivienne Westwood is another designer who's been committed to environmental activism and sustainable fashion for years. One of her best-known slogans "Buy less, choose well, make it last" promotes balanced consumption – both when it comes to fashion and in other aspects of our lives. Vivienne Westwood's brand uses recycled or eco-friendly fabrics such as organic linen and cotton, bamboo fibre and precious colourful jacquards realised with cellulose acetate produced from wood fibre sourced from a reforestation programme, and it also incorporates environmentally friendly and sustainable methods in its production processes. Dame Vivienne Westwood has used her runways to stage powerful protest, while her t-shirts are basically activist signs. Through her partnership with the Ethical Fashion Initiative, she's also launched several sustainability lines which gave back to communities.
However, she has faced some criticism connected to her brand's lack of transparency around supply chains and carbon emissions. Let's hope that these are things she addresses in the near future!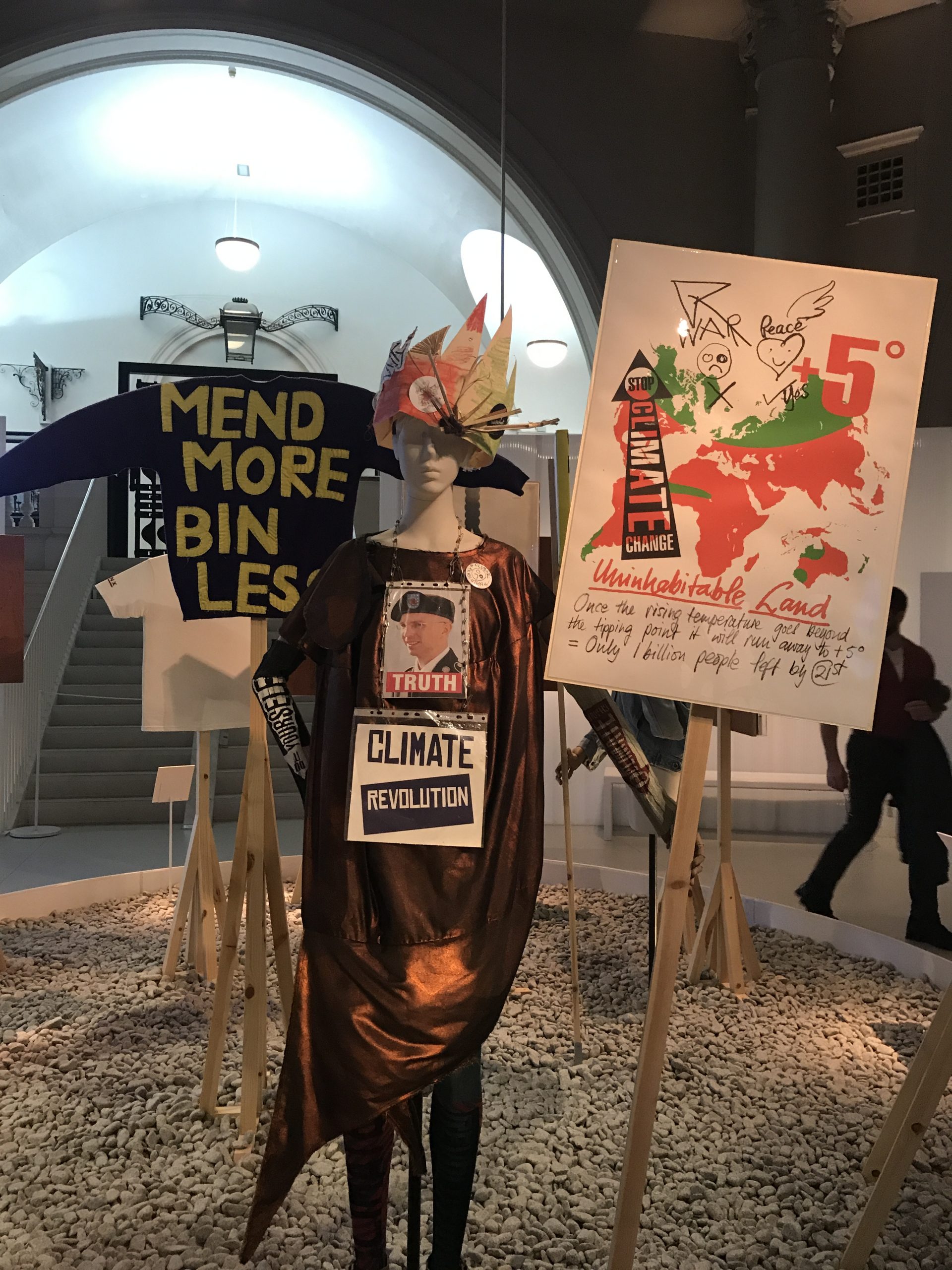 Vivienne Westwood's Climate Revolution – part of an exhibition at the Victoria & Albert Museum, London; December 2018
LVMH
According to Sylvie Bénard, LVMH's Senior Vice President of Environment, the luxury goods company has been focused on sustainability long before it became a buzzword in the fashion industry. "We've been working on this for a very long time, but nobody is aware of that because we weren't talking about it and it wasn't a hot topic", she said during a series of interviews in New York and Cape Town last year.
Back in 2012, the group, which owns luxury fashion labels like Louis Vuitton, Christian Dior, Celine, Givenchy and Marc Jacob, launched its LIFE (LVMH Initiatives For the Environment) programme and since 2015, the company's 75 Maisons have integrated it into their strategic planning. LVMH further strengthened this commitment in 2016 and defined four objectives for 2020 – improving the environmental performance of all of its products, applying the highest standards for sourcing, reducing CO₂ emissions and improving their key environmental indicators for all sites.
At an event at the group's headquarters in Paris in September last year, LVMH CEO Bernard Arnault highlighted the company's goals for protecting biodiversity, as well as their plans for eco-design, engagement with the circular economy and reduced energy consumption. In addition to these commitments, LVMH is working on initiatives supporting the preservation of the Amazon. It has also partnered with the Solar Impulse Foundation and has provided funding to the AgroParisTech Foundation Ecological Compatibility Chair. Last year, the French group acquired a minority stake in Stella McCartney and appointed the namesake designer as a special sustainability adviser to the CEO.
Gucci
Last year, Gucci announced plans to become carbon neutral, as part of its 10-year sustainability plan which brings together three pillars – the environment, people and innovation. The brand is committed to reducing the environmental impact of its business operations with a focus on the use of energy and water, waste production, hazardous materials and the quality and sustainability of raw materials. Gucci is also concerned about the direct and indirect social and economic impact along its entire supply chain.
The luxury powerhouse has implemented Gucci Equilibrium – a new strategy and communication tool aimed at connecting people, planet and purpose. The programme shows the company's commitment to bring the very best quality to their customers while maintaining positive social and environmental impact. As part of the initiative, Gucci encourages its employees to dedicate 1% of working time to volunteering in local communities. The brand has also worked on campaigns supporting local communities, such as their 'I was a Sari' initiative, which taught women how to upcycle saris.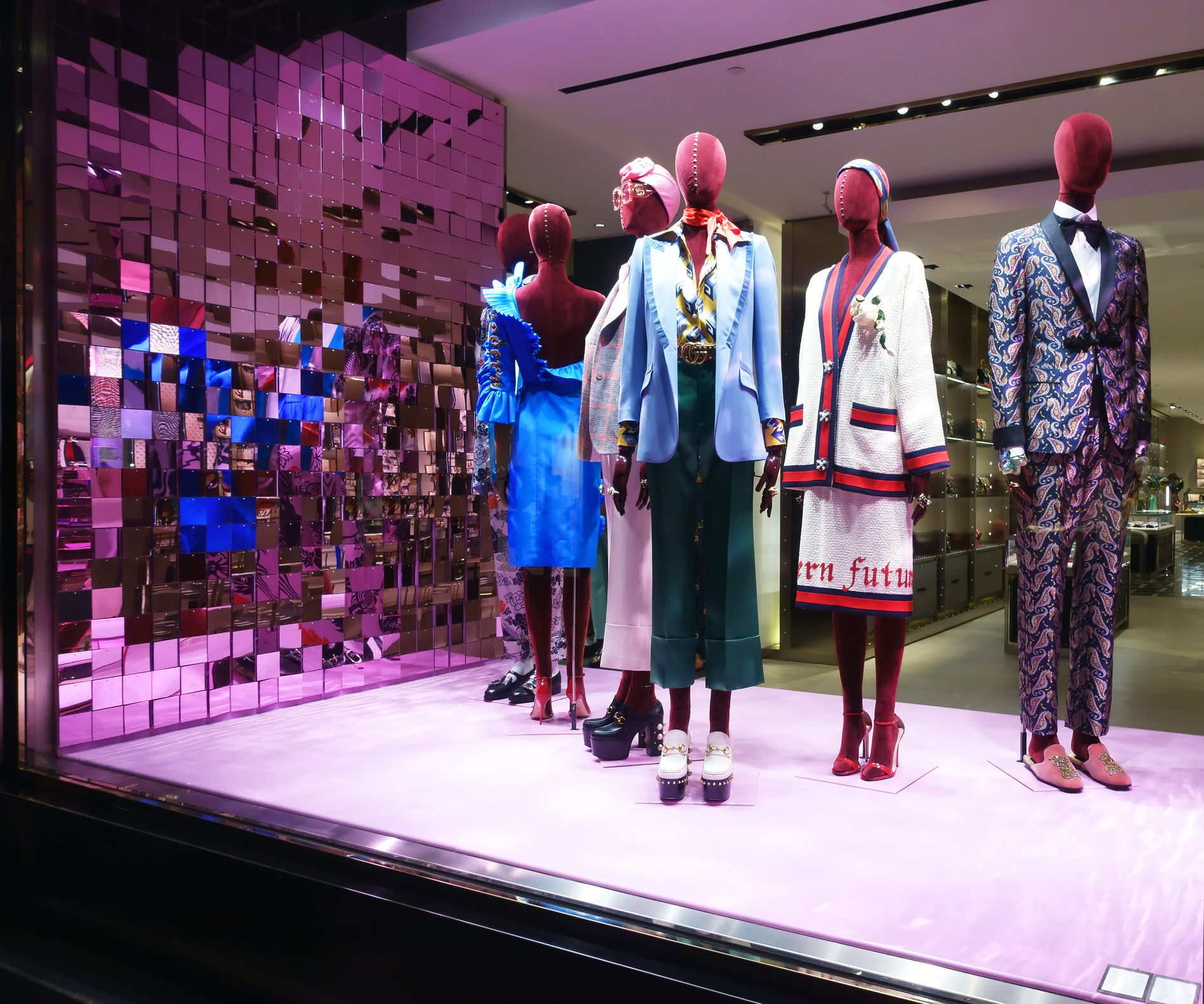 Chanel
The iconic French couture house laid out an extensive plan toward a greener future in March. Chanel Mission 1.5, the brand's new detailed plan aimed at addressing climate change, considers every facet of the business, including supply chain, retail and runway shows. The key goals the brand will be working towards include reducing carbon emissions across all operations, shifting to 100% renewable electricity by 2025, offsetting residual carbon emissions and financing climate change adaptation by working with communities impacted by climate change.
In the past, the luxury house has been widely criticised for its grand runway shows, which have gone to the extremes of shipping icebergs, creating a fully stocked supermarket and even a forest – all out of dedication to creating a spectacle. However, Chanel has made it clear that they are more motivated than ever to begin operating in a more sustainable way. Other efforts they've made include working with sugar beet farmers in France, as well as a recent collaboration with Finnish startup Sulapac to create biodegradable packaging for their products.
Burberry
After facing criticism from environmentalists, politicians and even the company's own shareholders about burning unsold products in an attempt to protect their intellectual property, Burberry CEO Marco Gobbetti announced that they'll end this practice. It was estimated that the luxury fashion house has burned unsold products worth over £90 million ($117.89 million) over the last five years.
Burberry has made other environmental commitments including becoming a core partner of the Ellen MacArthur Foundation's Make Fashion Circular initiative along with Gap, H&M, HSBC, Nike, and Stella McCartney. In addition, the brand's no longer using real fur in its collections and has promised to phase out existing fur products.
The list of luxury brands that have committed to becoming more sustainable in one way or another continues, painting an optimistic picture of the way the fashion industry is evolving. No brand has achieved real sustainability yet, but the fact that companies are becoming more responsive means that a change is afoot. And those who are maintaining a neutral stance need to follow suit if they want to remain relevant.