Building Web Forms – Revolutionised
Through his cloud platform that provides users with the ability to publish custom online forms, streamline workflows, and trigger notifications with the main goal of easily collecting and managing accurate data, Florin Cornianu has revolutionised the way we build web forms. Since 2008, his start-up, 123 FormBuilder, has been growing steadily - from a couple of coders operating out of an apartment building to a nearly one-hundred-employee company; and from a few random users to well over a hundred thousand active users, ranging from school teachers, freelancers, SMBs, and NGOs to multinational enterprises, spanning almost every field one can imagine.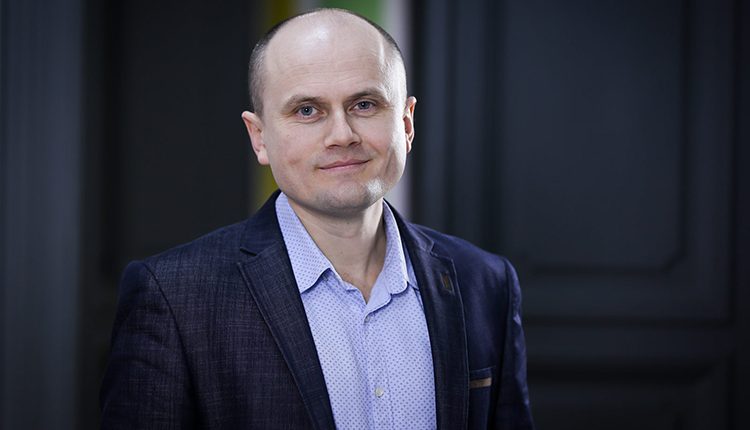 What was the idea about 123 Form Builder born out of?
Back in the mid-2000s, big data was not much more than a wildly used buzzword. Nonetheless, we were fascinated with the prospect of creating an online platform that would at least help pave the way to the data-driven business landscape we had all been dreaming of.
I and Tudor Bastea, 123FormBuilder's other day-one Co-founder, were working 12 to 16-hour days back then and most of our other projects were not bringing in users as fast as we wished or had pretty much collapsed under their own weight.
However, there was one idea that kept coming up and was steadily climbing to the top of our overly worked whiteboard — by the way, we still have that whiteboard; the best 12$ we've ever spent. Little did we know that this one simple idea would keep the headlines of our whiteboards for years to come and, within our company, it is still the object of countless stares into the abyss of endless possibilities:
Everybody needs to collect and manage data.
Did you have any competition when you first started the company?
There were a few other form-centric SaaS start-ups that were trying their best to move the needle in the late-2000s but, as we saw it, the one challenge we needed to face was Gartner's infamous troth of disillusionment.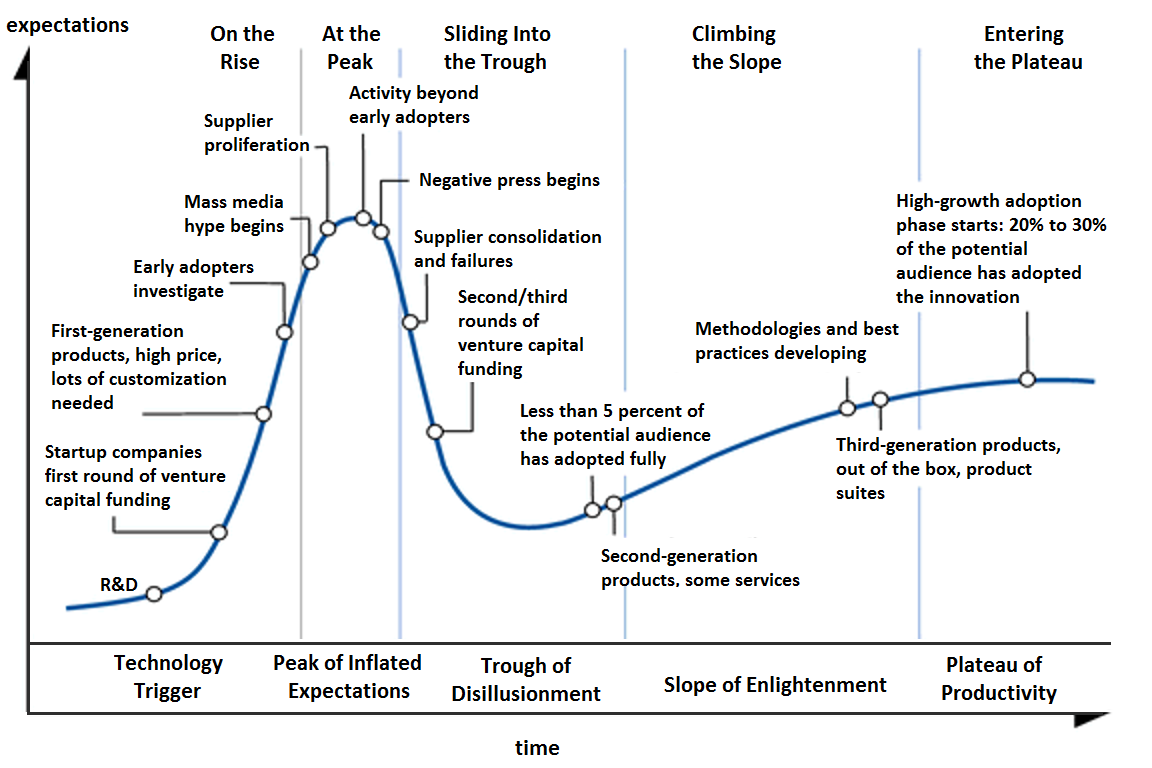 Gartner's Hype Cycle
If we were going to make it, we knew that we needed to build a product that would survive the mega hype surrounding big data, and make it to that elusive plateau of productivity. So, our thought process became extremely practical. Let's start small and build from there, we thought. Let's build a form builder.
We were pretty much ready to give up and go back to the corporate jobs we had left only a couple of years back, when, in 2008, our cloud platform started bringing in paying users. Organically. It was called 123ContactForm at the time, but we changed it to its current name three years ago.
That's all folks, no launch date, no party, no media buzz. Just a couple of hard-working programmers in a Timișoara apartment focusing on R&D.
Twelve years later, however, after learning a lot more about internet business, let me tell you that, despite our enthusiasm, we were in over our heads. We were in need of a major business know-how injection, as well as a bit of a push in terms of capital.
What do you think has contributed to 123FormBuilder's growth?
In 2010, we met Adrian Gheară, who became our late Co-founder. When Adrian joined the company, we had our a-ha moment and we fully committed to building a real internet company. We made a lot of small changes and a few massive ones, but the most important adjustments had a lot to do with our mentalities. If 123FormBuilder were to succeed, we needed to embrace an entrepreneurial mindset.
First things first, the company's monthly revenue stream had to be thoroughly controlled and optimised to fuel growth investments. Suddenly, it was not our cash anymore: it was the company's capital. Apart from a couple of salaries that would permit us to live decent lives, Tudor and I started aggressively pouring the money back into the business. Yep, all of it.
Alongside Adrian Gheară and a few like-minded pros, there were three other aspects we covered really well right from the start. These three items are still pillars of our growth today:
A data-driven approach to product design and product marketing. We keep researching the market thoroughly, understanding our competition, and tweaking our services to open up new opportunities for 123FormBuilder. As a data-collection SaaS, we must be the first to apply what we preach, so data-driven it is!
A solid channel partnership strategy. We are truly grateful to Salesforce, Wix, WordPress and all the other entrepreneur-friendly platforms that allowed us to compete in their app marketplaces. Our users' reviews propelled us to the top of the marketplaces, which meant we could invest in R&D and didn't have to spend fortunes on advertising.
An in-house Customer Care team. Availability and resolution times are key. We have explored and applied a myriad of retention tactics, but nothing beats proper Customer Care as the foundation of a prosperous relationship with your users.
What's on your agenda for 2020? Are there any exciting projects you're working on?
We have a lot of big plans for 123FormBuilder moving forward. Remember the Gartner hype cycle? The hype surrounding big data has lost its deafening market noise, leaving the pathway clear for truly amazing data-centric development opportunities.
The hype surrounding big data has lost its deafening market noise, leaving the pathway clear for truly amazing data-centric development opportunities.
Technologies such as Apache Hadoop and Spark have matured, fueling massive analytics and data-driven automation projects across the business world. Companies have opened up to the prospect of capitalising on their available data in order to fuel their growth and optimise operations; robotic process automation (RPA) has been shaking the corporate world to its core…
And here we are, in the middle of it all, working hard to perfect a data-collection platform that categorises, stores, and serves the information, in the right formats, at the right time, to the right persons, through the proper systems. As the Hollywood cliche goes, I am not at liberty to discuss specific upcoming projects, but I will tell you this: It is a splendid time to work in data collection.
Would you say that the current environment in Romania is welcoming to new entrepreneurs?
I think it's great. Romania has a lot to offer. The IT and Digital sectors have been growing like crazy due to excellent coding talent, relatively low operating costs, and a plethora of enthusiastic ideas that, carefully put into practice, can genuinely bring value to our lives and businesses via the digital realm.
This is not to say that starting and growing 123FormBuilder was easy. It was not. However, what I realised early on is that my main job as a CEO is to bring in talented pros and offer them the environment and means to thrive here. Many of our employees have started their own companies throughout this decade and I am extremely grateful to have played a role along their journeys.
What's your golden nugget of advice for young entrepreneurs?
Find people that are a lot better than you at their jobs and tell them precisely what makes your idea worth pursuing. Read books that inspire you. There is no definitive recipe for business success, so you must concoct your own. Experiment a lot and fight through the inherent frustration of looking at that needle and not being able to nudge it. Persevere and you will move that needle time and again.
Which are some of the business leaders that you look up to?
There are many leaders and business authors that have influenced me in some way or another, so my answer to this question evolves along with my perspectives, year over year. A few quotes have stuck with me. Here's one that still puts a rather ironic smile on my face:
"If we have data, let's look at data. If all we have are opinions, let's go with mine." – Jim Barksdale, former Netscape CEO
Inspiration comes in all shapes and forms. Verne Harnish's Scaling Up was a true page-turner for me. It is an example of non-fiction literature that has the potential to bring clarity to anyone's perspectives on business efficiency. Rand Fishkin's Lost and Founder is a must-read, as well. He allowed me to better understand the mindset required to move that infamous needle. Topgrading, by Bradford D. Smart, is another true gem. In terms of perfecting your recruiting tactics, I don't know a book that offers better advice.