Planning a Vacation in Disney World This Half-Term? Discover the Best Family-Friendly Resorts in Orlando 
What could be better than a trip to Disney World this upcoming half-term?
It is a vacation that your kids, and, your entire family, will never forget. There is so much to see and do at this famous Orlando attraction. 
That being said, if you want your Disney vacation to be one to remember, you need to pick an awesome resort to go back to at the end of a long day of rides. 
Discover the best family-friendly resorts near Disney World below, with something for everyone! 
Westgate Town Center Resort
Westgate Town Center Resort provides a whole host of amazing amenities for all ages, including its very own waterpark. What more could you want for a family vacation in the sun?
One of the top-rated family-friendly resorts in Kissimmee, Westgate Town Center Resort is only a stone's throw away from Disney World, making it the ideal hotel for your half-term vacation. 
Providing you with all the comforts of a fully furnished home, the accommodation at this resort is second to none. As mentioned above, this resort from westgateresorts.com even has its own waterpark, providing the perfect antidote to the hot Florida sun. 
For foodies, Westgate Town Center Resort offers an extensive selection of dining options, including a sports bar and grill, and even an on-site Starbucks. 
Hyatt Regency Grand Cypress
Hyatt Regency Grand Cypress boasts a kids club, spa, and lagoon pool and is right on the doorstep of all the nearby attractions. Find out more below. 
If you want a family-friendly hotel that is located right between Walt Disney World Resort and Universal Orlando Resort, then this is the place for you. 
Offering a winning combination of first-rate facilities for children and adults, you won't be disappointed when you book a stay at the Hyatt Regency Grand Cypress this half-term. 
After a hot day at the local theme parks, unwind by the epic lagoon pool, indulge in a facial or massage at the resort spa, or fill your stomach at the on-site buffet restaurant. 
There is one thing for certain: the entire family will have a blast.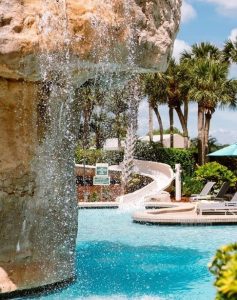 Four Seasons Resort
A luxurious resort with five-star food, drinks, and service, if you want to push the boat out with your next family vacation, then the Four Seasons Resort Orlando is the ideal choice. 
Everyone knows the Four Seasons brand. Synonymous with luxury and opulence, you can expect to enjoy fine dining, first-class facilities and amenities, and award-winning service. 
For the kids, they are guaranteed to love the lazy river and waterpark compete with its own slides, and for the adults, the private cabanas and tennis courts are a must. 
Book a room above the fifth floor to take in the nightly fireworks from the nearby House of Mouse. You won't regret it!