The Best of Bath in 48 hours
The city of Bath, located in Somerset, England, is a place steeped in history and charm.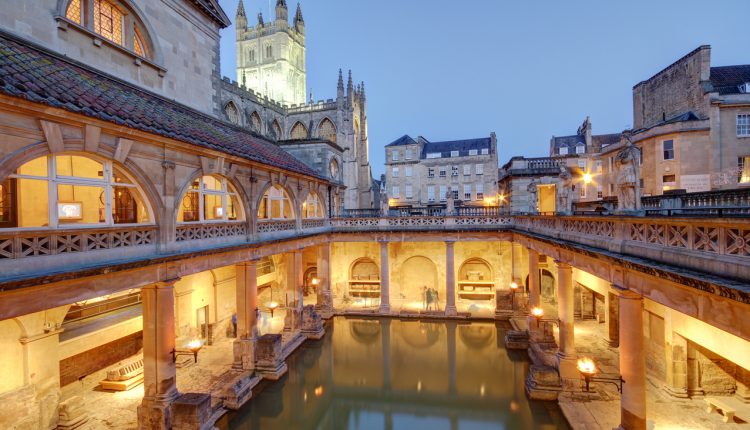 With its stunning Georgian architecture, picturesque streets, and rich cultural heritage, Bath has become a popular destination for tourists from around the world but we wanted to see what it could offer families with young children. Did it have enough to keep the little ones entertained? CEO Today went to find out…..
What to see:
The Roman Baths
One of the first things that comes to mind when thinking about Bath is its fascinating history. The city was founded by the Romans in the 1st century AD and quickly became a thriving spa town. The Roman Baths, one of the most famous attractions in Bath, are a testament to this ancient history. Families and kids can explore the well-preserved baths, walk on the original Roman pavements, and even taste the mineral-rich waters that made Bath a popular destination for healing and relaxation. There is plenty for kids to enjoy at the Baths from trails, to meeting fun characters and taking part in role plays and activities. https://www.romanbaths.co.uk/
The Royal Crescent
Bath's historical significance doesn't end with the Romans. The city played a significant role during the Georgian era, and this is evident in its stunning architecture. The Royal Crescent, a row of 30 terraced houses built in the 18th century, is a prime example of Georgian architecture and is a UNESCO World Heritage site. The crescent-shaped row of houses overlooks a beautiful lawn and offers a glimpse into the opulent lifestyle of the Georgian elite. When at the Royal Crescent, pop into No. 1 Royal Crescent which is a museum which has been decorated and furnished just as it might have been during the period 1776-1796. The rooms feature historic furniture, pictures and objects that reveal what life was like for Bath's fashionable residents – both upstairs and downstairs. The new immersive experience brings the house to life through film and sound so that visitors can get a very real sense of what it would have been like to live there
https://no1royalcrescent.org.uk/

Jane Austen Centre
Bath has a special connection to the famous author Jane Austen. Austen lived in Bath for a few years and set two of her novels, "Northanger Abbey" and "Persuasion," in the city. The Jane Austen Centre, located in a Georgian townhouse, offers visitors a chance to learn more about Austen's life and works. The museum features exhibits on Austen's time in Bath, her writing process, and the Regency era in which she lived. https://janeausten.co.uk/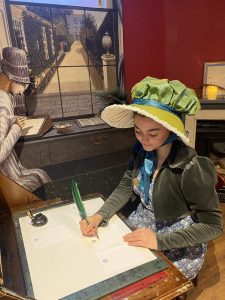 Mary Shelley's House of Frankenstein
Another literary connection in Bath is Mary Shelley's House of Frankenstein. This unique attraction celebrates the life and work of Mary Shelley, the author of the iconic novel "Frankenstein." The museum showcases a collection of artefacts related to Shelley and her famous novel, including original manuscripts, personal belongings, and even a replica of the monster itself. It's a must-visit for fans of Gothic literature and those interested in the life of Mary Shelley. https://houseoffrankenstein.com/
The Herschel Museum of Astronomy
For astronomy enthusiasts, the Herschel Museum of Astronomy is a hidden gem in Bath. The museum is located in the former home of William Herschel, a renowned astronomer who discovered the planet Uranus. Visitors can explore the rooms where Herschel and his sister Caroline conducted their groundbreaking research, view original telescopes and instruments, and learn about the history of astronomy. https://herschelmuseum.org.uk/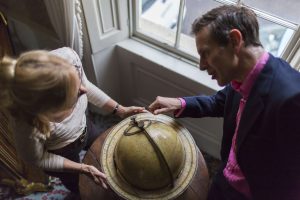 Filming Locations
Bath has also been a popular filming location for movies and TV shows. The city's timeless beauty and historic charm have made it a perfect backdrop for period dramas. One recent example is the hit Netflix series "Bridgerton," which was partly filmed in Bath. The show's stunning ballroom scenes were shot in the Assembly Rooms, a grand Georgian building that was once the social hub of the city. Another famous film shot in Bath is "Sense and Sensibility," based on Jane Austen's novel. The city's elegant streets and buildings provided the perfect setting for this beloved period drama. Check out a walking tour here: https://visitbath.co.uk/inspire-me/film-and-tv-in-bath/bridgerton-in-bath/bridgerton-tours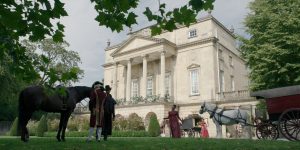 Eating Out
Robun
After a day of exploring Bath's history and culture, one highly recommended restaurant in Bath is Robun. This Japanese eatery offers a unique dining experience with its authentic and innovative dishes. From sushi and sashimi to tempura and ramen, Robun serves up a wide range of Japanese delicacies that are sure to satisfy any palate with a truly exquisite cocktail menu.
The restaurant itself is a tribute to Japanese author, Kanagaki Robun, who wrote the seminal book, Seiyō ryōritsū in 1872. The book took inspiration from Western barbecue and introduced the concept of Yakiniku to Japan. A man of many talents, Robun also collaborated to create Japan's first-ever manga magazine. The hand-painted murals on our walls are a further nod to the enduring influence of his work.
Indeed the restaurant's sleek and modern interior adds to the overall dining experience, making it a popular choice among locals and visitors alike. https://www.robun.co.uk/
In conclusion, CEO Today found that Bath is a city that effortlessly combines history, culture, and natural beauty. From its Roman Baths to its Georgian architecture, there is something for everyone to enjoy. Whether you're a history buff, a literature lover, or simply looking for a charming getaway, Bath is a destination that will leave a lasting impression. So, why not plan a visit to this enchanting city and experience its unique blend of past and present for yourself and the family- you won't be disappointed in the 48 hours you spend here! https://visitbath.co.uk/
Where to stay: The Royal Crescent Hotel & Spa, Bath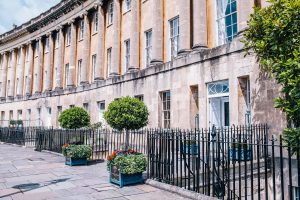 The landmark 5* Royal Crescent Hotel & Spa in Bath is an iconic landmark that has been attracting visitors for centuries. This magnificent row of terraced houses, designed by architect John Wood the Younger, is a prime example of Georgian architecture and is considered one of the most beautiful streets in the world. The hotel has undergone a highly anticipated hotel refurbishment over a six-month period, including the relaunch of Montagu's Mews restaurant and bar space, the renovation of the hotel suites and the hotel's front of house and drawing room refurbishment.
Breathing new life into this historic property, the hotel's interior has been meticulously redesigned to seamlessly blend seamless contemporary style and classic charm. The design of the lobby is reminiscent of the scenic and pictorial colours enjoyed by Georgian homeowners with references to Italian architecture, with an emphasis on symmetry and proportions. 
The fresh, vibrant palette lifts the space, creating an unforgettable entry to the hotel and from the moment guests step into the hotel's grand entrance, they are greeted with a sense of opulence and sophistication yet a modern, friendly and accessible welcome to families with young children. The hotel strikes a nice balance: local Bathonians are in their plentiful enjoying a drink on the terrace or booking in for an evening meal while overnight guests continued to arrive from outside the city looking to unwind and discover the city.
Montagues Mews
One of the highlights of a visit to the Royal Crescent Hotel & Spa is indulging in afternoon tea at Montagues Mews. This charming tearoom, located within the hotel's grounds, offers a delightful setting to enjoy a traditional British afternoon tea. Kids love the selection of freshly baked scones, finger sandwiches and pastries, all accompanied by a choice of fine teas, hot chocolate with marshmallows or a glass of champagne. 
Designed by Shelley Reiner (Director of London-based interior design company, Suited) the effortlessly elegant restaurant and chic bar space incorporates a modern palette of colours and textures and informal, inviting seating. Attentively designed lighting has been integrated throughout and the entire interior reflects the eclectic nature of an 18th-century salon, to create a thoroughly modern, classic and luxurious space. This has been inspired by the first resident of No.16 Royal Crescent, Elizabeth Montagu and her salons. Elizabeth Montagu was the host of the Blue Stockings Society, writer, salonière and advocate for women's education. A fresh and forward-thinking attitude helped Elizabeth bring people together in the spirit of enlightenment; the perfect inspiration to inform the hotel's approach to dining.
Indeed, the elegant surroundings and impeccable service make this experience truly memorable. 
The Spa and Bath House
For those seeking relaxation and rejuvenation, the spa at the Royal Crescent Hotel is a haven of tranquillity. The spa offers a range of luxurious treatments, including massages, facials, and body wraps, all designed to pamper and revitalize the body and mind. The spa's serene atmosphere, complete with a heated relaxation pool, sauna, and steam room, provides the perfect escape from the stresses of everyday life.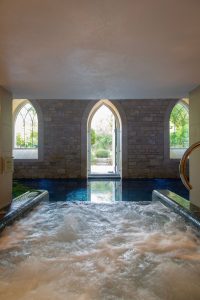 The Jane Austen Suite
For families looking for space, comfort and a truly unique experience then the Jane Austen Suite at the Royal Crescent Hotel is a must-book. This suite is dedicated to the famous author, who lived in Bath during the Georgian era and is elegantly decorated in a style reminiscent of Austen's time, with period furnishings and artwork. However, its modern feel and spacious 2 rooms make the suite feel like an apartment. 2 bathrooms come in especially handy with children and the hotel thinks of everything with welcome packs for children and baskets full of board games and jigsaws to immerse themselves in. Really handy is the door opening into the beautiful garden setting helping you unwind outdoors at the end of a busy day.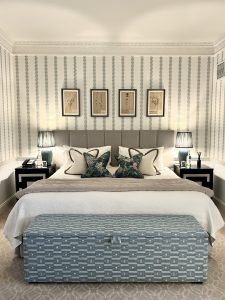 Bespoke Hot Air Balloon Trips
For those seeking a truly unforgettable experience, the Royal Crescent Hotel & Spa offers bespoke hot air balloon trips. Guests can take to the skies and enjoy breathtaking views of Bath and the surrounding countryside from the comfort of a private hot air balloon. The hotel's experienced team can arrange a tailor-made trip, complete with a champagne breakfast or a romantic sunset flight. It's a once-in-a-lifetime opportunity to see Bath from a whole new perspective.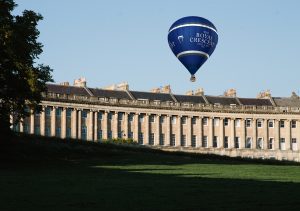 Away Days
The Royal Crescent Hotel & Spa is not only a destination for leisure travellers but also an ideal venue for corporate meetings and away days. The hotel offers a range of flexible meeting spaces, equipped with state-of-the-art technology and supported by a dedicated events team. Whether it's a small board meeting or a large conference, the hotel can cater to the needs of any corporate event. The stunning surroundings and impeccable service ensure that business gatherings at the Royal Crescent Hotel are both productive and memorable.
In conclusion, CEO Today found the Royal Crescent Hotel & Spa in Bath not only a historic landmark but also a luxurious destination in its own right. The hotel with its recent refurbishment, offers a truly indulgent experience for guests. From the elegant afternoon tea at Montagues Mews to the serene spa and the unique Jane Austen Suite, every aspect of the hotel is designed to provide a memorable stay for you and your family. Whether you're visiting for leisure or business, the Royal Crescent Hotel & Spa is a place where history, luxury, and impeccable service come together to create an unforgettable experience. www.royalcrescent.co.uk.