Innovation and Reliability in Banking: Ahli Bank
In a recent interview with CEO Today Magazine, Mr. Said Abdullah Al Hatmi, the CEO of ahlibank and an experienced leader in the banking and finance sector, discussed his professional journey, explained how ahlibank has maintained its leading position and delved into the challenges faced by the banking industry.
Mr. Al Hatmi discusses how he brought his first-hand experience to the forefront, implementing strategies to overcome these challenges to succeed in the industry. In this interview, he shares his insights and expertise on the importance of technology in today's banking landscape and how ahlibank has been leveraging these tools to stay ahead of the curve. While talking to us, Mr. Al Hatmi provides a valuable perspective on the current scenario of the banking industry and how it can continue to meet the needs of its customers.
Can you tell us about your journey to becoming CEO of ahlibank and your role in the company? Also, could you provide some information about the bank?
I have had the privilege of working with ahlibank for a significant part of my career, serving in various senior management positions before being appointed CEO in June 2018. Throughout my more than two-decade career in commercial banking, I have gained extensive experience in multiple areas, including corporate banking, retail banking, risk management, finance, and banking operations. These have provided me with a solid foundation and prepared me for my current role.
As CEO of ahlibank, I am responsible for leading the bank toward achieving its strategic objectives, ensuring operational efficiency, and maintaining a strong corporate culture that is customer-centric, innovative, and transparent. A key aspect, such as decision-making, is a collective exercise for us at ahlibank. Together with my senior management colleagues, we make key decisions that drive the growth and success of the bank, with a focus on expanding our customer base and branches, both digital and physical, while continuously enhancing the customer experience.
ahlibank is one of the leading financial institutions in Oman, serving the banking needs of individuals, businesses, and institutions since its inception. We are committed to excellence, innovation, and customer satisfaction, for which we are heavily investing in advanced technology and delivering banking solutions that meet the evolving needs of our customers. These include personal banking services as well as corporate banking solutions. Additionally, we offer Islamic banking services that are compliant with Shariah law, catering to the needs of customers who prefer a more traditional banking approach. Our efforts have been recognized through numerous industry awards, including the prestigious' Bank of the Year 2022' award from The Banker, a monthly international financial affairs publication by The Financial Times. We are proud to be considered one of the most trusted and respected banks in Oman.
ahlibank has been a leading financial institution in Oman for over 15 years. What do you think sets ahlibank apart from its competitors, and what initiatives have you implemented to maintain its position?
At ahlibank, our distinguished performance within the industry stems from our unwavering commitment to delivering exceptional customer service. We persistently endeavor to establish new standards by creating unparalleled opportunities for our clientele and stakeholders. Our team maintains vigilance towards market trends and customer feedback, ensuring our adaptability and responsiveness to their continuously evolving needs.
We have implemented a multitude of innovative strategies to fortify our standing as a reliable and reputable banking institution. These strategies include expanding our branch network to bolster our market presence, accelerating digital adoption by introducing a multifunctional kiosk, and perpetually refining our product and service offerings to accommodate the ever-changing needs of our clientele.
We remain resolute in our dedication to enriching our product and service offerings with inventive and groundbreaking solutions, thereby illustrating our pivotal role in the nation's digitalization process.
How has ahlibank adapted to the changing digital landscape in the banking industry? What role has technology played in the bank's growth and success?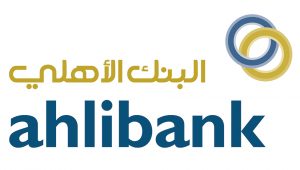 Adopting a complete digitalization process is essential for growth and supporting a country's economic goals. At ahlibank, we know the world is experiencing a digital transformation, and we are ready to adapt and succeed in this changing environment. We have invested time, effort, and resources to stay up-to-date with global trends, using digital tools that allow customers to handle banking tasks from home or work.
ahlibank currently offers a platform of digital banking channels for corporate transactions. Our e-channel portfolio includes ahliB2B for secure payments and salary transfers, ahliNET for safe transactions, and ahliRDC for remote check deposits, along with an 'instant' savings account. Our advanced multifunctional kiosk represents our goal of putting customers at the center of our operations. With technology and workplace improvements, Ahlibank provides better security, speed, ease, convenience, and customer experience.
ahlibank has a strong commitment to corporate social responsibility. Can you tell us about some of the bank's initiatives in this area, and how they align with the bank's overall mission?
Our dedication to corporate social responsibility is rooted in our understanding of the community's needs and our recognition of today's digitally savvy consumers who demand real-time information and news.
We actively engage with the community in which we operate to identify areas that necessitate support for the attainment of immediate and long-term objectives. Our Himam program, a comprehensive talent management initiative targeting the country's youth, exemplifies our unwavering commitment to sustainable human resource development. Since its inception in 2015, the program has been successful in this endeavor. Additionally, we have recently launched iGeneration program targeting graduates and entry-level employees to provide them a hands-on technical experience in the banking sector and support the Bank's digital transformation journey.
In the previous year, we launched the "Tamkeen" Crowd Funding initiative, a pioneering effort in Oman. This initiative followed the signing of a Strategic Partnership Agreement between ahlibank and Beehive, aiming to provide a tailored online financial lending solution for Oman's small and medium-sized enterprises (SMEs) to support their business pursuits and contributes to creating a sustainable ecosystem that propels the nation's economic diversification efforts.
Furthermore, we have collaborated with the government in various relief measures and continue to partner with local non-governmental organizations to extend our assistance beyond the scope of our business operations, helping those in need.
What do you see as the biggest challenges facing ahlibank in the coming years, and how do you plan to address them?
No organization remains impervious to global concerns, and inherent challenges are an integral component of every business. With this in mind, I believe the most significant challenges within the banking sector encompass maintaining competitiveness, optimizing digital experiences, adapting to shifting business models, and satisfying the continually evolving demands of customers who are more exacting than ever before.
We have pursued a strategic growth plan to guarantee that our competitive advantage is sustained and our resilience is prominently displayed. Our digitalization process rests upon a robust foundation, and we carefully consider customer feedback alongside global trends to ensure our roots are strong and our branches are meticulously nurtured.
Finally, what advice would you give to aspiring CEOs, particularly those in the financial industry, looking to lead their organizations to success?
To achieve success as a CEO in the financial sector, one must hold strategic thinking abilities, excellent leadership skills, and the capacity to navigate a rapidly changing market. I suggest that individuals aiming for CEO positions should concentrate on creating a distinct vision for their organization, establishing a competent team, embracing technology, focusing on customer satisfaction, and being adaptable to change. A clear vision will assist CEOs in making informed decisions that align with their organization's objectives, while a competent team will help put these decisions into action. With technology playing an increasingly critical role in finance, CEOs should be willing to invest in new technologies that can enhance their organization's efficiency. Additionally, focusing on the needs of customers can help to build a loyal customer base and drive business success.
To conclude, being adaptable to change is crucial in the constantly evolving financial sector, as CEOs should be open to new ideas and technologies that can help their organization stay ahead of the competition. By implementing these suggestions, aspiring CEOs can proactively tackle the obstacles of the financial industry and guide their organizations toward success.
www.ahlibank.om