CEO Today travelled down to the South West to explore holidays that could be enjoyed by the whole family.
We sent a reporter down to the South-West to explore holidays that could be enjoyed by the whole family.
Bristol: A Vibrant Hub of History and Culture
Nestled in the southwest of England, the city of Bristol is a vibrant hub of history, culture, and innovation. With its rich maritime heritage, stunning architecture, and a plethora of attractions, Bristol offers something for everyone. From the iconic Clifton Suspension Bridge to Brunel's SS Great Britain, from Aerospace Bristol to the Aquarium the city is packed with numerous things to do, not to mention the infinite options for food, bars, galleries and parks to enjoy.
Clifton Suspension Bridge
One of the most famous landmarks in Bristol is the Clifton Suspension Bridge. Designed by the renowned engineer Isambard Kingdom Brunel, this iconic structure spans the Avon Gorge, offering breathtaking views of the city and the surrounding countryside. We chose to walk across the bridge which was simply breathtaking but you can also admire it from afar. This is a must-visit attraction for any visitor to Bristol. https://cliftonbridge.org.uk/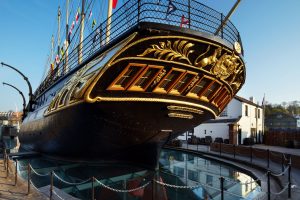 Brunel's SS Great Britain
Another must-see attraction in Bristol is Brunel's SS Great Britain which offers a fascinating glimpse into the golden age of travel and a testament to Bristol's maritime heritage. This historic ship, also designed by Brunel, was the first iron-hulled, propeller-driven steamship to cross the Atlantic. Now a museum, visitors can step back in time and explore the ship's luxurious cabins, engine rooms, and sleeping quarters. The kids loved exploring the various decks as well as taking part in the trail around the ship. Indeed, there is so much to see that tickets are valid for a year. https://www.ssgreatbritain.org/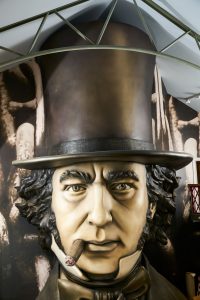 Toot Bus- Open Bus Tour
For a unique way to explore the city, hop on the Toot Bus. This open-top double-decker bus takes you on a guided tour of Bristol's most famous landmarks, including the Clifton Suspension Bridge, the Harbourside, and the historic Old City. With live commentary from knowledgeable guides, the Toot Bus is a fun and informative way to discover the city's hidden gems. We "hopped on" on from the bottom of Park Street for a scenic tour going past landmarks such as the Wills Building, Whiteladies Road, Clifton College and vast views of the Downs. https://www.tootbus.com/en/bristol/home
The Observatory
For panoramic views of Bristol, head to the Observatory. We travelled there via the Toot Bus to enjoy the 18th-century tower which offered stunning views of the city and the Avon Gorge. The kids loved climbing up to the camera obscura, which projects live images of the surrounding area onto a concave table, providing a unique perspective of the Clifton Suspension Bridge where we were able to catch glimpses of people walking along in minute detail. https://cliftonobservatory.com/
Bristol Aquarium
If you're looking for an underwater adventure the Bristol Aquarium is the place to be. Located in the historic Harbourside area and right next door to CEO Today's recommended place to stay- the Bristol Marriott Royal Hotel, this award-winning attraction is home to a wide variety of marine life, including sharks, rays, and tropical fish. With interactive exhibits and daily feeding sessions, the Bristol Aquarium is a great place to learn about the wonders of the ocean for the whole family. You can also take a break, go grab lunch and come back and use your tickets to finish off your day. https://www.bristolaquarium.co.uk/
Sky View Wheel
For a bird's-eye view of Bristol, take a ride on the Sky View Wheel. Located on the Harbourside, this giant Ferris wheel offers panoramic views of the city and its surrounding areas offering rides for up to six passengers per cabin. Whether you choose to ride during the day or at night, the Sky View Wheel provides a unique perspective of Bristol's skyline and the kids love the breathtaking views of the nearby Bristol Cathedral, Millenium Square and Harbourside.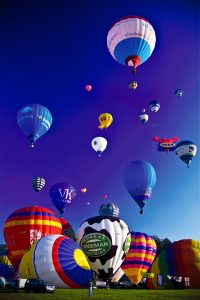 Banksy Walking Tour
For art enthusiasts, a Banksy Walking Tour is a must-do activity in Bristol. Known as the birthplace of the elusive street artist Banksy, the city is adorned with his thought-provoking and often controversial artworks. Join a guided tour and explore the hidden corners of Bristol, discovering the stories behind Banksy's iconic pieces. We saw "The Girl with the Pierced Eardrum" which can be found when walking from the M Shed, along the Harbourside, past Brunel's SS Great Britain, near the Bristol Marina by the clock tower. We also spotted the "Well Hung Lover" opposite College Green which you can see as you cross a small bridge at the bottom of Park Street.
More info here: https://visitbristol.co.uk/things-to-do/banksy-walking-tour-p1354013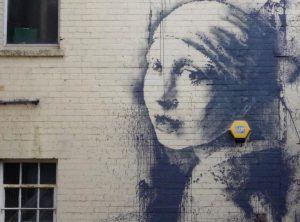 City Docks Boat Tour with Bristol Packet 
To experience Bristol's maritime history firsthand, embark on a Packet Boat Tour. These guided boat trips take you along the historic Floating Harbour, showcasing the city's industrial past and its transformation into a vibrant cultural hub. We learnt about Bristol's shipbuilding heritage, the annual Bristol Harbour Festival, and the modern developments that have shaped the city including the history behind the famous "Dulux" colourful houses found on Bristol's skyline. Book here: www.bristolpacket.co.uk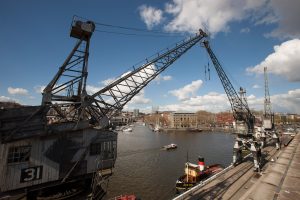 Aerospace Bristol
Aerospace Bristol offers a variety of family-friendly activities, including workshops, demonstrations, guided tours, and special events. Whether you're interested in learning about the science behind flight or simply want to have fun as a family, there's always something exciting happening at the museum.
One of the highlights of Aerospace Bristol is the chance to step aboard the iconic though extremely compact Concorde Alpha Foxtrot. This legendary aircraft, which once flew at supersonic speeds, is now permanently housed at the museum. Visitors can explore the cabin, learn about its groundbreaking technology, and hear stories from the pilots who flew it. It's an incredible opportunity to get up close and personal with a piece of aviation history. https://aerospacebristol.org/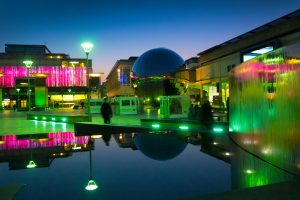 Eating Out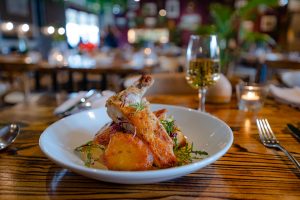 Harbour House
After a day of exploring, satisfy your hunger at the waterfront restaurant Harbour House. Located in the heart of Bristol's Harbourside, this waterfront eatery offers a diverse menu of fresh seafood, locally sourced ingredients, and international flavours. With its stunning views and relaxed atmosphere, Restaurant Harbour House is the perfect place to unwind and indulge in a delicious meal. Rumoured to be Isambard Kingdom Brunel's private boathouse the venue was said to be designed by himself with some of the features being prototypes for eventual builds at Paddington station. In addition, Bristol's well-known street artist Banksy had his first exhibition in the building in 2000. Corporate companies enjoy business meetings and get-togethers here with favourite dishes including Pan-Fried Boscastle trout, Newlyn Hake fishcake and seafood linguine with prawns in silky seafood bisque. But the restaurant caters to all customers. Families and kids are considered with colourful activities to partake in while they wait for their food and a wonderful dessert menu consisting of Profiterole Tower, house-made toffee sticky pudding and a wide ice cream selection. Really impressive is the way the restaurant champions suppliers from the South West with emphasis on the finest seafood and best seasonal produce from Wogan Coffee, Reg The Veg in Clifton Village and Wings of St Mawes in Cornwall. Daily fish deliveries mean guests are served fish that was in the ocean only 24 hours earlier! All of this is managed under the meticulous eye and experienced General Manager Ben Porter who has created a wonderful menu with his chef and spruced up a beautiful outdoor terrace so that guests can also enjoy their food with the magnificent Bristol Harbourside backdrop.
https://hhbristol.com/ I: @_harbourhouse_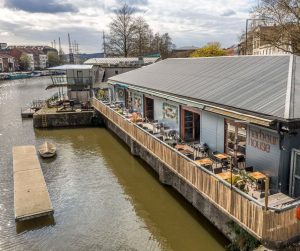 Bocabar Frinzels Reach
For a more laid-back dining experience, head to Restaurant Bocabar Frinzels Reach. Situated in a converted warehouse, this trendy eatery offers a menu inspired by global street food. From wood-fired pizzas to Asian-inspired dishes, Bocabar Frinzels Reach is a culinary delight. With its vibrant atmosphere and live music events, this restaurant is a favourite among locals and visitors alike.
https://bristol.bocabar.co.uk/finzels I: @bocabarbristol
New Taj Indian Curry House
If you fancy a curry house then Bristol is brimming with curry houses and restaurants dotted all over the city. Going for more than 20 years, head down to the bustling Gloucester Road in Horfield where the family-run New Taj can whip you up a Chicken Jelfreze or Meat Vindaloo. https://www.newtaj.co.uk/menu.html 
In conclusion, the city of Bristol is a treasure trove of history, culture, and attractions. From the iconic Clifton Suspension Bridge to Brunel's SS Great Britain, from the Toot Bus to the Observatory, there is something for everyone in this vibrant city. Whether you're exploring its architectural wonders, immersing yourself in its maritime heritage, or indulging in its culinary delights, CEO Today highly recommends Bristol as one of the best locations to visit for families. A truly relaxed stay for parents and kids alike.
I: #VisitBristol @visitbristol TikTok: @Visit_Bristol 
Facebook: www.facebook.com/VisitBristol/
Twitter: @VisitBristol
Where to stay in Bristol: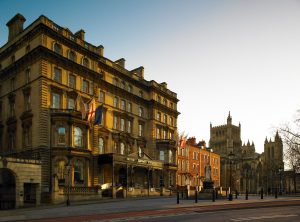 Bristol Marriott Royal Hotel- A Family-Friendly Haven
When it comes to planning a family vacation, finding the perfect accommodation is key. You want a hotel that not only caters to the needs of adults but also provides a welcoming and enjoyable experience for children. Look no further than the Bristol Marriott Royal Hotel on College Green. With its family-friendly amenities and convenient location, this hotel is the ideal choice for a memorable family getaway.
Location
Located in the heart of Bristol, the Bristol Marriott Royal Hotel on College Green offers easy access as you drive into the City. It has underground parking which is especially useful for little ones and easy access straight into the hotel. In addition, it is located very close to the city's top attractions, making it a great base for exploring. Whether you're visiting Cabot Tower, the Brunel's SS Great Britain, or the Clifton Suspension Bridge, you'll find that all the major sights are just a short distance away from the hotel and with the Hop on Hop Off Toot Bus stops available at the bottom of Park Street, on Anchor Road and in front of the Watershed- you are never too far away from a guided tour around the city.
Design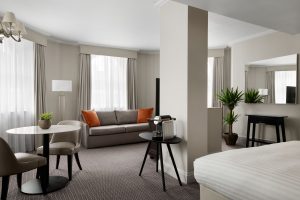 The Bristol Marriott Royal Hotel dates back to 1868. You can't miss the statue of Queen Victoria right outside serving as a reminder of the hotel's celebrated past with high-profile names such as Winston Churchill and Cary Grant who both stayed here. Said to be the oldest hotel in Bristol, the impressive Grade II-listed façade with its bay windows sets the tone and is a landmark in itself in Bristol standing proud at the bottom of Park Street.
Indeed the 150-year-old historic Victorian-style property offers preciously restored rooms and elevated experience. Inspired by the building's heritage, their suites feature a variety of upscale perks, outfitted with plush bedding, large desks with comfortable chairs, four-poster beds and stylish entertaining space.
This is a big hotel –which works well for kids who want to run up and down corridors after long journeys in the car. The hotel strikes a nice balance of accommodating for families and corporate guests and throughout the hotel, walls are lined with a mix of oil paintings, prints and modern art. The grand entrance certainly has a "wow factor" with the spacious, marble-floored lobby boasting impressive chandeliers, warm interior colourings and comfortable trendy seating areas to grab a coffee, relax and catch up on emails.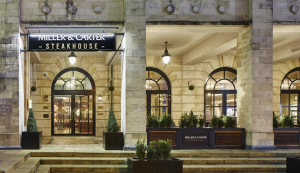 Family Friendly
The hotel boasts 266 rooms including 25 suites, set out over six floors and broken down into 12 categories. All are fairly spacious and we were lucky to stay in a room on the upper floor with a view. Rooms are comfortable with spacious beds, desks and some modern artwork with compact, cosy bathrooms stocked with enough products for the whole family. One of the standout features of the Bristol Marriott Royal Hotel is its family-friendly rooms. The double room CEO Today stayed in was spacious and comfortable designed with families in mind. The room offered plenty of space for everyone to relax and unwind with amenities such as cribs, rollaway beds, and connecting rooms available upon request. 
The Bristol Marriott Royal Hotel also provides excellent service and attention to detail. The staff is friendly and accommodating, always ready to assist with any requests or questions you may have. Whether you need recommendations for family-friendly activities in the area or assistance with arranging transportation, the hotel's knowledgeable staff is there to help make your stay as smooth and enjoyable as possible. We found that the staff were super friendly with children and genuinely interested in supporting tired parents with any requests they could assist with ensuring families have everything they need for a comfortable stay.
A Noon check out also helps give families ample time for kids to have a lie in, finish breakfasts and do last-minute packing!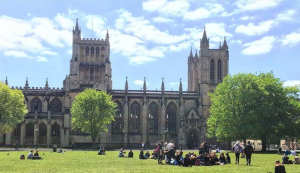 Dining 
When it comes to dining options, the Bristol Marriott Royal Hotel has you covered. The hotel's on-site restaurant offers a diverse menu that caters to both adult and children's tastes. From hearty breakfast buffets, and continental and vegetarian breakfasts to delicious à la carte options, there's something to satisfy even the pickiest eaters. The restaurant also offers a children's menu, featuring kid-friendly favourites that are sure to please young palates. The French Toast option with strawberries, blueberries, cream and Nutella certainly went down a treat!
You can also enjoy a meal at Miller & Carter Steakhouse which offers the finest steak hand-prepared by the master butcher and expertly cooked by the chef. Every evening was packed! 
If you fancy leaving the hotel for more variety, then within walking distance is Harbourside and Park Street. You can enjoy a multitude of restaurants, bars and trendy coffee shops all within a 5-minute walk from the historic Woodes coffee shop at the bottom of Park Street to Browns at the top and an unlimited buffet serving over half a dozen cuisines at Zaza Bazaar in Millenium Square to flame-grilled Latin American dishes at Las Iguanas.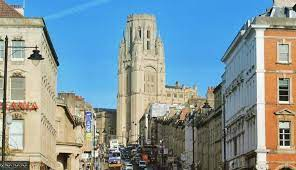 Amenities 
For families looking to unwind and have some fun, the hotel's leisure facilities are a major draw. The fitness centre is perfect for parents who want to stay active during their stay.
Conferences: Hold your next business meeting or special event at their hotel, offering 7,500 square feet of dedicated venue space supported by a team of meeting experts and professional catering services.
CEO TODAY CONCLUDES:
When it comes to finding a family-friendly hotel the Bristol Marriott Royal Hotel, College Green is a 5* top choice. With its convenient location, spacious rooms, excellent dining options, and a range of family-friendly amenities, this hotel ensures that both parents and children have a memorable and enjoyable stay. Whether you're exploring the city's attractions or simply relaxing and enjoying the hotel's facilities, the Bristol Marriott Royal Hotel is the perfect haven for a family getaway.
https://www.marriott.com/en-gb/hotels/brsry-bristol-marriott-royal-hotel/overview/
Twitter @BristolMarriott I:@bristolmarriottroyalhotel Facebook @BRSRY