How To Choose The Right Accountant For Your Business
From managing finances to ensuring that tax returns are accurately submitted on time, working with an accountant can benefit businesses of all sizes.
But when it comes to choosing an accountant, there are many factors to consider.
If you're contemplating working with an accountant but find yourself wondering how to choose the right accountant for your business, here are a few tips to get you started. 
Consider your business needs
When choosing an accountant, searching for a self-employed professional or firm may seem like the first step. But actually, the first thing you need to do is consider your business needs.  
Why? Well, when you understand your business needs, you'll find it easier to ascertain what services you require from an accountant.
For example, are you looking to scale your business in the next year? Do you require an accountant to prepare your financial records and ensure your tax returns are submitted and paid on time each year? Are you looking for an accountant to advise you on how you can manage your turnover and return on investment?
Damian Brychcy, COO and US MD of Capital on Tap says: "Small businesses often find it more challenging to expand, especially in today's economic climate. Understanding this, the Capital on Tap Business Credit Card, issued by WebBank – which offers up to $50,000 in credit – has been designed especially for small businesses and start-ups that have been up and running for at least 6 months. Using credit to outsource accounting tasks not only ensures that businesses can take advantage of professional services, but it also offers small business owners greater time to focus on expanding their reach." 
Decide whether you want to work with a self-employed accountant or a firm
With your business needs in mind, the next step in choosing the right accountant is deciding if you would rather work with a self-employed accountant or a firm.
Across the United States, there are at least 46,000 firms to choose from, according to the AICPA & CIMA. There are also more than 1.4 million accountants to select from.
For larger businesses, choosing a firm may mean access to a wider variety of services. In contrast, working with a self-employed accountant can offer numerous benefits at a fraction of the cost if you own a smaller company.  
Learn more about the services provided and costs
Before selecting an accountant, learning more about the services they provide can help you choose the right person or firm for your business. You'll also want to review how much working with an accountant will cost to ensure you have the finances to outsource work to them and pay their invoices on time.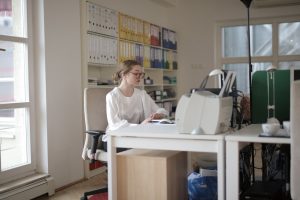 Explore qualifications and experience
Once you've decided whether you'd prefer to work with a self-employed accountant or a firm and learned more about the services provided, it's crucial to explore qualifications and accreditations. 
In the US, accountants are required to sit a Certified Public Accountant (CPA) exam before obtaining their accounting license, which permits them to practice either within a firm or on a self-employed basis. 
In addition to exploring qualifications, remember to review the track record of potential accountants or firms. Do they have experience working with small businesses? Have they worked with small businesses with similar needs to yours before? Asking these questions can help determine whether they are a right fit for your business. 
Review client testimonials
Just as you'd review testimonials before purchasing equipment or investing in a product, examining the testimonials of accountants can help you determine whether they are right for your business.  
Most accountants will list testimonials on their websites. But don't be afraid to ask for them if you can't find any. After all, learning what previous or current clients say about their experience can offer you an idea of what working with them may be like. The more positive the reviews and testimonials, the greater the satisfaction you're likely to have with them.