Fintech & Credit Unions: NOT ENEMIES
Interview with Dan Berger, President and CEO of NAFCU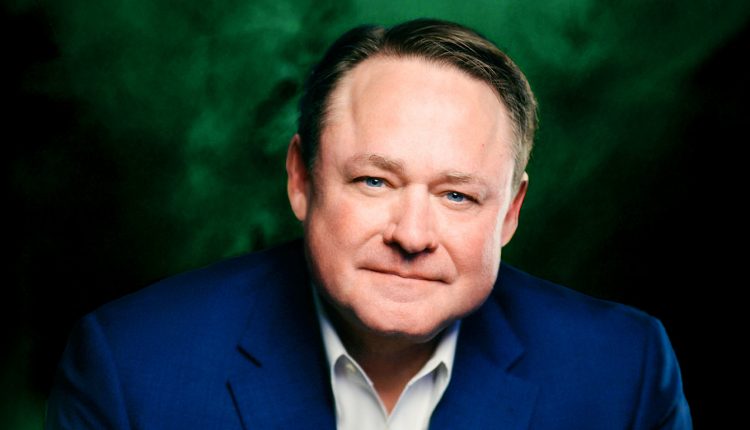 Dan Berger, President and CEO of NAFCU
Fintech & Credit Unions: NOT ENEMIES
Dan Berger, President and CEO of NAFCU
Welcome to our exclusive interview with Dan Berger, the President and CEO of the National Association of Federally-Insured Credit Unions (NAFCU), an influential figure in the financial industry, dedicated to bolstering credit unions' growth and strengthening their regulatory environment. Before spearheading the advocacy team at NAFCU, Mr Berger built a solid foundation in politics, gaining experience in the financial services, insurance industries, and serving as the chief of staff for a member of Congress.
In our conversation today, we will delve into the challenges that credit unions face in the current economic and political climate, explore NAFCU's strategies in overcoming these challenges, and understand how fintech's evolution impacts the credit union industry.
Please introduce yourself, your role and your company. 
The National Association of Federally-Insured Credit Unions, or NAFCU, is a non-profit, non-partisan advocacy organization that represents the credit union industry in Washington, D.C. Our mission is to help credit unions grow and ensure the legislative and regulatory environment allows them to provide safe, secure, and reliable financial products and services.
I have a passion for politics and have known for a long time that I wanted to be a lobbyist.Before NAFCU, I gained experience at other businesses and associations in the financial services and insurance industries and also served as chief of staff for a Member of Congress. I recognize the impact government has on people's lives and businesses, and it's important that decision-makers recognize the power they have, too. That's why it's critical we elevate credit union voices in Washington.
I joined NAFCU in 2006 to lead our government affairs team. It's the core function of our association, and the team really makes change happen with federal lawmakers and regulators. This month marks my 10th anniversary as NAFCU's president and CEO, and I know I have the best job in Washington – it's a gratifying and humbling experience to lead an organization that represents the white hats of the financial services industry.
When I'm not traveling to meet with credit unions or walking the halls on Capitol Hill, I'm an avid fly fisherman, and serve as vice chair of the Bonefish and Tarpon Trust. As a Floridian, I love traveling to fish with my wife and daughter. I earned my bachelor's degree in economics from Florida State University, and I also have a master's in public administration from Harvard University.
What do you see as the biggest challenges facing credit unions in the current economic and political climate? 
A sound regulatory environment is always our top priority. NAFCU's advocacy team works tirelessly to limit burdens on credit unions, and our compliance team works diligently to provide our members with the resources and assistance they need to navigate the never-ending regulatory changes.
The Consumer Financial Protection Bureau, or CFPB, spends a lot of time harming and hindering the financial success of the very people they claim to protect. The complete antithesis of any credit union's mission, the CFPB has waged a direct war on Main Street since its inception, and its recent efforts are going to seriously limit the availability of credit for those who need it. The last thing consumers need during this time of high inflation is another rule that will make things more expensive or less available.
In Congress, we're always on high-alert to defend against bad legislation that will hurt credit unions and their 137 million members. One major issue we're working hard to protect against is curbing interchange fees, which is essentially Washington Beltway speak for something I call the Big Box Bailout because it takes money away from consumers and credit unions – that go toward a safe payments system and affordable access to credit – while lining the pockets of big-box retailers like Walmart and Target.
 How is NAFCU working to address these challenges?
Our grassroots advocacy efforts are critical to our overall operation. NAFCU's advocacy team takes real-life stories of the credit union difference and insights gleaned from our research products to inform our conversations with lawmakers and regulators.
NAFCU has been at the forefront of advocating for credit unions in Washington,DC. What policy issues were you focused on in the first half of this year, and what progress has been made so far? What policy issues are you focusing on for the remainder of the year?
We've been extremely active in 2023, fighting for credit union priorities. We had a member credit union testify on our behalf before Congress on the negative impact of the CFPB's small business lending data collection rule, which only exacerbates hurdles entrepreneurs face when trying to start or grow their businesses. Several lawmakers are working to rein in the CFPB's final rule as a result. We're also sounding the alarm about the consequences of the CFPB's credit card late fees proposal – part of its war on Main Street – and of proposed legislation to cap interchange fees. Both proposals would make things more expensive and less secure for consumers.
After the bank failures, we made it our mission to highlight how credit unions are different than banks. As not-for-profit, member-owned financial institutions, credit unions are deeply committed to serving their members and are pillars of strength and trust in their communities. They listen to their members' needs and find ways to provide safe, secure, and reliable products and services. That resonates with people who are looking for a banking solution they can trust. In the aftermath of the bank failures earlier this year, we saw consumers and small businesses move their money to credit unions.
Credit unions are not profit-driven. They're not run by greedy bank executives who chase yields. As banks have closed more than 11,000 branches over the past decade, with 1,500 closures in 2022 alone, credit unions are adding branches and opening doors in communities abandoned by banks.
What are you most excited for during this year's NAFCU Congressional Caucus?
As an advocacy organization, bringing hundreds of our members to Washington to advocate directly with their members of Congress and federal regulators is incredibly powerful. Our speaker lineup is always strong – with administration officials and heads of agencies, to congressional committee chairs on both sides of the political aisle.
This is an opportunity to hear what lawmakers and regulators are working on and how credit unions will be impacted, and in turn, allow credit unions to educate decision-makers on the impacts of their policies through their own personal stories.
How has NAFCU evolved over the years. What changes do you see on the horizon for the organization?
Over the past 56 years, we've achieved major wins for the industry – like consistently ensuring our industry's tax-exempt status and obtaining regulatory relief and reforms – because we're not afraid to be aggressive to do what's best for our members.
We transformed our membership structure shortly after I became CEO to open our resources to all federally-insured credit unions. We recognized that in a consolidating financial services marketplace and with threatening regulatory overreach, the strength of the industry and our collective voice depended on it. We've experienced tremendous growth at NAFCU over the past several years. We went from representing 38 percent of the credit union industry in 2010 to 62 percent today.
Early in my tenure, we conducted an internal review of all our products and services. While I was visiting with our members, the three things that I heard over and over again were: advocacy, compliance and education.
Unless a product or service fits in one of those three buckets, we don't do it anymore. This has made us much more resilient and focused. Advocacy will always be job one, it's what we were founded to do. Our compliance assistance and educational resources are influenced by what's happening in Congress, the White House, and among federal regulators.
What does the evolution of fintech mean for the credit union industry and competition overall?
Fintech and credit unions are not antonyms. Our industry prides itself on relationship banking and makes the investments to best serve their members – including offerings like mobile banking, virtual branches, and instant and P2P payments. But when it comes to technological innovation and nonregulated fintechs that operate like banks, we want all entities to operate on a fair, level playing field. Unregulated fintechs should be held to similar oversight, data security and fraud prevention standards to protect consumers and the entire financial system.
The COVID-19 pandemic has affected the financial industry in many ways. How has NAFCU supported credit unions during this challenging time?
NAFCU was able to adapt quickly to meet our members' changing needs. We advocated for credit union-specific relief. One major accomplishment – we fought and won to ensure credit unions were included as lenders in the Paycheck Protection Program. For weeks, our team worked constantly to connect credit unions with agencies and lawmakers to ensure they were getting the guidance, clarity, and resources they needed to lend through the program quickly and effectively. Because of this, credit unions were able to support thousands of small businesses across the country when they needed financial assistance the most.
Our research team also stayed on top of economic issues to help credit unions manage their portfolios. The association's Preferred Partners offered invaluable resources and insights for operational efficiencies, risk mitigation, and technology.
As we've recovered from the pandemic, many of the regulatory and economic challenges remain. Business models, the economy, and consumers' financial habits have changed, and our job is to make sure credit unions are strong and have the tools they need to be responsive to changing needs.
Diversity, equity, and inclusion (DEI) have become important issues across many industries, including finance. How is NAFCU addressing DEI within the credit union industry?
DEI is very important to the credit union industry because it is core to its mission – to serve all individuals and families in need of safe, affordable financial products and services. Credit unions are more diverse than other financial institutions. There are three times as many credit unions designated as minority depository institutions (MDIs) than banks and ten times as many female CEOs at credit unions than banks. Credit unions are more likely to lend to minority and low-income individuals, and they are often the only financial institution in underserved areas. Credit unions have always prioritized DEI and continue to lead by example as other industries catch up.
Through our foundation, NAFCU supports organizations such as AACUC, NAACP, and UNCF, which provide minority scholarships and promote diverse, strong communities. NAFCU also spends a lot of time and resources focused on strengthening our own culture and supporting our organization's mission and values. In an industry known for "people helping people," we recognize the importance of DEI among our staff. It's important to have a diversified staff who represent different ways of thinking, experiences, and beliefs.
What are your thoughts on the future of credit unions, and how do you see NAFCU contributing to their continued growth and success?
You can't think about the future of credit unions without recognizing the industry's past. The Federal Credit Union Act was passed during the Great Depression that made federal credit unions tax-exempt. For nearly 90 years, this policy has remained in place because credit unions provide a valuable social service: safe, secure, reliable, and affordable financial products and services to all Americans – especially in areas banks have left. NAFCU's advocacy team and I fight tooth and nail every day against the Big Banks that want to strip us of the very thing Congress gave us to bring service to people banks wrote off. Banks assign legions of lobbyists to gut the good work credit unions do for Americans.
For that reason, I believe the industry's best days are ahead. In the past year alone, more than 5 million American families and small businesses joined a credit union. Our industry prioritizes members' financial well-being over profits. Credit unions do not make risky investments that could undermine their institution or harm their members; they invest in the programs and products that strengthen them.
Even within a consolidating financial services marketplace, as more people recognize what credit unions can offer them and their families, we'll see even more transitions to credit unions. Credit unions were formed to serve communities of people, but that shouldn't be a reason to restrict them with outdated laws and regulations. Yes, there will be headwinds, but in the midst of uncertainty, we know there is also opportunity. The industry has taken on every challenge thrown its way, and through perseverance and a clear mission, the industry has strengthened and grown.
Lastly, what personal values and leadership qualities do you bring to your role as the President and CEO of NAFCU, and how do these qualities help you guide the organization forward?
Having worked in both government and the private sector before I joined NAFCU, I found my role leading the association was the perfect nexus of policy, politics and work that actually has a real impact on Americans across the country. It's what made me fall in love with the industry – and now, as CEO, leading a team of incredibly talented and devoted staff, I have the best job in Washington.
I like to hire employees with a team mindset, whether that came from playing high school sports or being involved in band or theatre – I want people who have experience understanding the responsibility of being a single component of a larger team's collective success. We hire for attitude and aptitude; skills and knowledge can be acquired on the job.
NAFCU represents an industry of "people helping people," but we do that internally as well. Every aspect of the organization is intertwined. It's critical that we don't work in silos. This allows me to take a holistic approach to management while understanding that personalities and work ethic are just as important as talent.
Lastly, even as a non-profit, NAFCU's executive team and our Board of Directors still have the mindset of managing this association like it is a for-profit business, in the sense that we spend our budget strategically. And we remain mindful of being responsible stewards of our members' dues. We remain laser-focused on our mission to help credit unions grow, and that isn't going to change.