Shaping the Future, Mastering the Present: Sir. Kt. Prof. Gabriele Andreoli
In a world characterized by diverse cultures, interconnected economies, and complex challenges, there exists a need for exceptional individuals who devote their lives to shaping the future and overcoming obstacles.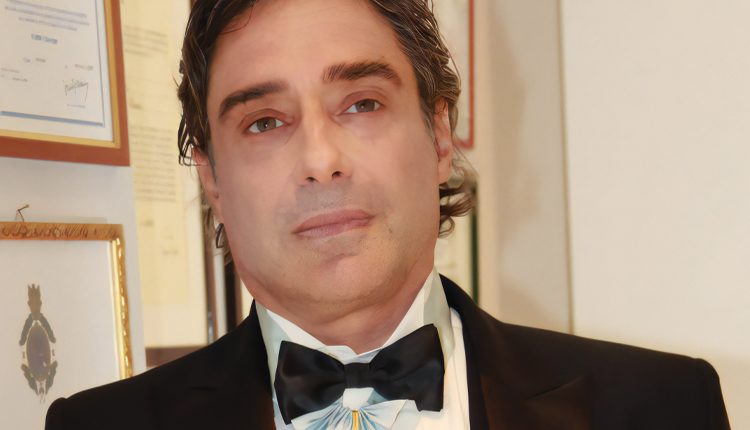 One such remarkable person is Sir. Kt. Prof. Gabriele Andreoli. His extraordinary journey has traversed borders, industries, and even ideologies, leaving an indelible mark on the world. From his innovative contributions to the film and literary industries to his unwavering pursuit of global unity with upcoming events that promise to meld prominent minds, Andreoli's influence extends far beyond the realm of entertainment.
President of the Institute for Advance Studies and Cooperation, Andreoli has received prestigious awards and medals throughout his career, including the Red Cross Silver Cross Medals (Italy and San Marino), the United Nations Medal, and the E.U. Medal. He holds esteemed titles such as Knight Grand Cross of the Order of Prince Danilo I of Montenegro, Knight with Honors of the Sacred Constantinian Order of St. Giorgio (Naples), and Knight of the Saints Maurice and Lazzaro (Italy). Additional honors include the Knight Grand Badge of the Royal Order of Civil Merit of Laos, Commander of the Order of the Million Elephants and the White Parasol, Knight of Rizal (KR), Golden Eagle Medal (Albania), Medal of Capistrano Ordenamiento Militar de Venezuela, and Knight of the Order of St. Gregory the Great.
This piece offers an insight into the extraordinary life of Sir. Kt. Prof. Gabriele Andreoli, emphasizing his unwavering commitment to driving change, fostering dialogue, and tirelessly working towards a brighter future for all of humanity.
"What I envision [for my mark on the world] is a constructive and collaborative confrontation, where diverse disciplines intersect and we each contribute our unique experiences and perspectives," Andreoli expressed. "It is through this interdisciplinary approach that we can collectively tackle complex challenges and foster innovation."
Living Abroad and Embracing Differences
From a Western perspective, Sir. Kt. Prof. Andreoli has led a truly global life, immersing himself in diverse cultures and expanding his horizons. His continuous exposure to different viewpoints has shaped his understanding of the interconnectedness of our world. Embracing the richness that diversity offers, Andreoli wholeheartedly believes in the transformative power of cross-border collaboration.
"I'm British, born in London," said Andreoli. "I remain devoted to my country and strive for its improvement. This principle applies universally, whether you're American, European, or from any other nation. Our responsibility is to transcend diversity, nationalities, religions, and backgrounds, seeking a genuine understanding of others' perspectives. That's why I advocate for advanced science and cooperation, recognizing that interdisciplinary collaboration is the cornerstone of our unity."
In an era where polarization and division often dominate the headlines, Andreoli's message resounds with themes of unity, understanding, and shared responsibility. He recognizes that addressing complex global issues necessitates collective action and a willingness to engage with a variety of perspectives. By fostering spaces for dialogue and exchange, Andreoli empowers individuals from all backgrounds to contribute their unique insights and work together towards common objectives.
Through extensive collaborations with numerous financial institutions, Sir. Kt. Prof. Andreoli has gained a profound understanding of the possibilities and protocols required to navigate diverse markets and seize opportunities. While acknowledging the significance of emerging technologies such as FinTech, cryptocurrency, and blockchain, his primary focus lies in the social and nonprofit sectors. He actively contributes to the advancement of humanitarian initiatives, aligning with the dedication of Ertharin Cousin, the 12th Executive Director of the World Food Programme (WFP), who shares a similar commitment to humanitarian causes.
"We have a part that focuses on cutting-edge technology, particularly a revolutionary technology that utilizes holographic transposition of low-frequency energy. It has tremendous potential to enhance medicine and even cure diseases like malaria in Africa," Andreoli said. "This is just one example of how we integrate innovation and science into our mission to create a better future. Through collaborations with organizations like the World Food Program and Disney, and by leveraging digital platforms, we are expanding the reach of the Institute for Advanced Studies and the World Changers Summit, ensuring that our transformative initiatives impact a global audience."
The Institute for Advanced Studies and the World Changers Summit
Andreoli's initiatives, like the Institute for Advanced Studies and the World Changers Summit, 
thanks to the collaboration with The Pontifical Academy of Science and The Vatican Museum, bring diverse individuals together to exchange ideas and find innovative solutions. These platforms foster interdisciplinary collaboration, addressing complex challenges. 
The upcoming World Changers Summit 2023 will be held on July 5th and 6th, gathering international leaders to explore innovative discoveries for a better world. With a focus on blockchain, cybersecurity, biohacking & well-being, AI & metaverse, finance, and the green economy, this convergence fosters heightened consciousness and deeper understanding.
"I believe the Vatican is a significant global force that has endured for over 2000 years. Despite our efforts to undermine it, it remains a powerful establishment with a profound impact on the world." Andreoli said. "This is symbolic, and a driving force behind our reasoning to host the Summit there."
The Institute for Advanced Studies is a hub for multidisciplinary collaboration, incubating innovative projects, and shaping societies. The World Changers Summit convenes experts from various fields, inspiring transformative progress. Technology and innovation play a central role in unlocking possibilities for a sustainable future.
Through his teams in Dubai and New York, Andreoli builds networks of like-minded individuals. The Institute and Summit provide spaces for brilliant minds to converge, shaping the future through knowledge and innovation.
"I wanted to give the World Changers Summit a different identity, a separate body that will keep on going forever, I hope," said Andreoli. "It is the result of my work and the contributions of numerous remarkable individuals around the world. So, the World Changers Summit is not just an appendix to the ESA Foundation, but a tangible manifestation of our collective efforts and aspirations."
The impact of these platforms is evident in the stories of individuals whose lives have been transformed. They nurture ideas, empower change-makers, and create ripple effects worldwide.
"We firmly believe in the power of dialogue and reconciliation, rather than isolating individuals based on their nationality. We believe that rebuilding strong relationships between governments and people begins by engaging with individuals at a heartfelt level and seeking mutually beneficial solutions. Unfortunately, one's birthplace often dictates the state of international relations, but perhaps that very fact can be the key to fostering better connections and working towards a more globalized and harmonious world," Andreoli emphasized.
Global Initiatives and Collaborative Endeavors
Andreoli's lifelong quest for knowledge and commitment to creating a better future have earned him global recognition. He collaborates with esteemed organizations like the World Food Program and Disney, organizing impactful events. Recognizing the power of digital platforms, he expands the reach of the Institute for Advanced Studies and the World Changers Summit to a global audience.
Amid the Covid-19 pandemic, Evolutionary Biohacking offers a holistic approach to enhance performance, well-being, and consciousness. Andreoli's journey into performance medicine led to the MindSetBioHacking World Manifesto in 2020, introducing the groundbreaking discipline. Evolutionary Biohacking integrates well-being, integrated medicine, diet, and performance, benefiting individuals with neurogenesis, focus enhancement, and expanded consciousness. The project gained recognition and an award at the Future Innovation Summit in Dubai.
Andreoli's interdisciplinary work has transformed lives, making the benefits of Evolutionary Biohacking accessible to driven individuals worldwide through dedicated teams and centers. By exploring diverse cultures, comprehending global dynamics, and seeking solutions, Andreoli continues to inspire positive change on a global scale.
Building Bridges and Embracing Connections
Andreoli's international background has taught him the importance of building bridges and forging connections between cultures, governments, and individuals. He firmly believes that the path to a harmonious and prosperous global community lies in understanding, empathy, and shared goals. By bringing people together and fostering dialogue, he seeks to create a world where cooperation and mutual respect prevail.
"I have been a Catholic since the age of 33," said Andreoli. "Joining the Catholic church, an experience that was both dense and beautiful, taught me the value of dedicating all my work to God, striving for perfection not just for myself, but for the sake of others. While I wanted this event to be inclusive of all religions, nations, and people, I didn't want it to be limited to just Catholic or Christian attendees."
In our current complex and uncertain times, Andreoli's unwavering dedication to embracing diversity, confronting challenges, and building bridges serve as an inspiration to us all. His belief in the power of teamwork, his commitment to understanding multiple realities, and his desire to leave a positive impact on humanity make him a beacon of hope in a rapidly changing world.
"Shaping the future requires us to work together, leveraging our collective knowledge and experiences," said Andreoli. "It's not just about having ideas; it's about collaborating and taking action to bring those ideas to life."
Sir. Kt. Prof. Gabriele Andreoli's life journey embodies the spirit of shaping the future and mastering the present. From his creative contributions in the film industry to his tireless efforts in fostering global partnerships, Andreoli has emerged as a beacon of hope and a catalyst for change. Through the Institute for Advanced Studies and the World Changers Summit, he empowers individuals to come together, transcend boundaries, and collectively forge a path toward a better future.
"I believe in the power of connectivity and bringing people together," said Andreoli. "Through this event, we can foster a sense of unity and understanding, transcending geographical boundaries and cultural differences. Together, we can build bridges and forge new paths towards positive change."
As we reflect on the extraordinary journey of Sir. Kt. Prof. Gabriele Andreoli, we are reminded that each of us has the power to shape the future and master the present. Through our collective efforts, we can build a more inclusive, equitable, and sustainable world. Let us embrace the diversity that makes up humanity, cultivate dialogue, and work towards a future that reflects the best of us as human beings.
About Sir. Kt. Prof. Gabriele Andreoli
Sir. Kt. Professor Andreoli holds multiple prestigious positions, including President of the Institute for Advanced Studies and Cooperation, Head of International Finance at the First Aid Foundation, and an honorary professor at the Catholic University of New Spain in Miami, USA. He is also affiliated with esteemed organizations such as the Civic Parliament of Humanity and the American Society of Diplomacy and Political Science. For further information about World Changers Summit 2023, please visit https://iascoop.org/