Sammie Mcfarland: From a Lifestyle Start-Up to a Charity Scale-Up
We hear from Long Covid Kids founder and health and pilates specialist Sammie McFarland as she takes us through her fascinating career to date.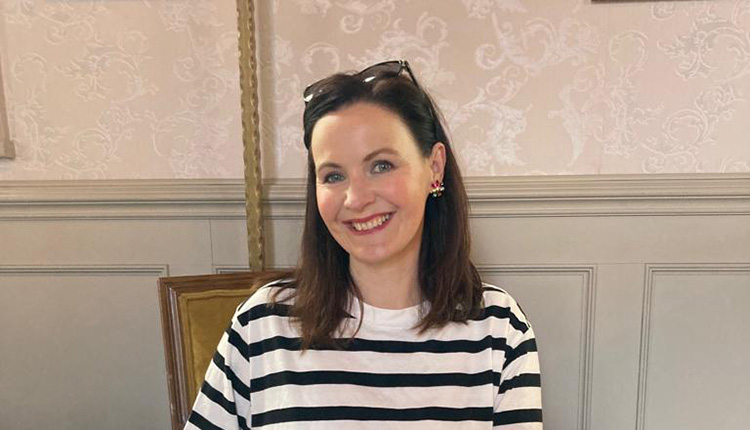 Can you tell us a little bit about your early life and education?
Growing up in Exmoor, southwest England, was a fortunate and rugged experience. I have cherished childhood memories of helping on the family farm during lambing and harvest. In my grandmother's kitchen, I peeled apples, made jam, and baked, earning fuel for an old Mini so we were allowed to drive in the fields. As the eldest of 10 grandchildren, there was always mischief. Although I received a scholarship to Wellington School, my parents' divorce changed plans, and I attended the local secondary school. Despite limited resources, my mother's unwavering tenacity, working multiple jobs, ensured we never went without. 
In my teens, a mysterious virus left me chronically ill, causing me to miss most of my last two years of secondary school. The school didn't want me to take exams, possibly fearing that my poor grades would affect their statistics due to my prolonged absence. However, I pleaded with the Headmaster and presented a letter explaining why I deserved a chance. Determined not to be held back a year, I taught myself from books while bedridden, while my mother and step dad worked. Growing up as part of a large family, I developed a love for children. I trained as a Nursery Nurse, working as a private Nanny and later a Maternity Nurse. At 21, I started my own family and have two beautiful girls. 
Has living and maintaining a healthy diet and lifestyle always been a priority for you?
Since managing poor health in my teens, yes. It was an incredibly challenging period for both me and my mother. It was a time when the convenience of Google was nonexistent and we had more questions than answers. However, I read a compelling article on food intolerances and proactive health in my grandmother's Reader's Digest, it was a light bulb moment. Inspired, my mother promptly arranged for food intolerance testing, which proved to be a revelation. No longer were we solely dependent on doctors; I could take charge of my own health and explore potential solutions. 
What gave you the incentive to start your own business in the wellness sector?
In 2009 I finally broke free from an abusive relationship, my paramount goal became providing my daughters with a positive role model—a beacon of strength, both physically and emotionally with financial independence. My own personal pilates journey had revealed the health benefits that movement and breath work could bring. Sharing the joy was a natural progression that aligned perfectly with our family's dynamics and my own wellbeing. 
My community based business had flourished into a trusted and thriving enterprise but as I learned more I wanted to connect and collaborate with other experts taking a holistic approach to wellbeing. I opened The Breathing Space (TBS), a dedicated wellbeing centre for female health, as a platform to connect women with specialised coaches and therapists. My plans encompassed expanding our reach through corporate training initiatives and retreats. Recognising the arduous struggle women often face in maintaining a work-life balance, especially with their predominant involvement in parenting and caregiving roles, I aimed to improve their work-life balance through accessible wellbeing by taking the knowledge and sessions to the workplace.  
My community based business had flourished into a trusted and thriving enterprise but as I learned more I wanted to connect and collaborate with other experts taking a holistic approach to wellbeing.
By bringing transformative sessions directly to the workplace, I envisioned equipping employers with a deeper understanding of how to effectively support women in professional settings. Gathering empirical data to substantiate the tangible benefits for both employees and businesses, my dream entailed replicating this model successfully across different communities. The ultimate goal was to enhance wellbeing and productivity, while simultaneously providing women with the work-life balance they deserved. Unfortunately the pandemic hit during our first year.  
Can you briefly explain what happened to you and your family as a direct result of the Covid-19 pandemic?
After contracting Covid, I was left feeling utterly drained, as if I had been hit by a bus, reminiscent of post-flu fatigue. Grateful that hospitalisation hadn't been necessary, I understood that my body's weakness was a consequence of battling the virus from my bed. 
As my period of isolation ended, our teenage daughter began to exhibit occasional coughing, we immediately took action and placed her in isolation. However, two days later, her condition took a turn. She developed a temperature which lasted for two days before subsiding. Soon after, her cough also dissipated rapidly. Yet, a series of alarming symptoms emerged: bouts of dizziness, diminished appetite, nausea during meals, physical weakness, pallor, exhaustion, floppy limbs and a vacant, unresponsive gaze. 
As parents, we felt utterly helpless witnessing our child suffer from a perplexing virus that remained shrouded in uncertainty. Enduring five to six weeks of prolonged illness, we gradually regained some strength and attempted short walks in the woods with our dog. Although arduous, we understood that our recovery would be a gradual process. We naively believed that the worst was behind us. 
Around six or seven weeks post-infection, we attempted a significantly modified exercise session in our garden. The doctor insisted it would be invigorating and further progress our recovery. Setting up a playful family exercise routine resembling an obstacle course, aiming to enjoy some movement and elevate endorphin levels. Compared to our usual exercise regimen, it was undeniably simple. However, after approximately 10 minutes, our daughter abruptly doubled over, expressing her inability to continue. She clutched her chest and urgently sought rest indoors. My husband and I persisted for a short while but soon I became drained of energy. It was as if my batteries had been forcibly removed, prompting me to halt activity and return indoors. 
For months thereafter, our meals were consumed in bed, personal care became challenging and my husband became our carer as multiple symptoms including heart palpitations, cognitive impairment and extreme exhaustion consumed our lives. Despite my efforts to work and teach online classes, utilising every ounce of available energy to support my clients and sustain my business during the pandemic, I remained confined to bed, venturing out solely for teaching sessions before promptly retreating back to rest. On camera, I tried to maintain a facade of bravery, driven by my love for my work and the necessity to provide a semblance of normalcy to loyal clients, all while relying on my income to sustain us.In 2021 ill health dictated that I press pause on my career.Our recovery journey continues; neither of us have been able to return to exercise or the activities we enjoyed but we are learning to live with a disability that may or may not be permanent. Long Covid has changed our lives. 
At which point did you decide to found a charity and why focused on children as opposed to the entire population?
Yes, I remember that moment vividly—early one morning, just three days after a nurse dismissed my daughter's worsening condition. The nurse asserted she must be mimicking my symptoms and assured me my daughter would feel better once reunited with her friends. I felt an overwhelming mix of frustration, exasperation, and genuine hurt from the nurse's dismissive remarks. I was acutely aware that my daughter's deteriorating health had nothing to do with the ongoing pandemic experience, and it certainly wasn't my fault, especially considering our symptoms differed significantly. The establishment of Long Covid Kids (LCK) was not a deliberate choice; it was a guttural response driven by an understanding of my child's profound illness. After connecting with other families grappling with similar harrowing experiences, it became apparent that LCK was a necessary solution to an urgent and escalating problem. 
What lessons of running a successful business did you employ to set up Long Covid Kids?
Determination, focus, and genuine motivation are vital attributes for any self-employed entrepreneur. Being surrounded by people with genuine goals is both motivating and constructive. 
I didn't concern myself with the precise path it would take or develop a rigid plan but supported organic growth.  This approach proved advantageous, allowing us to be flexible and adapt to evolving needs and health challenges. 
Throughout my career, my work with clients has always been driven by passion and a deep sense of purpose. Providing the necessary tools to empower others and foster positive change has brought me immense satisfaction. However, navigating the realm of business itself has been an integral part of this journey. The establishment of my own community business and then TBS, before the pandemic hit, equipped me with transferable skills that have proven invaluable for supporting LCK's growth.  
What are the key differences between running a start-up in the private sector and founding a charitable foundation?
Establishing a charitable foundation from our humble beginnings as a grassroots start-up presented us with distinctive obstacles. We recognised the significance of nurturing a community founded on our shared lived experiences right from the outset. Creating a structure that prioritises inclusivity, professionalism, and adaptability to volunteer availability demands a significant amount of goodwill, a quality not always prevalent in the private sector. We acknowledge that we are still finding our way.  
The charity has grown exponentially across the world in such a short space of time. How difficult has that been, as CEO, to scale, whilst also not feeling 100% in health?
It's been tough. Maintaining a positive and resilient mindset has proven crucial, as it enables the team to remain focused on the profound impact our charity is making in the world for families, children and young people. My daughter is still unwell and continues to be my personal motivation. 
Scaling a charity is an intricate and demanding undertaking that requires ample time and effort, we wouldn't have made it this far without a dedicated and driven team. The key to our accomplishments lies in our ability to connect with the community we serve and adapt swiftly to new challenges and circumstances, especially in the ongoing backdrop of the pandemic. If something isn't working we cut it, if it is missing we try to find a way to develop it. This adaptive approach has been fundamental to our continued success. 
Maintaining a positive and resilient mindset has proven crucial, as it enables the team to remain focused on the profound impact our charity is making in the world for families, children and young people.
What legacy would you like to leave behind?
The ultimate goal is to establish a sustainable charity, capable of empowering and supporting children and families for years to come. This will be achieved through forging cohesive partnerships, building a strong volunteer base, and securing the necessary resources for our continued growth. 
Being selected this year as a Coronation Champion came as a delightful surprise, and I felt a deep sense of humility. It was particularly remarkable given our charity's youthfulness and that I am still mostly in bed. Attending the King's Coronation Concert in May as an invited guest was truly awe-inspiring and marked a significant milestone as a volunteer. 
I take immense pride in the fact that despite facing adversity LCK has taken a stand on the right side of history, becoming the pioneering voice for children living with Long Covid. Our unwavering dedication to drive research aims to leave a lasting legacy, leading to improved treatment options and better health and learning outcomes for children and families impacted by this complex health condition in the future. 
"After establishing a thriving, trusted community business, connecting specialist expert coaches and therapists with women, I had planned to offer corporate training to reach a wider audience. Work-life balance is especially hard for women, who more often take the lead in parenting and caring roles. I wanted to close the gap between what women get and what they need by taking the knowledge and sessions to the workplace. I hoped to help employers understand how to support women in the workplace. The dream was that once I had data to evidence the success and benefits, both for their employees and their businesses, the modal could be successfully replicated, improving well-being and productivity and providing work-life balance for women in other communities."