For King, Country and the World
In the thick of it, is a place Tom Bairstow, Founder and CEO of creative studio NorthHouse, is commonly found. Whether on the cusp of a new business collaboration, on the eve of an all-important global event, or leading his team in innovative thinking, Tom's company, created in 2011, has caught the attention of the masses around the world by delivering unparalleled visual arts combining video, projection, mixed-reality and digital design for global live shows and installations.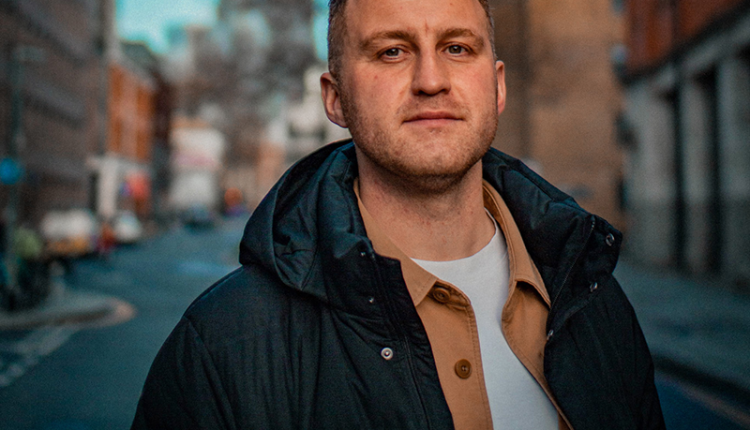 Some of their most impressive projects have been Her Majesty Queen Elizabeth II Platinum Jubilee – Party at the Palace, Coldplay's World Tour, Dubai Expo, and the SuperBowl Half Time show. Yet even more recently, Tom and his team have just finished delivering the two most historic events in the UK this year, the King's Coronation Concert at Windsor Castle and Eurovision Song Contest in Liverpool. 
The London-based studio's ground-breaking creativity and technological implementation has seen them develop projects in every continent, from Dubai and Saudi Arabia to the US, Canada and South America – but Tom's humble roots are further North than London, in Yorkshire, where he grew up.
"Growing up, I was very music orientated but also had a deep fascination for the magic of moving images, animation and filmmaking. This progressed into playing in touring bands and learning a lot about the live music industry. Seeing the connections that people made with the whole audiovisual experience – and with each other – was such a lovely aspect of the touring circuit, and the live performance element felt so real and raw.
"I increasingly felt like I wanted to find a way to bring the worlds of live shows, music, art, design and film together. I wanted to be a part of the whole live show experience. Fortunately, around this time, in 2009, there was an increasing amount of LED video screens being used in live shows and I leapt at the opportunity to bring all the worlds together." 
Back then, there were few opportunities in Yorkshire within the creative and music industry – Tom's school had recommended he should become either an engineer or architect, and he very nearly became an air conditioning engineer. 
Tom relocated from Yorkshire to London in 2010 in a bid to find opportunities for work and soon found himself as a freelancer developing shows for the likes of One Direction, Olly Murs and Little Mix.   
By 2012 Tom had set up NorthHouse and started to build a team, bringing in assistance through freelancers and full-time employees. 
"I increasingly felt like I wanted to find a way to bring the worlds of live shows, music, art, design and film together. I wanted to be a part of the whole live show experience."
Tom recalls: "For a few years, I progressed as far as I could as a solo freelancer before the workload became too much for one person where I took the giant leap to bring in my first employee in January 2014, a good friend who helped me to get a bit more perspective and see the potential in NorthHouse.
 "Soon after, we brought in another full-time artist and a fantastic junior artist, which suddenly pushed the quality of our work to a higher level. At this point, I started to realise it really is all about the team and where I started to feel my role shifting.
"We expanded, engaging with freelancers and soon picking up huge projects including Take That's tour, Rugby World Cup, Super Bowl Half Time show and Coldplay's World Tour (A Head Full of Dreams). I found myself doing less on the 'tools' and more on creative direction, leading the team, client relationships and general running of the steadily growing business."
Tom's management style revolves around creating a great space for the team to explore where everyone's voice can be heard, encouraging honesty and directness with kindness. Tom explains: "We're not the kind of studio to throw meaningless content on a screen. We're very focused on the concept, deeper purpose and narrative. We always need to be creating art and driving innovation forwards and we thrive on collaboration." 
NorthHouse entered 2020 with a healthy growing business and numerous successful projects under their belt, however the Covid-19 pandemic hit NorthHouse hard, as it did many businesses around the world. Tom added "In early 2020 I felt like we were really flying. A lot of work lined up with our client list multiplying at a rapid rate. But of course, when Covid hit, it wiped out the live events industry. It was such a tough time for everyone on both a human and business level we each had to try and navigate our way through in our own ways.  
"I learned a lot during that time. As a team we supported each other immensely. I did everything possible to keep the company afloat and ensure I could provide a job for all of my team – and on the flip side, the team really helped to support myself and NorthHouse. As a team we developed a vast range of new skills and tools that would eventually lead us into some really interesting new areas. 
"I look back at that time as such a pivotal moment for us. It became so clear to me how I'd allowed NorthHouse to cruise along in quite a safe lane before Covid with a steadily growing roster of regular clients. But once that had all been stripped away during lockdown, it was terrifyingly refreshing to almost start all over and feel super hungry for new areas of work all over again. 
"It elevated my want and need to network and connect with people all over the world and dream up a huge range of concepts in the real and virtual world. I also spent the time really knuckling down on my abilities on the financial side of things. There's definitely something to be said about being pushed out of your comfort zone and lockdown certainly did that."
Throughout the pandemic NorthHouse dug deep and created a show which became a masterpiece in augmented reality, a success that showed their innovation could take them anywhere.
Tom said: "We came out of the first lockdown with an incredible augmented reality awards show we designed – The Green Carpet Fashion Awards – that was truly revolutionary. I couldn't be prouder of what we achieved and what my team created. This cemented itself as a flagship project for how we progressed from then on."  
By 2022 NorthHouse were turning away four projects for every project they took on and when they finished projection-mapping onto Buckingham Palace for Her Majesty Queen Elizabeth II Platinum Jubilee' Party at the Palace', Tom had reached the limit of the work he could take on, hitting burnout like never before. Burnout is common in the industry and according to PCMA.org, work/life balance is the biggest source of burnout for planners and suppliers in the industry alike. 
Tom feels the pressure of a work/life balance but is a grounded, down-to-earth family man who strives to create equilibrium not just to benefit himself and his own young family but for his team as well as making NorthHouse a positive and comfortable work environment. He also looks to support and encourage those coming into the industry too, feeling strongly that sharing business insight and helping others is a big part of who he is and what NorthHouse stands for. Tom is an Ambassador for Media at Big Creative Education College, London, working to create industry-standard briefs and help students succeed in the industry.
Burnout is common in the industry and according to PCMA.org, work/life balance is the biggest source of burnout for planners and suppliers in the industry alike.
Tom adds: "I'm enjoying taking this outside of NorthHouse, giving talks at schools and universities, mentoring and coaching, helping students to find a place and lifestyle within the creative world."
Tom continued: "Although I hit peak burnout more than ever before, I was incredibly proud of what we had achieved. It came with the realisation that our full-time team had to grow to continue at this level. We were dealing with an even higher volume of requests for big projects all over the world that we simply could not keep up with. I had to act fast but in a very calculated manner and gradually doubled the team with a combination of Director and Manager levels down to Junior." 
Tom sums up where they currently stand: "In June 2023, we're now operating a team of 14 full-time members and a huge roster of talented freelancers that join us for various elements of the projects. I'm looking forward to seeing where the next five years takes us with such an emphasis on creating incredible experiences that connect people and finding ways to help people to grow and develop within the industry. Of course, I have financial goals and a business strategy for where I see NorthHouse developing, but it's more about the team, the work we create and the opportunities we get to explore."
After delivering sensational results again, other industry leaders are looking towards Tom and his team to see what is new, and what will they deliver next to lift the industry bar even higher.
Presently, Tom stands on the cusp of breaking into the WANA region – after their staggeringly successful show with Coldplay at the 2022 Dubai EXPO, triggering unprecedented interest from the Middle East.

"We're in talks with various people about some incredible potential projects. We were in Dubai for a week with Hans Zimmers' team playing a part in his live show and we're developing some really interesting multi-media art installations and immersive experiences in the UK and Europe and in talks with some incredible artists about tours in Europe and the US. So, the future is looking really exciting with such a diverse mix of projects. 
"Going forwards, we're focused on creating the best experiences and always pushing the boundaries on every show and installation we do. Of course, wrapped up within this, there's always a hunger for exploring the latest tech and constantly developing our skillsets and offerings, but the root of it all lies in just creating the very best work! 
"Going forwards, we're focused on creating the best experiences and always pushing the boundaries on every show and installation we do."
"As the business owner, it's often difficult to know exactly where to be best positioned in a growing studio. I'm an artist and a creator at heart and I thoroughly enjoy diving into deep concepts and narratives to define an identity for a show or experience. However, I now find myself really enjoying building a brand, something special that people want to be a part of and become a leading global agency. Creating something with meaning that's known for quality in all aspects of creation, service and culture. I really enjoy looking after the team, finding great talent and helping them to develop and grow, providing a great space to create, to connect and see how this all blossoms."
And how NorthHouse is blossoming. The company has been nominated for three BAFTA awards, winning one alongside BBC Studios for Best Live Event, and Tom has just returned as a VIP speaker at Disney's conference in Los Angeles about NorthHouse's work for Encanto at the Hollywood Bowl last December. 
Tom is now mastering the recipe for scale-up success by combining talent, business acumen and technological innovation.  
All this should come as no surprise, as Tom's home, Yorkshire, is known globally for producing the perfect brew, yet this brew is infused with a drop of Hollywood magic. 
"Going forwards, we're focused on creating the best experiences and always pushing the boundaries on every show and installation we do."