Guide to Starting a Small Business as a Female Entrepreneur
Since women entrepreneurs approach business ownership with a high level of boldness, determination, and ingenuity, and since you've determined that the moment is right for you, this new era of business ownership appears like the ideal setting for you to flourish in.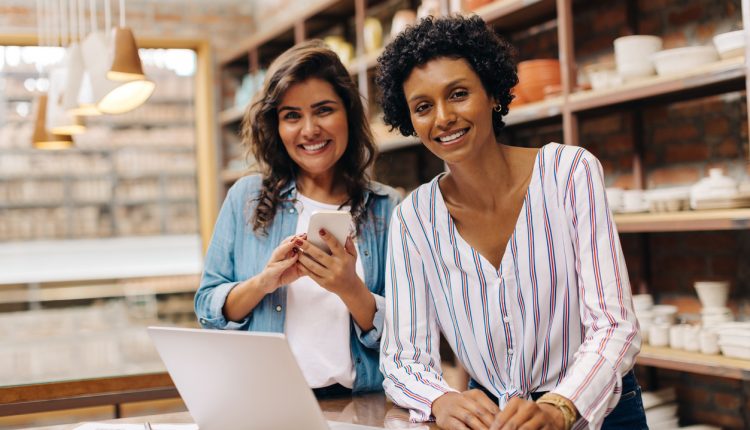 But how do you do it? When beginning a small business, there are many factors to consider, from the early planning stages to the daily operations of your organization.
Fortunately, you've come to the right place! Let's learn more about what you need to know to launch a small business as a female entrepreneur.
Set Specific Goals
First and foremost, it's critical to grasp your company's objectives. Think about the following:
What do you want your small business to accomplish?
Are you in it for the long run or just trying to make a fast buck?
Do you aspire to become the upcoming big name in your field, or do you want to run a modest content business?
Knowing your objectives can help you choose the most effective course of action for launching your firm. Additionally, it will also assist you in maintaining concentration when faced with difficulties. With that in consideration, give your desires some serious thought before writing them down.
Analyze Your Sector
Make sure you thoroughly investigate your options before starting your own small business. This entails researching your field and grasping the current trends.
Additionally, it's critical to understand your target market, your rivals, and the price plan you'll employ. Moreover, take note of marketing as well; you need to develop a business strategy for spreading the word about your company.
Draft a Business Plan
The following action is to create a business plan. This document, which details all from your business objectives and targets to your marketing plan and projected revenues, is the blueprint for your path to achieving your dreams.
You should create a thorough business plan to keep you on track and ensure you are moving on the right path. Although it's difficult, writing a business plan is undoubtedly worthwhile.
You'll have a solid plan and be well on your way to succeeding as a woman in small business.
Find A Source of Funds
Before starting a business, you must choose how to raise the funding required to launch your venture.
There are a few approaches you can take. For instance, you might try to obtain finance from investors or explore the best small business loans for women. Additionally, you could explore crowdfunding websites.
Whatever path you take, make sure you do your homework and understand the terms and conditions of what you sign up for.
Moreover, be ready to present your business plan and financial forecasts to a prospective lender or investor. You'll have to persuade them that investing in your company is a secure decision.
Pick a Location for Your Business
When beginning your business, choosing a location is one of the most crucial decisions you'll make. The right location is essential, so pick one convenient for your customers.
Consider the local population trends and the kind of company you intend to manage. Moreover, rent, utility prices, and renovation expenses are additional factors that you must evaluate.
Additionally, list every expense and compare it to your spending plan. To assist you in making the best financial strategic decisions, you might wish to speak with an accountant or business mentor.
Register Your Business
Although the procedure may vary slightly depending on where you live, typically, you'll have to file some documentation and pay a fee.
Fortunately, you can usually get all the information you need regarding business registration on the websites of your state and municipal governments.
Acquire Licenses and Permits
Obtaining licenses and permissions to launch your small business may be necessary depending on the type of enterprise you're launching. The best course of action is to check with your local government, as each state has distinct regulations.
The three licenses and permits that are used the most frequently are company, seller, and zoning licenses. Depending on the type of business you run, you could additionally need a specific license to offer services.
Therefore, whatever you do, don't just start promoting your goods or services without the necessary authorizations. You don't want to end up in legal problems, which is something you could do.
Employ Personnel
Who will assist you in launching your business? Employers are needed in this situation. Finding the appropriate people to join your team might be intimidating, but it's essential if you want your company to flourish.
Here are some pointers for identifying and screening potential hires:
The first step is to write a job description and post it online or on employment boards.
Examine candidates thoroughly and inquire about their backgrounds and credentials.
Run a background investigation and check references.
Offer a lucrative compensation and benefits package.
Any small business needs to hire the appropriate people, so take your time and make sure you look for candidates that fit the company's culture as well as their talents and knowledge.
Conclusion
You're prepared to launch your own small business if you've read this far.
Even while starting a small business requires a lot of work, it can be very satisfying and a terrific way to become financially independent. You can succeed as a woman in a small business if you follow our advice. We wish you the best of luck on your path to your dreams!