A Luxury Guide to Cruising the Canal du Midi
Canal cruises are quickly becoming one of the most popular choices in luxury travel.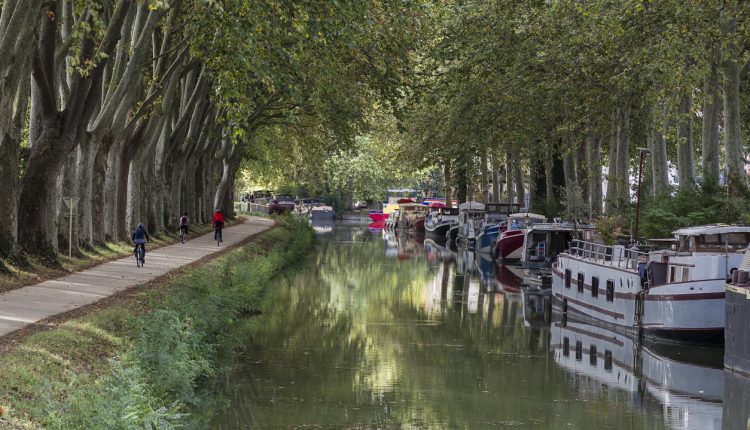 The sedate pace of barges and river boats creates the perfect peaceful atmosphere, the scenery surrounding inland waterways is notoriously beautiful, and the vessels for these kinds of cruises are built with plenty of luxury touches that promise a comfortable and indulgent trip.
When it comes to choosing a destination for a luxury canal holiday, France is one of the best options. The plentiful vineyards, historic architecture, and brilliant collection of countryside towns and villages create the perfect setting for a canal boat holiday, and one of the best locations for this is the Canal du Midi.
Choosing a Canal du Midi boat rental allows you to explore one of France's oldest and most beautiful waterways from the comfort of your canal boat. In this guide, canal cruising experts Locaboat share everything you need to know about planning a luxury holiday cruising the Canal du Midi.
Where is the Canal du Midi?
The Canal du Midi is one of the most popular locations for European canal cruises. Stretching from Sète on the French Mediterranean coast to the beautiful city of Toulouse, it's one of the oldest waterways in France that was built in the 17th century to link the Atlantic Ocean to the Mediterranean Sea.
The length of the Canal du Midi is 240 km and passes through the Languedoc region of France, which is in the south of the country. It was added to the UNESCO World Heritage list in 1996 and remains one of the most popular places to go canal boat cruising in France.
Towns Along the Canal du Midi
One of the best things about Canal du Midi holidays is the fantastic collection of towns and villages near the canal. No matter how much of the waterway you cruise along, there are lots of options for day trips to some of Southern France's best destinations, with plenty of luxury experiences on offer.
Here are six of the best towns along the Canal du Midi that we recommend you visit during your trip.
Carcassonne
Carcassonne is a French town that is famous for being one of the largest and oldest hilltop citadels in Europe. The area is thought to have first been inhabited in 3500 BC and is known as the place where the condemned Christian group known as the Cathars took refuge from the Roman Empire.
It's only a ten-minute drive from the Canal du Midi to Carcassonne, where you'll be greeted with the site of a historic fortified town surrounded by hills and overlooked by the Pyrenees Mountains. Carcassonne is one of the best UNESCO World Heritage Sites in France, so is an absolute must-visit during boat trips on the Canal du Midi.
The Old City of Carcassonne is a highlight, where you can marvel at the ancient buildings and enjoy strolling down cobbled streets and admiring the architecture. Around the historic centre, enjoy a more modern but no less charming side of the area and make the most of the selection of excellent local restaurants and bars.
Narbonne
If you're cruising the Canal du Midi near the coast, Narbonne is an excellent town to visit. You can either take a short journey from the canal or connect with the Canal Robine to arrive at the town on the water.
Narbonne was originally a port town, but decreasing water levels mean that it is now around eight miles inland. It was the first place outside of Italy that was colonised by the Romans and has an impressive history of inhabitants, which has contributed to its variety of architectural styles. The town's medieval quarter is a highlight, as is the Cathédral St-Just. 
If you want to finish your Canal du Midi barge trip with a visit to the coast then Narbonne is a great place to spend the night, as the nearby Grussian Beach is an incredible spot. If you'd rather get out and about in nature than spend time enjoying historic sightseeing, the Narbonnaise Natural Park is overflowing with stunning scenery.
Béziers
Béziers is another town close to the coast on the Canal du Midi and is a particularly special location for a cruise trip as it is the birthplace of the canal's chief architect. A stunning settlement on top of a hill, you'll be treated to wonderful views of the whole area as you climb higher and higher, or you can remain at water level and enjoy watching the River Orb meandering by.
If you want your luxury barge trip in France to focus on wine tasting, Béziers is the perfect choice. The town is known as the wine capital of the Languedoc region, with plenty of exceptional red varieties on offer.
Le Somail
If you're looking for a town on the Canal du Midi that feels more out-of-the-way, Le Somail promises a picturesque atmosphere and far less chance of crowds. The village was built by the canal's creator, Pierre Paul Riquet, as a way of improving commerce and communities along the canal, and it is now one of the prettiest places in the region.
Literary lovers will adore Le Somail, which is home to a bookstore with over 50,000 volumes and numerous rare editions if you're willing to look for them. It's also a place for charming, historic French architecture, including the Pont de St-Marcel and an eighteenth-century chapel.
Capestang
Capestang is a medieval village that the Canal du Midi passes close by, offering a lovely spot to spend a morning or afternoon. This section of the canal is known for having one of the lowest bridges along the whole waterway, but it's well worth navigating for a trip to this quaint place by the water. It's also home to the Malpas Tunnel, which was Europe's first navigable canal tunnel. 
One of the standout features of Capestang is the Collegiate Church of St. Etienne, which was first built in the 12th century. If you visit on a Wednesday or a Sunday, you'll time your arrival at the local farmer's market and get the chance to buy some wonderful fresh produce to take on your trip.
Minerve
Minerve is well known across France as being one of the country's most beautiful villages. It's part of the Minervois region, which is famous for its wine and a highlight for anyone on a Canal du Midi cruise that focuses on the chance to sample local varieties of the drink.
The Cesse River runs beneath Minerve, which is perched above a gorge on a rocky peninsula. The architecture is beautifully medieval and on a sunny day it's a stunning place to visit and sample a few glasses of wine after strolling the streets or taking a small hike along the cliffs.
How to Plan a Luxury Canal du Midi Cruise
When it comes to planning canal boat holidays, you have quite a few options for boat trips on the Canal du Midi.
The first is that you can hire a self-drive canal boat and cruise along the canal under your own steam. It might seem like a daunting prospect if you've never driven a narrowboat before, but you'll be given all the training you need before you set off on your trip, and the slow speed of the vessels and help by the locks means that you're very unlikely to get into any difficulties.
You can also opt for a canal boat that comes with its crew, which is a good option if you'd rather not be in charge of driving. For luxury holidays on the Canal du Midi, this might include catering staff as well as a boat crew, which takes care of everything whilst you're away.
Another option is to book a room on a hotel barge on the Canal du Midi, which is a large and luxurious vessel with space for a small group of passengers. You'll share communal spaces but have your private suite and it's a great option if you want to take part in a themed tour, enjoy arranged excursions, and would like all of your catering taken care of.
A self-drive canal cruise is a luxurious option that gives you total control over your itinerary as well as peaceful privacy whilst you're on the boat, which is ideal if you're looking for a relaxing holiday with plenty of flexibility. A crewed boat or a hotel barge are better options if you don't mind sharing the vessel with other people and are also happy to follow the recommendations of a guide, stopping off on organised visits along the route.
What to Do When Cruising the Canal du Midi
Cruising the Canal du Midi is an activity itself, as you can admire the ever-changing scenery and navigate the various locks along the route, mooring your boat whenever you fancy a break. But if you're looking for more recommendations of what to do on your trip, here are five of the best ways to pass the time.
Learn to Drive a Barge
If you've opted for self-drive Canal du Midi boat hire then learning to drive a barge will be one of the best things you learn to do on your holiday. The large vessels are surprisingly easy to steer once you've gotten used to them, and you'll find that after one holiday in charge of your barge, you'll be keen for another as soon as possible.
As well as the steering, you and your travelling companions will also learn to master mooring the boat at the side of the canal and navigating the locks, tunnels, and bridges along the Canal du Midi.
Sightseeing
As we've already highlighted above, there are lots of towns and villages that you can visit along the Canal du Midi. Many of these are home to some incredible architecture and historic sites, so sightseeing will likely be high on your list of things to do when you visit France on a Canal du Midi cruise. No matter whether you're a lover of art, culture, architecture, or historic stories, there's plenty to discover.
Wine Tasting
The Canal du Midi is located in one of France's popular wine regions, and when it comes to planning a luxury canal barge holiday in the country, wine tasting is often top of the list. Research the route beforehand and take your pick of the vineyards and wineries near the canal, and then coordinate your trip with daily visits and sample the best varieties that this region has to offer.
Dining
As well as luxury wine tasting, canal boat cruising in France is also a brilliant opportunity for fine dining. There are gourmet restaurants and incredible local eateries in almost every town and village along the route, so if you don't feel like cooking for yourself on the barge, you'll have a lot of luxury options to choose from wherever you visit. If you're celebrating a special occasion, you could always arrange for a private chef to visit you on the boat and cook something delicious for the event.
Cycling
If you fancy stretching your legs during your Canal du Midi cruising adventure, cycling along the canal is a really popular thing to do. The flat, straight towpaths are ideal for leisurely cycling trips, or you can moor your boat somewhere quiet and then visit a nearby town on your bike. There are plenty of bike rentals along the canal for this very purpose, or you can bring your own and carry it with you on the boat.
Summary
A canal boat holiday might not be the first thing that springs to mind when you're thinking about luxury travel, but it's a fantastic option if you're looking for something different. There's no better way to see an authentic side of France than from one of its waterways, and the Canal du Midi is the perfect route to sample some of the best things that the country has to offer. If you're looking to book a self-drive trip, Locaboat is one of the best Canal du Midi boat hire options, offering vessels to suit groups of all sizes.