How to Add Personality to Your Home Office
As more of us get used to remote and hybrid working, it's important to create a personalised workspace that you enjoy spending time in. Tracey Hague — director of eclectic furniture company Where Saints Go — shares her top tips for putting your stamp on your home office.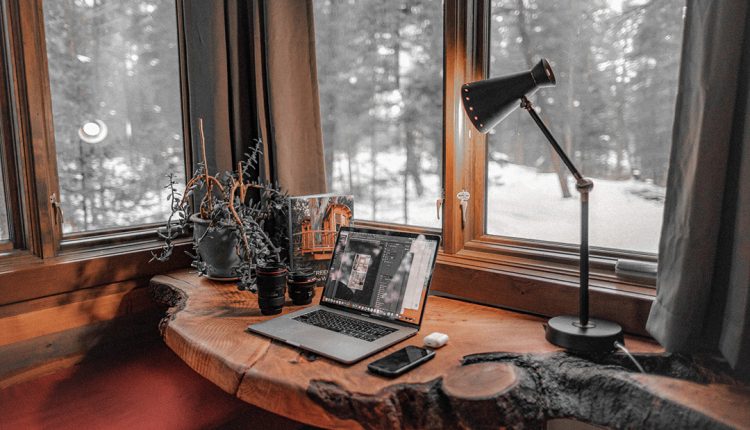 As most of us know all too well, the pandemic had a huge impact on our way of life — and this was particularly apparent in the world of work. After navigating furlough and working from home during lockdown, it appears that remote and hybrid contracts are not only here to stay, but have revolutionised the way we approach work.
In fact, a report by the Office of National Statistics found that in February 2022, 42% of workers said they were planning to follow a hybrid routine that included more days working from home than in their employer's office space. The report also confirmed that higher earners were more likely to work from home, such as financial managers, directors, or CEOs.
So, as more of us start to ditch the commute and work from the comfort of our own homes, it's important to create a workspace that reflects our interests and work style. Read on to find out how injecting some personality and creativity into your home office could help you feel more productive, inspired, and motivated.
Make colour work for you
Everyone has their own unique style of working and finds motivation in different ways. So, when creating your dream office, be sure to keep your job and work style in mind and don't lose sight of what you'll really need this space to do for you.
For instance, if you work in a creative industry, using plenty of vibrant, mood-boosting colours on the warmer end of the spectrum (like shades of orange, red, and yellow) could help get your imagination flowing and make your office feel like a more inspiring, engaging space to work in. Within this, you can experiment with everything from paint and wallpaper to statement pieces like an eclectic desk and chair set, all in colours that help you feel motivated and ready to seize the day. Alternatively, if your job can be stressful at times or requires deep concentration, using colour palettes from the cooler end of the spectrum like green, blue, and violet can help your workspace exude a calmer atmosphere, perfect for focussing on important tasks.
Decorating your home office with distinct colours is not only a sure-fire way to add some personality, but it can also help you keep a clearer distinction between your work and leisure spaces. For example, if you don't have the luxury of a spare room to turn into a home office, you may need to work at a desk in your bedroom, dining room, or even a mini office space under the stairs. Using a contrasting colour scheme to decorate and furnish your workspace can help you differentiate these areas of your home, even if you don't have dividing walls or a door to physically and symbolically close on your workday.
Find unique furnishings
If your home office feels a little lacklustre, hunting down some eclectic furnishings can help turn it into your own personal hub of productivity. Vintage and reclaimed pieces all have their own unique story to tell, and tend to be made with high-quality, durable materials like leather and solid wood that stand the test of time. This kind of furniture adds more authenticity and individuality to a room, compared to most mass-produced office furniture that can sometimes be a little impersonal and uninspiring. Whether you're drawn to the industrial, vintage, or Scandinavian aesthetic, dedicating some time to sourcing eclectic furniture will make the world of difference to how your office looks and feels.
Hanging wall art like paintings or personalised prints is also a great way to brighten up your office space and can make it a place that you're excited to spend your day in. So, don't hold back and find bold, creative pieces that inspire you or bring you joy — think abstract prints in your favourite colours, sketches of (or by) your loved ones, and skylines or cityscapes from countries you've visited in the past. Filling the walls with these meaningful pieces is sure to help your office truly feel like your own.
Get inspired by nature
A great way to add your own stamp to any space is to experiment with houseplants. There's an almost endless variety of plants to choose from, whether you're looking for something evergreen, flowering, or a trailing plant to hang from shelves or the ceiling. These are a great way to add a pop of colour and brighten up your home office, without committing to permanent changes like painting walls or laying new carpet. This means you can switch up the plants on your desk or shelves whenever you feel ready for a change, creating a work environment that always feels fresh, dynamic, and engaging.
Not only this, but houseplants in the workplace are actually thought to boost productivity. Recent studies have found that employees felt more focused and positive when surrounded by greenery, which in turn increased productivity by up to 15%. So, when it's time to refresh your home office, why not experiment with biophilic design? This aesthetic takes inspiration from all things nature, including colours, textures, organic shapes, and of course, plants. Long-lasting statement pieces like a solid wood desk can also help you bring this natural, rustic aesthetic into your home office, as can letting in plenty of natural light and decorating with earth tones like blue, green, and brown.
The rise in remote and hybrid working means that it's more important than ever to have a good home office space. Use these top tips to add some personality to your home workspace through eclectic furniture, natural influences, mood-boosting colour schemes, and more.