Will It Be Hard to Find Work in 2023?
In 2022, the unemployment rate hit 3.7 percent, a historic low not seen for 50 years. What about the coming year? What kind of hiring prospects does 2023 hold out for job seekers?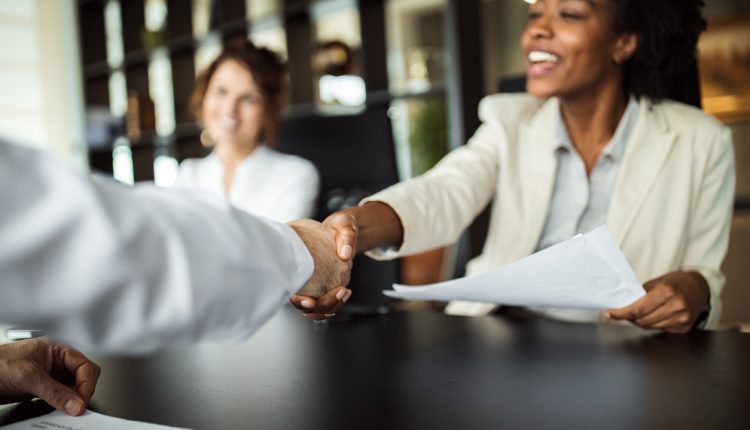 Below, we'll examine a few optimistic (and less than optimistic) predictions for 2023, as well as the reasons behind them.
Of course, having a solid resume is necessary for any job market, good or bad. ResumeGiants' online resume maker is one of the sites you can turn to for help creating a professional resume in mere minutes.
The Effects of the Federal Reserve's Rate Hikes
The Federal Reserve has been increasing interest rates to slow inflation. While the intention is beneficial overall, the ripple effect of this action is felt throughout the job market as the economy slows.
According to Bankrate, the employment rate is expected to increase from 3.7 percent to 4.6 percent in 2023 and 5.22 percent by January 2024. Additionally, the number of new jobs each month is predicted to drop from 400,000 in 2022 to just 42,000 in 2023.
Numbers have not dipped that low yet, however. Bloomberg reports that 235,000 jobs were added in December 2022. The slope to 42,000 new jobs per month will likely be a gradual decline.
Many economists are expecting an economic recession in 2023. However, they also agree that this will be a "small" recession compared to, say, the real estate financial crisis of the early aughts.
Jobs Are Still Available
Interestingly, job openings are still at near-record highs (millions of positions are available), and the number of openings far outnumbers the unemployed – a ratio of 1.7 jobs to every job seeker. That ratio is higher than it was before the pandemic.
The number of openings did decrease in 2022, according to this report – from 11.9 million to 10.3 million per month. But in comparison to 7.2 million openings in 2017, these numbers are still very good.
Job Gain Will Happen
While the number of new jobs being created each month is expected to decrease in 2023, the fact is that new jobs are still being created – tens of thousands of jobs each month.
The high demand for employees is one reason the Federal Reserve hopes for a "soft landing" for the economy. The increases in interest rates will slow job growth by reducing the number of new positions offered, but (hopefully) will not result in much existing job loss.
A few industries experienced a large increase in positions in 2022, and the trend is expected to continue in 2023. These include taxi and limousine drivers, men's clothing stores, hotels, and convention/trade show organizers.
Hiring Will Decrease
As discussed above, relatively fewer jobs will need to be filled in 2023 than in 2022. This means that hiring will also decrease. But this isn't all bad – analysts say that hiring will return to "normal levels" in 2023 after an unusual few years. In fact, by October 2022, the hiring volume was almost identical to February 2020, the month before the pandemic hit. Forbes is calling this "the Great Rebalance."
This is especially good news for hiring managers. Fewer openings mean less job turnover as "the demand for talent and the supply of candidates evens out" – HR departments won't have to replace as many employees who move on to bigger and better things. The takeaway? If you have a job you like, which meets your family's needs, or that you can at least tolerate – now may be the time to hold onto it.
Remote and Hybrid Jobs May Decline
In 2022, the need for talent and the dearth of skilled workers put a lot of power into candidates' hands. They were able to demand things like higher pay and flexible working conditions.
As the job market evens out in 2023, however, employers may no longer be amenable to offering perks or heeding demands. Many jobs that allowed remote work flexibility in the past may revert to standard in-office schedules.
Small and Medium-Sized Businesses May Dominate
Most industries will avoid layoffs, experts predict, with one major exception – big tech.
On the other hand, small and medium-sized businesses are expected to thrive. Of the 200,000-plus jobs added to the market in December 2022, SMBs took the lead.
So, if you are not having success in applying to large firms, set your sights on smaller companies for a while.
In Conclusion
Overall, the job market is likely to slow down in 2023 as compared to the historically low unemployment rates of 2022. This is considered a return to normal economic conditions. 
However, new jobs will be created, and there will be opportunities for diligent job seekers to find work. Be flexible, extend your job search to smaller businesses, and be willing to accept traditional in-office schedules.